Robert Pattinson and Timothée Chalamet Cast in Battle for Heartthrob Crown
Pattinson and Chalamet are set to star in The King, Joel Edgerton and David Michôd's reimagination of Shakespeare's Henry V, for Netflix.
---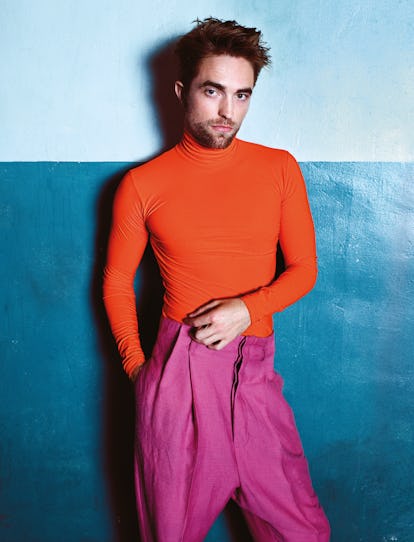 MARIO SORRENTI
Former teen heartthrob Robert Pattinson and current Internet Boyfriend Timothée Chalamet will duke it out for the crown in their upcoming Netflix film.
A few months ago, Netflix announced that Timothée Chalamet would star in The King, an interpretation of Shakespeare's Henry IV and Henry V, written by Joel Edgerton and director David Michôd. There was also speculation that Robert Pattinson would costar (he was the only other actor listed on the production's IMDB page), yet that casting decision seemed mostly unfounded at the time.
But now it's official. Pattinson will join Chalamet in The King, per an announcement from Netflix on Thursday morning. Produced by Brad Pitt's production company Plan B, The King focuses on Prince Hal's unforeseen rise to power—the year is 1415, England and France are in the midst of the Hundred Years' War, and the bad boy Prince Hal finds himself unexpectedly becoming king, though the Dauphin was supposed to be the one to take the crown. Chalamet will star as Prince Hal, the soon-to-be King Henry V, pitting him against Pattinson as the Dauphin, the bratty heir apparent to the French throne.
The cast of the Edgerton-Michôd vehicle doesn't stop at Chalamet and Pattinson engaged in a Shakespearean tête-à-tête, it keeps growing—Lily-Rose Depp has been set to play the French princess Catherine (one of the very few female roles in Shakespeare's original Henry V), and Ben Mendelsohn will play King Henry IV, Prince Hal's father. In addition to cowriting the film, Edgerton will also costar as Falstaff, a buffoonish comic figure featured prominently in least four Shakespeare plays who guides Prince Hal through the process of coronation. As a drunkard knight, Falstaff remains somewhat of a bad influence on Prince Hal, even after he becomes king.
In 2016, Edgerton spoke of the film (then simply titled King) as a "Game of Thrones meets Shakespeare "project that cost a pretty penny to make." The King begins production in June, and does not premiere on Netflix until 2019, so viewers have plenty of time to dust off those SparkNotes (or just crack open a couple Shakespeare plays; five acts is really not that long) to get to the film's "ironic victorious yet bitter ending" in the meantime.
Related: Timothée Chalamet Is a Beautiful Boy in His New Oscars Contender