Timothée Chalamet Is a Beautiful Boy in His New Oscars Contender
In Beautiful Boy, Timothée Chalamet stars as a teen struggling with an addiction to methamphetamines.
---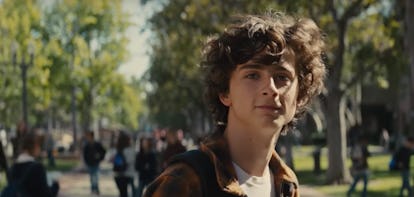 Beautiful Boy/Amazon Studios
In Beautiful Boy, Timothée Chalamet will continue to be everyone's favorite indie film darling.
The film is based on two memoirs—one titled Beautiful Boy: A Father's Journey Through His Son's Addiction by David Sheff, and the other called Tweak: Growing Up on Methamphetamines by his son Nic Sheff—both of which chronicle the father and son's lives as Nic becomes addicted to methamphetamines. Chalamet is in the role of Nic, Steve Carell will play David, and Maura Tierney, Amy Ryan, and Timothy Hutton will serve as the supporting cast in the highly anticipated adaptation of the Sheff family's struggles with addiction and recovery. Beautiful Boy will also be Belgian director Felix Van Groeningen's English language debut.
Footage from the emotionally charged film has just been released at CinemaCon by Amazon Studios, and in it Chalamet appears to portray the troubled teen with sensitivity and profundity. In the footage, Chalamet's character skateboards down a road before telling his father, "I'm attracted to craziness, and you're just embarrassed because I was like…this amazing thing, like your special creation or something, and you don't like who I am now."
After Chalamet's Academy Award–nominated performance in Call Me by Your Name last year, and his dazzling awards season, it wouldn't be a surprise if Beautiful Boy generates some Oscars buzz when the film is released in theaters this fall. CinemaCon audiences fell in love with Chalamet's performance in Beautiful Boy.
Though a trailer for Beautiful Boy has yet to be released (the film will hit theaters October 12), fans of Chalamet will be able to see the beloved actor on the big screen again in the dog days of summer, when he will portray a naive teenage drug dealer in Elijah Bynum's Hot Summer Nights.
Related: See Timothée Chalamet as a Naïve Drug Dealer in the Trailer for Hot Summer Nights