Robert Redford Plans to Retire From Acting With One Last Heist Film
The 81-year-old actor confirmed that The Old Man & the Gun will be his final film.
---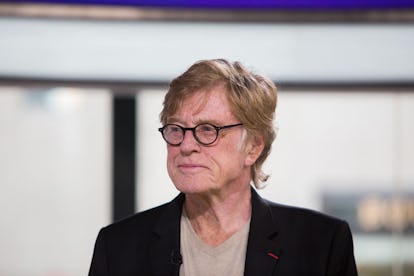 NBC/Getty Images
Robert Redford's illustrious six-decade acting career is coming to a close.
After hinting in 2016 that he planned to pump the breaks on acting, the actor confirmed today in an interview with Entertainment Weekly that he will no longer act after his final film, The Old Man & the Gun, is released in September. "Never say never, but I pretty well concluded that this would be it for me in terms of acting," Redford said, before saying he would "move toward retirement after this 'cause I've been doing it since I was 21."
"I thought, Well, that's enough. And why not go out with something that's very upbeat and positive?" the actor said of his last role, which will star Redford as Forrest Tucker, the real-life prison escape artist. It was his roles as Western outlaws in Inside Daisy Clover with Natalie Wood in 1965 (for which he won a Golden Globe) and Butch Cassidy & the Sundance Kid in 1969 with Paul Newman, that helped launch Redford's career. He became a major movie star of the late 1960s, '70s, and '80s, consistently working opposite Hollywood greats such as Barbra Streisand, Meryl Streep, Jane Fonda, and Mia Farrow. Redford and Newman partnered up again in 1973 for another film about two con men in The Sting, in which their characters attempt to pull one over on a mob boss, played by Robert Shaw.
Redford also admitted that it was the heist element, and his character's love of escaping, in The Old Man & the Gun that made him realize it might be time to retire. "The thing that really got me about him—which I hope the film shows—is he robbed 17 banks and he got caught 17 times and went to prison 17 times," the 81-year-old actor said about Forrest Tucker, the career criminal upon whom director David Lowery's film is based. "But he also escaped 17 times. So it made me wonder: I wonder if he was not averse to getting caught so that he could enjoy the real thrill of his life, which is to escape?"
Just because Redford has decided to quit acting, it does not mean he will necessarily hang up all of the many hats he wears. Redford has received several Academy Award nominations for directing (he won Best Director for Ordinary People, his directorial debut, in 1980), and later became known for his support of environmentalist causes, for which he was awarded the Presidential Medal of Freedom by Barack Obama in 2016.
Related: The 9 to 5 Sequel Will Reportedly Reunite Jane Fonda, Dolly Parton, and Lily Tomlin