Robyn's "Beach2k20" Is Maybe the Wisest Dumb Song of the Year
When Robyn said "they do really nice food," we felt that.
---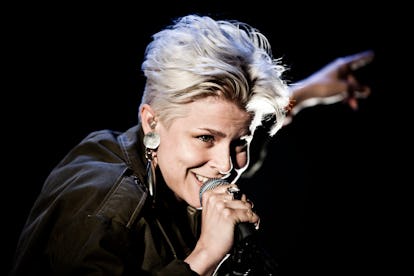 PYMCA
Robyn has finally returned, with Honey, her first solo album in eight long years. If you're looking for the Swedish singer's trademark anthems that serve up both emotional wallops and certified bops, it's got what you need, sure. Now 39, Robyn processes both the death of longtime friend and collaborator Christian Falk and low points in her long-term relationship, and breaks from her lyrical tendency (albeit a highly relatable and affecting one) of casting herself as the wronged party narrating the actions of others from some dark corner in a club or a train station. She asks for forgiveness, and she declares herself officially over heartbreak. The song "Human Being," in particular, feels like a rebuke to numerous previous songs in which she compared both herself and loved ones to robots.
Toward the end of it all, on track eight out of a nine-song album, arrives "Beach2k20," which, you could make a strong argument, is one of the most lyrically inane songs of Robyn's career. Professional reviews have passed it off as a quirky oddity, while some on Twitter have likened it to a song one might hear while trying on a $14.99 swimsuit in the dressing room of a Zara and H&M. It may very well be the album's most divisive song.
[#video: https://www.youtube.com/embed/uuN4PM4ttz4
Starting with a sly sample from Timmy Thomas's "Why Can't We Live Together" (the same song Drake built most of "Hotline Bling" around, though not the same sample) and dripping on '90s-house-appropriate synth riffs like, well, honey, Robyn doesn't actually sing on the track very much. Instead, she chants lyrics that sound like they're from a group chat about trying to figure out what to do that night: "To this cute place on the beach. They do really nice food. I mean, it's right on the beach. Come through, it'll be cool." As she says these lyrics over and over (and over) again, you imagine her sitting on the veranda of a rented vacation villa with, if not a joint, then at least a nice rosé in one hand, as she types those very words into her iPhone with the other (yes, the song samples the little "woop" noise), while listening to this exact beat from a Spotify playlist called "Ibiza and Chill." It's like audio vérité.
The thing is, almost any attempt to capture the exact feelings of just chilling somewhere tropical and quietly enjoying yourself are inevitably going to be a bit cheesy. Lots of musicians have tried. Just look at everything from Sheryl Crow's "Soak Up the Sun" and the Go Go's "Vacation" to a good chunk of the back catalogs of both the Beach Boys and Jimmy Buffett ("Cheeseburger in Paradise" is, technically, also a song about a place by the beach that does really nice food). It's a pleasant feeling to evoke, but, lyrically, there's not a lot there. There's not much dynamic in just relaxing.
But maybe that's exactly the point. There's a small audio reference in the middle of the song to "Show Me Love," the teen pop sample that launched Robyn's career more than 20 years ago. It's hard not to take it as a cue to think of "Beach 2k20" in the context of Robyn's career. After all that heartbreak and joy and dancing on your own and the callings of girlfriends, wasn't the mission that started back in those Max Martin days to find some sort of sense of contentment and happiness?
Of course, happiness isn't a constant state of being, like nirvana. It's small moments, like, well, setting up a chill night out with your friends at your favorite restaurant by the beach and seeing where the night goes. Simple little anxiety-free moments like that can sometimes seem fleeting, and the song knows this. It all but officially ends at about the 3:15 mark, before the beat suddenly starts up again to give you a few more minutes of chill, almost as a reminder to savor it before it does all ends.
It might sound like changing-room music, but listen a bit more closely and it also sounds like Robyn expressing newfound joy (if not wisdom) in her life in the most direct way possible.
Related: Robyn Has Returned With a Song About Death to Make You Dance (Then Cry)