Robyn Has Returned With a Song About Death to Make You Dance (Then Cry)
"Missing U" is deeper than a breakup song.
---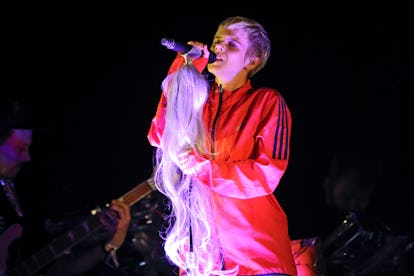 Burak Cingi
Robyn has some of the most patient fans in pop. The Swedish singer hadn't issued solo material in eight years until the highly anticipated release comeback bop "Missing U" dropped today, and those patient fans were rewarded with a song as melancholic as it is highly danceable. Which is just what we expected from our Gemini queen.
Though Robyn has somewhat positioned the track as a nod to missing her fans, the lyrics, at first, read like a breakup song. "Baby, it's so real to me now it's over," goes the first line. But there's something that doesn't quite read right about that interpretation, either.
It's basically a Robyn lyrical hallmark that when she sings about past relationships, she is almost always painfully aware of what her ex is doing in the present. She's either in the corner, watching him kiss her, or saw him at the train station with "what's-her-name" (who, as all Robyn fans know, had on that scarf she gave him). Robyn always knows where a bum-ass ex is.
"Missing U" is different. She sings not about the loss of someone who simply has moved on with his life but about someone who is now completely gone. It is possible this is less a song about the end of a relationship (or a one-sided crush, as some Robyn breakup songs can be interpreted) than one about mourning.
While Robyn has been absent as a solo artist, she has released a loose trilogy of collaborative EPs over the past four years, the middle of which, Love Is Free, was credited to Robyn & La Bagatelle Magique, a group consisting of the keyboardist Markus Jägerstedt and Robyn's longtime friend and collaborator Christian Falk.
Falk, who previously had a major hit in the UK with Robyn titled "Dream On," died before the completion of Love Is Free, and finishing the EP proved to be an emotion task. While the album's first video served as a tribute to Falk's memory, it's possible Robyn wasn't done mourning yet, and that "Missing U" is less about a standard breakup and more her expression of dealing with his death. "There's this empty space you left behind," she sings. "Now you're not here with me."
Of course, pop music is meant to be interpreted multiple ways by fans, and it's likely that the song will serve as a breakup anthem for some. Though it only makes sense for Robyn to return with a tribute to her late friend, and what better way to honor a dance-music producer and DJ like Falk than to leave him a memorial that all of her fans will now spend the rest of their summer dancing to?
In any event, there's more to come. In an interview with the BBC's Annie Mac today, Robyn confirmed that an entire album full of sad dance songs is on the way by the end of the year.
"Looking back at that now, it's OK to be sad," the singer told the DJ. "Combining it with something bright and strong and powerful is finding your way out of it too."