Under The Influence
Thanks to inspirations ranging from Miss Ross to Kiss, the fall collections really rocked.
---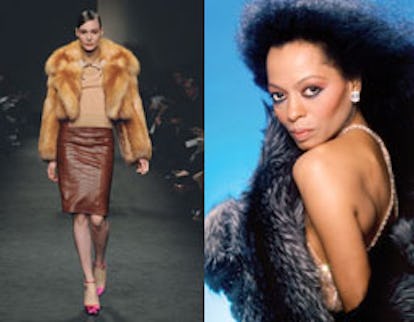 For fall, Alessandro Dell'Acqua quite literally turned up the volume on Brioni's women's wear line, taking inspiration from pop diva Diana Ross (above) circa her disco-queen days. To the pulsing beat of her dance-floor hit "Upside Down," Dell'Acqua sent out cropped fox fur jackets, fuchsia trousers, and crocodile pencil skirts—looks that reinterpreted Ross's most glamorous moments. Says the designer: "The idea was to translate the silhouette to create a modern and more authentic woman, leaving the showgirl character behind."
Colombian designer Juan Carlos Obando was at a gig for indie-rock act the National when he realized how powerful music performances can be. "There's an energy that's very romantic," he explains. "I can only imagine how crazy people must have been at Queen and Kiss [far right] concerts in their heyday." Wanting to infuse a little of that electricity into his fall collection, Obando took references from both of the overly flamboyant glam-rock bands, affixing metallic leather cutouts to Victorian-silhouetted looks and gilding the models' hair to baroque perfection. "The coolest thing, though," Obando notes, "is that we got a shout-out from Kiss on their website."
Bruno Frisoni, creative director of Roger Vivier, was flipping through a French auction magazine in the midst of designing the fall Rendez-Vous collection. He came across a triptych of Keith Richards portraits shot by Peter Lindbergh (below), and was immediately struck by how sexy the iconic rocker looked: "The black jacket, strong hair, the arms with those chains…" The result is a lineup of dark, dangerous-looking evening bags and strappy stilettos inspired by Richards—were he a woman. "I imagined Fanny Ardant dressed in Ann Demeulemeester," Frisoni says.
Ross: Harry Landon/Archive Photos/Getty Images; Runway: Fairchild Archive (2); Kiss: Lynn Goldsmith/Corbis; Richards: Peter Lindbergh (3); Stiletto: courtesy of Roger Vivier