Radio Days
Radio City Music Hall and the Rockettes are marking their 75th anniversary with some new outfits and plenty of good old-fashioned glitz.
---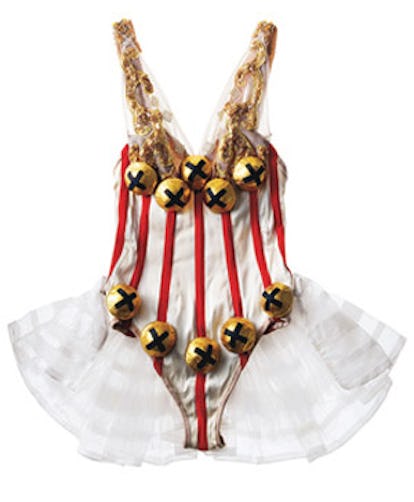 Lights, cameras, spangles! After three quarters of a century, the Rockettes are still kicking. Such a shameless pun is nothing short of irresistible as New York's leggy dance troupe of skyscraping precision kicks and New York holiday fame celebrates the 75th anniversary of its Christmas Spectacular at Radio City Music Hall. By now the act is seasoned, but it's by no means stale. The estimated 1.2 million people who will have taken in the Rockettes' spectacular ways between the November 9 opener and the December 30 finale prove it.
The colorfully costumed, always wholesome dance corps has been performing at Radio City since the depths of the Great Depression. Such longevity is startling, especially considering the routines have changed little since the show launched. But it's precisely that nostalgic combination of kitsch, camp and good-girl sex appeal that explains the act's enduring charm—undeniable even to its notoriously cynical hometown audience.
"The Rockettes are one of my favorite things about New York," says Isaac Mizrahi. "I've been seeing them since I was a child…. It's a full 'delightmare.' [It's] incredibly wonderful and delightful, and at the same time a nightmare." In other words, something of a guilty pleasure, though Mizrahi is certainly not alone in his conflicted admiration—or in some cases aspiration. "I saw Peter Allen's famous show at Radio City," says Michael Kors. "He came right out and said one of those things that everyone's thinking but no one ever says: 'It's every gay man's dream to be on line with the Rockettes.' And he came out dancing to 'Everything Old Is New Again.' Immediately, you were like, 'Yeah, I would love to be in the middle. I don't know if I could keep up, but if I had the height and the kick, I'd love to be up there.'"
Meanwhile, Jamee Gregory, who's waiting for a grandchild before she rediscovers Radio City during the holidays, regards the Rockettes in simpler terms: "It's something every New Yorker has to see."
It's true. The dancers' fame is indelibly linked to the Big Apple (national tours began in 1994), but the Rockettes actually started out as the Missouri Rockets, a St. Louis troupe founded by a man named Russell Markert. They were recruited for Radio City by the music hall's founder, Samuel L. Rothafel, known as Roxy, who developed and opened the Rockefeller-owned venue in 1932 with the help of RCA. He envisioned an entirely live revue, much like today's productions. Indeed, in addition to the Rockettes, Radio City's first show included a ballet, a modern dance performance by the Martha Graham troupe and excerpts from Carmen. However, after a string of managerial upsets—Rothafel suffered a heart attack on opening night, after which he returned to Radio City for only a brief, tumultuous time—the company reformatted the program, screening movies interspersed with live performances by the Rockettes in order to make ends meet.
Change can be good: The new multimedia bill was a hit. And despite the economic woes of the time, the music hall soon became a success, hosting the world premieres of such films as King Kong, Little Women and The Private Life of Henry VIII.
Fran Lebowitz is among those who recall the glamour of watching old-Hollywood cinema with a side of Rockettes. "I remember my aunt took me to see them when I was a kid, and we also saw a movie, Song Without End, with Dirk Bogarde, as Franz Liszt, and Capucine," says Lebowitz. "I remember it was a snazzy movie theater, and I was very swept away." Radio City returned to an all-live format in 1979.
For all its old-school razzle-dazzle, it's easy to dismiss the Rockettes as a relic of a bygone era with little more than mass-market, shoobie appeal. Yet many argue that that's the beauty of it. "I'm sure that the Rockettes were always a tourist attraction," says Lebowitz, "but now it seems to be that the whole city is a tourist attraction, and the Rockettes seem surprisingly urbane. New York has changed; the Rockettes haven't changed."
Chief among the group's attractive constants: gammy gals and glam getups. As for the former, more than 10,000 dancers have held one of 36 highly coveted spots in the New York line. Former Rockette Vie Varble, who danced from 1942 to 1946, has vivid memories of the romantic and historic sort. First, there were her mid­performance missteps triggered when her husband, a naval officer then stationed in Bremerton, Washington, made a surprise front-row appearance. Later, with victory imminent on VE Day, the ensemble coordinated cues in case the declaration came while the Rockettes were on stage. It did, and the dancers delivered the triumphant news midshow. Varble witnessed the entire audience dancing in the aisles.
Things are slightly less epochal for current line member Krista Saab, who's been with the troupe for five years. She dances along-side a lawyer and a Pilates instructor (many Rockettes hold other jobs in the nine-month off-season), all of whom endure eight-hour rehearsals before a new show to ensure the dances are "clean"—perfectly synchronized, in Rockette terminology. Dedication isn't the only requirement; each dancer must be between five feet six and five feet ten and a half. Such height differences were the source of some unintentional comedy during Saab's favorite routine, the classic wooden soldier number: It wasn't until she was onstage that she noticed her pants were too short; another girl's were dragging on the floor. They made it offstage with little mishap.
Wardrobe mix-ups aside, the campy costumery is integral to any Rockette performance. Since their 1932 debut, the chorines have appeared as astronauts, champagne glasses, bonbons, cigars, vegetables, flowers, WACs and, most famously, those wooden soldiers. The Rockettes still wear the original design—created in 1933 by no less a luminary than Vincente Minnelli, then Radio City's art director—which happens to be Mizrahi's favorite. "Those beautiful creased corners look like sticks of wood," he enthuses. "And the length of the jacket makes the girls look like they have legs that go for miles." In addition to Minnelli, other illustrious types such as Erté and Bob Mackie designed for the troupe over the years. Their sketches, including Minnelli's dynamic drawings, some of which feature his painstaking notations about fabrics, colors and other details, are still housed in the Radio City archives.
Frank Krenz, the Rockettes' current designer, claims to be influenced by the New York and European fashion shows, although a walk through the Radio City wardrobe racks indicates a cryptic connection at best. Many of the designs—some of which stay in circulation for decades—are obvious period pieces jazzed up with considerable flash. One spangly blue Erté number was designed not at the height of the famed designer-illustrator's career but toward its end, in 1990, when the glitzed-out, cheesy Eighties still reigned. Indeed, Krenz, whose notable contributions include a new outfit replete with 3,000 rhinestones for this year's show, says a good costume is "attractive, sexy, danceable," and should "pop." And nowadays, the design has to accommodate increasingly complicated dance moves and, this season, harnesses necessary for the anniversary-inspired "flying" effects.
Still, regardless of construction, it's all about the sparkle. Wardrobe supervisor Barbara Van Zandt maintains that black, white, red and what she calls "pure" colors—those that catch the light—work best. Case in point, the costumes Mackie, who knows a thing or two about optic stimulation, designed for two numbers in 1979. "I did a black and silver one that was very graphic," he says. "Each time they made a movement, it created a different picture. Of course, it has the most impact because it's repeated on 36 girls."
Mackie's right. There's something about synchronized motion and elaborate costumes that keeps people, Kors included, coming back. "They were the first glamazons I ever saw. It's all about the height, the synchronicity and the perfection of it all," the designer says. "I wouldn't want to see très modern, fashiony Rockettes. I want the glitter, I want the glamour, and I want the legs."