Rodarte's Laura Mulleavy on Returning to New York Fashion Week
"We felt very passionate that this collection needed to be in a city like New York," Mulleavy says. The brand will show in Manhattan this evening.
---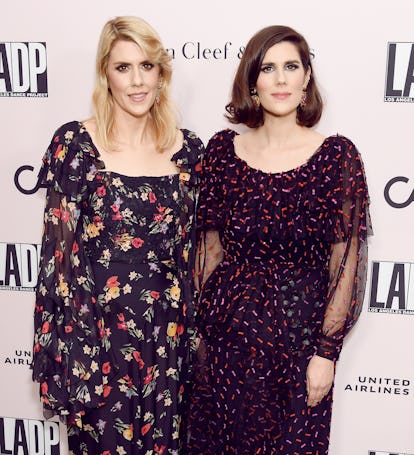 Photo courtesy of Getty Images.
For the first time since September 2018, Rodarte is showing its collection at New York Fashion Week, with a show scheduled for the evening of February 11 in Manhattan. For the past few years, the designers Kate Mulleavy and Laura Mulleavy have skipped NYFW in favor of events in their native California, or romantic lookbooks featuring friends and creatives like Kirsten Dunst, the Haim sisters, King Princess, and Kilo Kish. As the sisters and their team prepared for their second highly anticipated return (they first left the schedule in 2017 to show during Paris couture), we spoke with Laura about the creative process, how designs dictate where they should be shown, and the live theater of the runway.
Do you feel that Fashion Week has changed since the last time you showed? What prompted the decision to come back this season?
What we have started to do is look at a collection and think, What is the best way to share this with the world? When we're developing it from the initial idea and the inspiration, and when that gets weaved in to the discussion of the applications and the silhouettes and the way we would accessorize it, those things start informing how we think it would benefit being shared with the world. And in this instance, we felt very passionate that this collection needed to be in a city like New York. We knew what the show was—the theme and the clothes that we were going to build and the feeling and the mood—and it really felt like it's just where it needed to be. There wouldn't be another city for it. New York is an incredible landscape for fashion. So it's always been inspiring to us and will also continue to be so, no matter how we do collections and share them with the world and where they are.
So the location not only influences the way that you're thinking about the presentation but it actually kind of influences the designs themselves?
I think the design tells you where it should be shown and how it should be shown, what the mood is that you want for the audience, if you're going to have an audience. We've done lookbooks throughout the season, for the past three years, we've added those in. And those have really been chosen based on what the clothes were.
How would you describe the energy in the studio these past couple of weeks?
The adrenaline rush leading up to a show is so amazing. Maybe over the years you become less worried about the show happening, because the show always goes on and we've had shows where it's rained, we've had many things that have happened that are unexpected. A fashion show is a live performance, it's theater, and it's always going to happen in the time you say it will, so you just have to present yourself. It's like running a marathon. You have to do the work up until that point. There's no moment where you're going to expect less of yourself and to do less work because you're constantly trying to make the idea and the collection better.
What is your design process like?
We start with textiles and footwear, because those both take time. We start conceptualizing those both really early. But no matter what you do in the previsualization process, you can plan out a look and suddenly a fabric won't lay the way you wanted. Or if it's doing things that you didn't think it would that are even prettier, and you want to explore that more. We've learned to be very scientific and to really follow through on an idea. While at the same time, you have to learn to listen to the changes and to accept that changes need to take place along the way. You have to be very, very, very pragmatic and very, very direct in your through line, and you have to be open to the whims of the creative process. That's what takes time for yourself as a creative person, because you develop language within yourself.
How much do you rely on instinct when it comes to making decisions?
We have years of experience with previsualizing. Now, within that time period, there are many things that go right and they go wrong. You don't like ideas all of a sudden. You'll have an idea last minute and you just kind of have to trust your gut to say, "Listen to yourself when something feels wrong, listen to it when it feels right and when to push." And when the idea's really good and it's a last-minute idea, you know to push through and get it there because it will make the end point better.
How do you guys divide up the roles when you're prepping a show?
We do everything together, but the decision process just can't be separated, really. So it's about making sure we're communicating. I think that's the main thing.
Do you think that being siblings is beneficial when it comes to communicating and understanding each other?
Kate and I work together and we talk together. So we're really lucky that we can have conversations out loud. The language is there. It's a shorthand, and we'll still have disagreements, but then we always land in the same place. And it's fun because sometimes someone will say something that you really disagree with in the moment and then two days later think about it, go, "Oh, yeah, I think you're right." So you just have to learn to communicate and be free in your communication, not be scared of saying something even if you don't know why you're saying it.
Is there a moment on the day of the show that you particularly enjoy?
The thing I look forward to the most is seeing all of the models together before the show. Because until that moment, you don't even understand your full vision and what you've done and what you've created. In that moment, I get to understand our true inspiration. It's really exciting to see where your creativity is taking you.
Were there any lessons that you learned from showing in Paris that you've brought back now that you're showing again in New York?
When we went and did our show in Paris, it was a freeing moment for us. We understood what a show could be for Rodarte. And we let it be more theatrical. That was important for us to do. We worked with Alex de Betak, from Bureau Betak, who really understood our voices and how Rodarte has changed over the seasons. I feel like he really pushed us, saying, "I think Paris is an important step for you." And he was right. It was really important to see an audience there reacting to our work rather than in New York. A change of setting really can affect the way you view what you do and how you want to showcase it. It really changed the way that we thought about the show as theater, and how people needed to understand the idea behind the clothes when we make them.
Does a European audience understands your clothes differently?
I think no. I think people have a romantic feeling when they are in Paris and the energy of New York—which is so vibrant and exciting—is also something that maybe makes me feel less thoughtful about what you're looking at in some way. Or maybe it's just that the fashion week schedule is so hectic that it's difficult for people to process things. But I think when we showed in Paris, it was during the summer and couture week. So I think it was a more romantic setting, no matter what. It's springy, it's beautiful outside, people were really happy to be in Paris in the summer. So I don't think it's the audience, I think it's just the mood of the city.
Do you have anything that you're really looking forward to, being in New York? Do you have any traditions or any places you like to go while you're in town?
We always go to the Smile to visit our friend Carlos [Quirarte, the restaurant's co-owner]. We just have so many years of going there. I'm excited to visit museums and see friends that we don't see very often. Oh, and the Soho Grand Hotel has a really cute new pink diner, the Soho Diner, that I'm really excited to go to because it looks so darling. It's mainly this show, though—the show and the people.