Cool and the Gang
Fashion is getting a little bit rowdy. And, that's a good thing.
---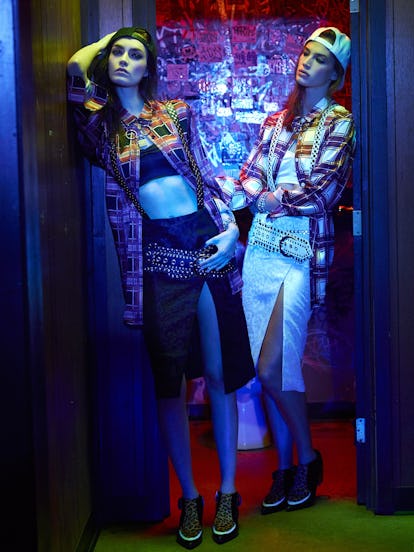 Photographer: Robbie Fimmano Stylist: Natasha Royt
Last September, shortly before the Rodarte designers Kate and Laura Mulleavy presented their spring 2014 collection, they received a warning: "A close friend told us, 'You are going to get such bad reviews for this show,' " Kate said recently. She and her sister were calling from their car as they drove from their home in Pasadena, California, to their studio in downtown Los Angeles, and the insistent voice of the GPS lady kept interrupting our conversation. As usual, Kate and Laura seemed to be veering from the proscribed route.
From the first look, an asymmetrical black skirt—more like a very wide belt, really, with about two feet of slinky white fringe—worn with suspenders, a vest, and, to top it off, a baseball cap turned backward, to the last look, a similarly asymmetric flouncy kerchief dress in black and white pinstripes and windowpane checks, the Rodarte spring collection was a very genuine love letter to the designers' adopted hometown of Los Angeles. And much like the city itself, which at times can feel totally random and completely unnavigable, it was a difficult collection to parse. Some cited chola girls and heavy-metal bands; others caught a whiff of hustler cowboys; most flat-out questioned the desirability and wearability of such getups. But about halfway through the show, it occurred to me that it was a collection that the late artist Mike Kelley—who worked not far from the Rodarte sisters, in Highland Park, and whose antiformalist and darkly humorous work touched on themes of social class, popular culture, and the idea of home—might have appreciated. That's when I started to really get into it.
According to Kate and Laura, the fringe was a reference to Gene Autry and the Museum of American West, the hip-slung belts and skinny suspenders to '80s Guns N' Roses videos, the plaid to (of all things) the classic film The Philadelphia Story, and the elaborately embroidered scorpions were their attempt to provide Los Angeles with the "Don't mess with me" sort of mascot they think it deserves. But knowing any of this would hardly change your opinion of the clothes. The collection was weird, yes, and pushed the boundaries of taste. And you either loved it on its own terms or you didn't. Writing in The New York Times about Kelley's installation "Plato's Cave, Rothko's Chapel, Lincoln's Profile," which was on view at MoMA PS1, in Queens, last fall as part of an epic retrospective exhibition, the critic Holland Cotter could have been reviewing the Rodarte show: "This work is meticulously done but looks as if it should smell bad. It's perfectly horrid. And great."
If the Mulleavy sisters were testing their fashion audience, they were also challenging themselves creatively. "I can make a tulle dress in my sleep," Kate pointed out. "But what does that say about me?" Not surprisingly, some of the most positive responses to the collection came from the Mulleavys' art world friends, who acknowledged the courage it must have taken to put those clothes on the runway.
In a lot of ways, with this collection, Rodarte is carrying a torch that was lit in the '90s by downtown New York collectives like ORFI and Bernadette Corporation, who brought hard-core street style to the runways and thumbed their nose at any established notions of taste. Founded by Ana Gonzalez, Scott Kruger, and Donald Hearn, ORFI, a self-described "wolf pack" that came together in 1998, wore its agenda on its label. (The acronym stands for Organization for Returning Fashion Interest.) "We wanted to be inclusive," Hearn said, citing art, architecture, hip-hop, street culture, good books, and craftsmanship as the building blocks of their aesthetic. Bernadette Corporation was a cheeky gang of New York City artists, originally made up of Bernadette Van-Huy, Thuy Pham, and Antek Walczak. "2000 Wasted Years," a retrospective of the group's work, was on view at Artists Space, in SoHo, in 2012, and today, Bernadette Corporation still shows with galleries like Greene Naftali. But from 1995 to 1997, Bernadette Corporation expressed itself largely as a fashion brand. "Rather than stay in an art gallery and comment on the business of fashion, it's better to actually try to influence fashion itself by competing with all the other designers," Walczak said of their MO in 2001. The trio put on a handful of riotous guerrilla-style runway shows, most memorably in the spring and fall of 1995, drawing on the vernacular of immigrant subcultures and the urban Hispanic look of the time: Mass-produced sportswear. Bold colors. Baggy jeans. Big hair. Lots of gold. Garish nails. Beepers.
The Rodarte girls are relentlessly optimistic, and nearly a decade into their careers they still appear to view fashion and its potential with that same nose-pressed-up-against-the-glass awe evident in their very first collection of paper dolls, in 2004. Bernadette Corporation, on the other hand, approached fashion from a decidedly more critical stance—arm cocked and poised to throw a brick. And yet, the underlying sentiment is remarkably similar: "In fashion, people are always trying to be surprising," Van-Huy said. "But the key word there is 'always.' Meaning, it's typical. And when everybody's always doing it, the result is that there becomes a typical way of being surprising and unique." Kate Mulleavy sums it up this way: "Nothing looks cool to me anymore."
In an interview with Bernadette Corporation in Index magazine in 2001, Van-Huy complained that editors from magazines like Vogue and Allure would come to their shows only to "totally dis us" afterward. These days, instead of getting totally dissed, radical street-inflected brands like Hood by Air, designed by Shayne Oliver, who is one half of the DJ/production team and creative collective GHE20 G0TH1K; and Telfar, which is designed by the Dis Magazine darling Telfar Clemens, are getting mainstream approval. (Typical looks may include layers of deconstructed, gender-eradicating sportswear at Hood by Air and a halter-neck dude dress at Telfar.) And Sean John vets Dao-Yi Chow and Maxwell Osborne, the guys behind the men's line Public School, were among this year's winners of the Vogue CFDA fashion-fund awards—despite their penchant for off-kilter proportions and stylistic tics like putting shorts over pants. "Whatever offends people, you can say it possesses a raw potential or energy," Van-Huy said. "Like a diamond in the rough. You can harness that potential. And if you set it in the right framework, it can give off beauty and pleasure."
Photos: Cool and the Gang
Two looks from the Rodarte spring 2014 collection.

Photographer: Robbie Fimmano Stylist: Natasha Royt
Rodarte spring 2014 collection.

Photographer: Robbie Fimmano Stylist: Natasha Royt
Bernadette Corporation's spring 1996 runway presentation, photographed by Wolfgang Tillmans. Photograph courtesy of Bernadette Corporation.
Bernadette Corporation's spring 1996 runway presentation, photographed by Wolfgang Tillmans. Photograph courtesy of Bernadette Corporation.
ORFI fall 1999. Photograph courtesy of ORFI.
Hood by Air spring 2014. Photograph courtesy of Hood by Air.