Behind the Scenes of Roger Vivier's Hotel Cinémathèque With Isabelle Huppert
See Roger Vivier creative director Gherardo Felloni behind the scenes of his short film with Isabelle Huppert in this exclusive clip.
---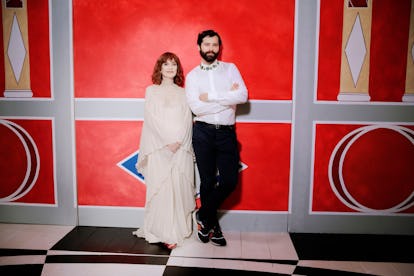 Gherardo Felloni is by no means a purist. In the two years since he took the helm as creative director of French label Roger Vivier, he has wasted little time introducing his signature ethos to the house that once counted Queen Elizabeth ll, Jackie Onassis, and Elizabeth Taylor among its devotees. Felloni's collections involve a sort of aesthetic alchemy: from ostrich feather-plumed slingbacks to crystal-encrusted running shoes, the Italian-born designer's contemporary edge is never dulled by a reverence for the old Hollywood glamour that earned the house its fame.
Felloni, who came to Vivier by way of Dior and Miu Miu, has built a reputation among his industry peers as something of a renaissance man: the accessories designer nurtured an early interest in architecture, spent six years studying opera at a top French conservatory, and dabbles in interior decoration on the side. It should come as no surprise, then, that every time fashion week rolls around, Felloni enlists a cohort of artists and performers of all stripes to craft immersive, topsy-turvy universes in which to present his latest collection. In years past, guests wandering the Hotel Vivier— a Paris mansion transformed annually for the occasion— have stumbled onto children's ballet rehearsals and gaggles of cheerleaders striding down the parquet halls in the label's signature pumps.
This year, Felloni presented his spring 2021 collection online, in a newly virtual Hotel Vivier. In this exclusive behind-the-scenes footage, we watch Felloni (in face mask and antique statement necklace) and his team engage in the craft of world-building.
From a few standalone sets emerges the latest iteration of Vivier's beguiling, jewel-toned universe: one that luxuriates in the contrasts between eras and aesthetics. The creative director tapped French actress Isabelle Huppert to star in an interactive short film that transcends the constraints of this socially distanced moment with a distinctly new, audience-driven approach to presentation. Huppert plays six characters, embodying six different film genres (fantasy, crime, comedy, horror, animation and thriller), that nod to heroines of cult classics like 1962's Baby Jane and 1977's Suspiria. As they move from room to taffeta-bedecked room, guests are invited to participate in the presentation by choosing Huppert's path for her. She waits, her gaze fixed on the camera, sighing impatiently with every ill-advised click of the mouse.
Hotel Vivier Cinematheque, like Felloni himself, represents a joyful refusal to conform to genre. The result is a campy clash of art deco backdrops, '60s bric-a-brac and '80s music that, when combined with Huppert's husky coquetry, provides a welcome—if dizzying— departure from reality. But despite Felloni's innovative new platform, the true star of the show is the Spring/Summer 21 collection: big-buckled satin smoking slippers, pillbox purses festooned with hand-painted flowers, and demure kitten heels in Felloni's signature "couture pink" that can conjure the ghosts of Old Hollywood with a single tap of the toe.
Related: Isabelle Huppert, Probably World's Greatest Actress, Reveals Where She Does Her Worst Acting