Five Minutes With Romain Duris
The 38 year-old took a break from filming Chinese Puzzles with Klapsich to discuss his own abandoned artistic career, the effects of adultery and why he continues to act.
---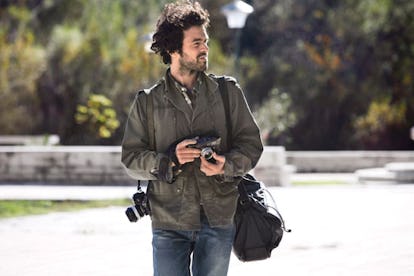 Whether playing a gangster torn between his life of crime and his master pianist skills in The Beat That My Heart Skipped or a dashing and indecisive exchange student in Cedric Klapsich's L'Auberge Espagnole, French actor Romain Duris has always been a captivating, often raw presence onscreen. His lanky physicality and scruffy rockstar looks—not to mention his serious talent—find their ultimate vehicle in The Big Picture, a thriller that calls to mind Hitchcock and Patricia Highsmith, which opened last Friday. Duris is Paul, a successful corporate lawyer living in a ritzy Parisian suburb with his wife (Marina Foïs) and young children, and harboring an unfulfilled passion for photography. When he finds out his wife is cheating on him, he accidentally kills her lover and decides to erase his own identity, moving to Montenegro and pursuing his photographic ambitions.
The 38 year-old took a break from filming Chinese Puzzles with Klapsich to discuss his own abandoned artistic career, the effects of adultery and why he continues to act.
Paul has it all together in the beginning of the film and then everything unravels. Do you think what transpired was necessary for him to become the artist he wanted to be? Yeah, I'm sure about that. I think he wasn't in the place he wanted to be. Of course it's because of a crime that he changed everything, but he was searching for something. There's a lot of people like that, you know? We in our life, we are sometimes in the same point where we are doing some stuff and it isn't really the place we wanted to be. So after the life, you have to change everything. Or sometimes it never happens. So for him, yeah, he didn't have the choice, but I think the crime helped that.
There's a stereotype that the French are more open-minded about adultery than Americans. But Paul reacts pretty strongly to his wife cheating, to say the least. I think it's the same. I think it's human.
It's human to kill the man your wife cheated on you with? Of course, of course. No, I'm joking! It's not normal, but the feeling you want to kill someone, that's human, yes. The feelings could be very cruel. Afterwards we know how to live and react and calm down and think about what to do. But inside, I think it's international.
Do you think Paul is better off in the end, despite everything he had to go through to arrive there? The only thing I don't understand is how he can escape from his children. I don't want to judge him, of course he did something very, very hard and very bad, but I can't imagine. And that's why it's difficult to play. How I can live, how I can take a picture, at the same time my children are living in another country and I'm not with them? For me that's impossible.
When you were discovered by a casting director, you were a teenaged art student. Do you miss being a painter? Of course I miss it. I try to paint a little bit. But it's difficult because before I used to paint every day and tell myself it's the way I'm going to live. So I did a hundred percent this passion. So how can I paint not every day with just one idea in mind? I don't know. I don't want to be in France what we call "painter of the Sunday," one day a week you paint a little. So I'm acting for the moment and I'm sure it's going to happen, but I don't know when.
What do your paintings look like? I think it's very figurative… Always it's people making love in the countryside or in the desert or in the earth. But always speaking about love and sex and pleasure and happiness.
Why did you choose acting over painting? I mean, my life is choosing for me. The life is choosing that I have to act. Because I'm not able to say, No, I don't want to act because I want two years of painting. I'm not in this moment. So life is choosing for me.
Photo: Nicolas Guiraud ©2010 Europacorp – Tf1 Films Production – Ciby 2000