Double Vision
Robin Standefer and Stephen Alesch are the design world's new darlings.
---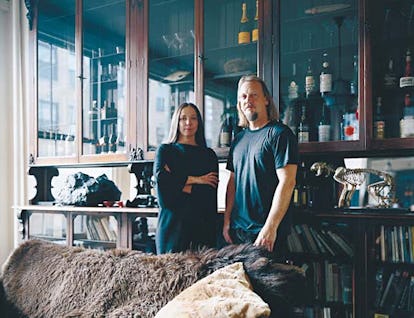 Most couples fall in love over a glass of wine or a romantic dinner. For Stephen Alesch and Robin Standefer, a stack of magazines set the mood. It was 1992, and Alesch, a film set designer, was waiting to meet with Standefer, a production designer, when he noticed a waist-high tower of The World of Interiors—the British magazine known for showcasing artful, often eccentric abodes—in her office. "I started flipping through and was like, These are the most beautiful places I've ever seen!" he remembers. "It changed my life, seeing that magazine. And then Robin walked in, and I thought, She collects these amazing magazines and she's the prettiest girl I've ever met? Sign me up."
A detail from their loft.
Alesch's unusual aphrodisiac turned out to be an omen of the couple's future. They went on to design 20 films together, among them Zoolander and Practical Magic, and eventually they married, but their ultimate destiny lay in creating the kinds of homes and public spaces that shelter mags clamor to cover. Today their firm, Roman and Williams, named for its founders' maternal grandfathers, is one of the most sought-after design outfits around, with a list of clients that includes Kate Hudson, Ben Stiller and Gwyneth Paltrow. The pair have refurbished New York's Royalton hotel; designed interiors for New York's Standard and Ace hotels; and, this spring, will debut their first ground-up structure, a condominium building in New York's NoLIta. "We are so busy we don't breathe," says Standefer, a petite, mile-a-minute chatterer who grew up on the Upper West Side.
The duo's career shift began while working on Duplex, a 2003 film most notable for its stunning set of a Brooklyn brownstone. One day Stiller, the film's star, said, "This is amazing! Why can't my house look like this?" Standefer's answer: "Maybe it can."
A quiet corner in the Roman and Williams office.
Duplex turned out to be Standefer and Alesch's last movie. Tired of seeing their sets destroyed postfilming, they signed on to overhaul the Stiller residence, a two-year job that involved tripling the structure's size. "They put furniture from the Fifties, Sixties and Seventies into our Twenties Spanish house and just made it look right," says Stiller, who recently hired the firm to work on his second home.
While their projects share what Alesch, 43, de- scribes as "a certain weight and warmth," Standefer and Alesch have avoided creating an instantly clockable Roman and Williams aesthetic. "For us, it's an ethos more than a really distinct style," says Standefer, 44.
At the heart of that ethos is an almost obsessional level of detail. "There's not a t that's not crossed or an i that's not dotted," says Paltrow, for whom Roman and Williams recently designed a Manhattan apartment. The actress's favorite piece is a swing, made from an antique Indian door, that hangs from the living room ceiling on custom-designed chains. "Even the chains are like a work of art," she says.
A rendering of the condo building they designed on New York's Elizabeth Street.
Neither Standefer nor Alesch (who share a NoHo loft and a home in Montauk) has formal training in design. After studying painting at Smith and Hampshire colleges, Standefer worked the front desk at the Leo Castelli gallery. On a whim she art directed a friend's small film, and soon after, Martin Scorsese hired her to source paintings for New York Stories; she then worked in the art department for Goodfellas and The Age of Innocence. Alesch, a Wisconsin native, dropped out of architecture school after a year and spent a decade working in architecture offices before transitioning to film.
The couple's rise to design stardom involved some serendipity, with one celeb client leading to another leading to a slew of larger commissions, but, says Standefer, "We've also worked our asses off." And they won't stop anytime soon: They are currently toiling away on a Washington, D.C., hotel; restaurants for the Standard and the Ace; and the renovation of a Frank Lloyd Wright house. Jokes Alesch, "And on weekends we're building a tunnel through solid rock—with our bare hands."