Roman and Williams, the Design Team of Choice for New York Restaurateurs and Hoteliers, Makes Its Mark in Nantucket
Robin Standefer and Stephen Alesch are the creative masterminds behind some of New York's trendiest spaces. Very soon, they'll be staking a claim on one of the country's most exclusive zip codes.
---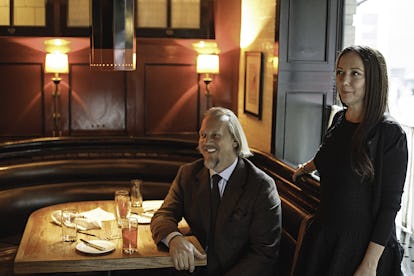 If you aren't already familiar with the name Roman and Williams, you're definitely aware of the impressive spaces the New York-based design firm, led by husband-and-wife team Stephen Alesch and Robin Standefer, has dreamed up, from hotels like the Ace and the Standard Highline to restaurants like Lafayette and the Dutch. Most recently, they were enlisted to design the interiors for Greydon House, a 20-room hotel nestled in one of the country's most exclusive zip codes: Nantucket. Before the hotel, which is situated at 17 Broad Street (the original structure, some of which still remains, dates all the way back to the 1850's), opens its doors next month, Alesch and Standefer spoke with W about the project, and finding that delicate balance between preserving history and infusing it with fresh energy.
I know you are quite selective about the properties you take on. What made you want to do this one? Stephen Alesch: We liked the island; we love the sea so we liked that it was surrounded by water. Then we met the owners and it really moved us that they wanted to build something to keep in their family, which would add something that was missing to the community. We saw a lot of potential in that. Robin Standefer: We were also moved by Nantucket's history, how strong the visual narrative is there. It was this very small island with a huge global reach and such a complex history, so it was a good scale for us. And the sweetness of the site itself was hard to resist after working on big urban projects. There's something about the isolation, and privacy, of being an island, too. We found so many places where nature and civilization seem to fuse together, and it really captured our imaginations.
Prior to this project, did you frequent Nantucket? RS: We did work on a house there once, so we already knew and loved Cisco Beach, a windswept beach with dunes and good surf. Also, we kept returning to places like Sconset, which has a whole village of small houses that in this dreamlike way seem to emerge out of the terrain — so connected to nature, and covered in roses. SA: We gravitate to this kind of low-lying landscape; we have a house in Montauk that was created by the same footprint of the Wisconsin glacier as it retreated, so it has similar moorlands and wetlands that we love. We spent a lot of our time on the beaches and walking outside in the village, surfing and eating. We really only wanted to be inside to sleep.
What was your vision for this hotel? SA: It's really very traditional, but we like to ignite things, so if something has grown a bit staid, if people have in their heads a strong image of Nantucket, we try to come in energize it, to challenge it and see what else is there. RS: There's so much depth to the global narrative here. Our vision was to express that part of Nantucket's history, to use that as a foundation and guiding principal. We had already started immersing ourselves in our work on the British Galleries at the Metropolitan Museum, so we had in our heads these stories of how trade with the East was such a powerful influence in that era. This was an opportunity to re-connect with and tell that trade story, which is not always associated with Nantucket.  What's the vibe you hoped to create with the design? RS: We wanted it to feel like someone's house, with evidence of a life well-lived, like that fascinating aunt who never quite settled down. It's that rare place where there is already a strong sense of continuity that we didn't want to disrupt, we wanted to cultivate it, to tell a story that's rarely told and at the same time inspire a sense of freedom and openness. SA: Definitely at the beginning of the process we try to sharpen anything that feels general; we try to stay rooted and connected to the place and it's history. Then we add our own take on the present.
What are some key, interesting design elements you are most excited about on the property? RS: Nantucket was once an art colony and Greydon House's owners come from a family of collectors, so we wanted to bring in that culture and let people have an intimate experience of it. Roman and Williams is very much about the process of creating a story by the things we collect. There's a mural of tea production in China, which was inspired by an 18th century piece we saw in the Peabody Essex museum. But we also have some very well-known artists from the owner's collection. Then we brought in hand-painted Portuguese tiles, layers of textiles, and carved chairs from the Côte d'Ivoire. Definitely one of my favorite things is to see all of these elements co-exist. SA: The bones of this place are still very visible, and even where certain walls or woodwork may not be original we tried to maintain a sense of scale and rhythm with our own interpretations of the details and trims — our "new originals." Nothing is a direct copy of a historical motif. We were also very lucky to be able to work with the great landscape artist Marty McGowan, who taught us many things and helped make a beautiful island garden.
What was the greatest challenge with this project? RS: The challenge is in creating a unique rapport between the architecture and objects that tell a new story. It's been about two years of fine tuning to get to the right mix of being deeply rooted but still fresh. SA: We had to let Greydon House be what it wanted to be, even if that is very normal, in the best sense of the word. Sometimes we like to call it "super-normal." There's no denying the past here — it's still very much present, and we crave that.
Watch W's most popular videos here: