Romeo Oh Romeo Gigli. Oh Where Were You?
Seated in a vintage wood chair, his gauzy white shirt unbuttoned to his navel, tan torso on display and a pack of Gauloises tucked into his chest pocket, 62 year-old designer Romeo Gigli (left) looks...
---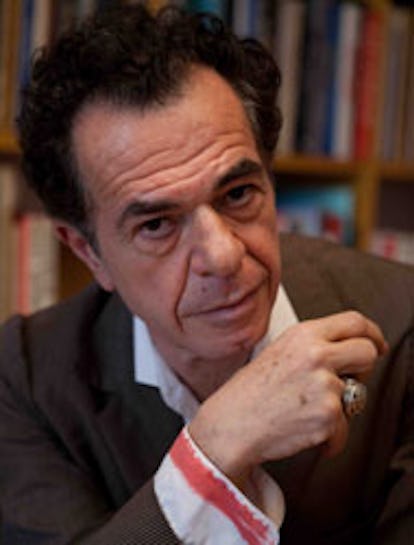 But Gigli has been hard at work these past few years and the fruits of his labor are on display in a 1,000 square foot pop up boutique in Venice (timed for the film festival there) for the new collection he has designed in collaboration with the Hong Kong-based luxury retailer, Joyce. The line, called Joyce by Romeo Gigli, debuted for Fall 2012 and encompasses both men's and women's ready-to-wear, rife with the beautiful textiles rendered in unexpected shapes on which Gigli first made his name.
It is a natural comeback for the aristocratic-born designer, who after departing his namesake company in 2004 amidst legal difficulties, embarked on freelance art and interior décor projects (he is a trained architect). As he tells it, Joyce Ma, the founder of Joyce boutiques, was one of the first people to give him a free-standing store after his 1985 debut show. The company has since moved to other hands, but three years ago, they sought out Gigli on their 40th anniversary, asking for one of his archival pieces as part of an exhibition.
"They called me and said, 'Romeo, everybody they are looking where Romeo is! All the women, they want the coat because they think it's contemporary,'" recalls Gigli of the look he loaned them. And thus a new line was born.
Unlike his namesake brand, Joyce by Romeo Gigli is sold exclusively in Joyce boutiques and as such, Gigli looked specifically to his Asian customers for inspiration.
"What I tried to underline with the collection was the beauty of Asian women. They have beautiful arms and they move their arms in a really soft way; beautiful shoulders; beautiful necks, and the faces," says Gigli. "So I tried to frame the faces with color."
He shows off a large collar cape in a rose gold silk that can be buttoned and reconfigured in multiple ways, showcasing its wearer's décolletage to full advantage. A teal floral cocoon cape has all the majesty of a rich tapestry, while a champagne lace tulip dress has an ever-flattering Empire neckline. The men's looks are equally charming: coats with soft sloping shoulders in wool blend and metallic cotton fabrics handmade in England.
Though the clothes are utterly contemporary with their distinctive Gigli imprint, they also harken back to an era when fashion was perhaps a bit more audacious.
"When I started in the eighties, the fashion world was really strong because all the designers had different attitudes and different approaches. You could recognize one collection from another in a strong way, "says Gigli. "Now when I look at fashion, it all looks so much the same."
But while Gigli may wax nostalgic for a more diverse fashion playground, his aesthetic is ever forward-looking.
"With fashion design, what we need is to catch what people need for tomorrow, not 3000, tomorrow. That is our calling. We need to catch what they need and project what people are looking for before they know what they want. That is a designer," says Gigli. "Otherwise, it's just somebody drawing clothes."
Photos: courtesy of Romeo Gigli