This Naked Performance Takes Place in Angela Missoni's Living Room
Inside the artist Romina de Novellis's performance at Salotto Angela Missoni, a version of the creative director's private living room at the Missoni flagship on Madison Avenue.
---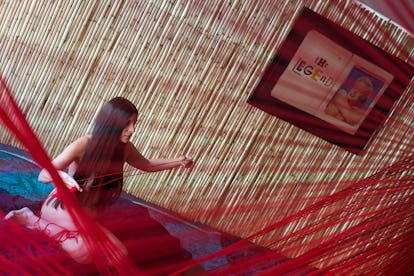 Scott Rudd. Courtesy Missoni / Kreëmart.
This past week at Missoni's New York flagship on Madison Avenue, a mere $25,000 could nab you maybe the most stunning thing in the whole shop: a performance art piece complete with 20,000 meters of the house's famous yarn.
From March 2 through 4, the Italian artist Romina de Novellis took residence in a small showroom in the boutique's second floor for La Veglia (The Vigil), a performance designed for domestic spaces in which the artist, completely naked, serenely unravels a wall of red thread—Missoni, of course—in an impossible attempt to break free before sunset. All the while, a recording of an endangered southern Italian song traditional sung by women during social visits plays in the background. It's a reminder that you're a caller at Salotto Angela Missoni, an imagined version of the creative director's private living room.
"It's a project within a project," Missoni's collaborator Raphaël Castoriano, of sugar-art platform Kreëmart, said of de Novellis's piece, which has been traveling to private homes for performances following a series of written instructions by the artist. For the Missoni show, Novellis wove her work in one corner of a lushly appointed, art-filled lounge.
Visitors are greeted with a photograph by Mickalene Thomas hung on a bamboo wall beside a palm tree; not far away, past the Picasso tapestry, a sofa draped in Missoni knits sits on a floor layered with rugs from ABC Carpet and Home, one of the show's many partners (another, Barilla pasta, forms an offering on an altar-like table near the back of the room). "It's non-institutional, because Angela and myself are non-institutional," Castoriano said of the arrangement.
The Salotto will be open through April 22. This is just the first installment of the show, which is rooted in the idea of creating an alternative arena for viewing art. "I don't consider myself an art collector," said Missoni. "I'm an assembler." And her own collection is suitably diverse, with with women she admires, like Marina Abramović, in heavy rotation—works hang near a Missoni-clad Barbie doll or next to family photos shot by Jurgen Teller for a brand campaign. Linking many of the pieces is an interest in craft mixed with a conceptual bent, reflected in the ersatz living space. "To see art in this way is a different thing," said Missoni. "It gets very personal in the end."
So how would she explain this unusual exhibition? Well, Missoni said as she settled, with a casual flair, into an ottoman at the edge of a mosaic table, you'll just have to see for yourself. "Come into my house," she beckoned. "Come for a coffee with Angela Missoni."