HBO's Horror Anthology Room 104 Looks Scary, Sexy and Absolutely Bonkers
The Duplass Brothers and HBO's Room 104 involves Santa Claus, baby Hitler, possessed women in nighties and James Van Der Beek.
---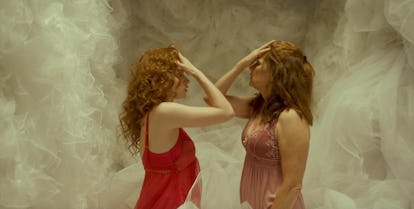 HBO via YouTube
With American Horror Story, Black Mirror and Hulu's upcoming Dimension 404, you might not think there's much room left in the sphere of scary anthology series, but leave it to HBO to enter the game with their own unique twist. They've re-teamed with Jay and Mark Duplass, the mumblecore indie film heroes who were also behind the network's Togetherness and Animals, for Room 104.
The twist: the entire series is set in a single room of a roadside motel and each of the 12 planned episodes features the stories of a new set of guests who check in each week. The results, as judging from the just released full-length trailer, mix deadpan humor, surreality, scary shocks and even some sex appeal.
Throughout the trailer there's spooky children, a down-and-out Santa Claus, possessed women in night gowns, a UFC-style girl fight, priests and, for good measure, mormon boys in the midst of a crisis of faith. While the cast trends towards the unknown there's also a few famous faces that pop up. Orlando Jones plays that spooky priest, James Van Der Beek dances around in a tuxedo, plus Amy Landecker and Mae Whitman make appearances. Oh, and, hey, there's an all grown up Keir Gilchrist, who hasn't done a lot of TV since United States of Tara. This time he has questions about baby Hitler.
Entertainment Weekly says that plots for each episode include the sole survivor of a plane crash wondering if she uses the opportunity to pretend to be dead and start her life anew, a baby sitter watching over that creepy kid, and a house keeper who meets her younger self in the room.
This all sounds distinct enough from those other horror anthologies to leave room for in our summer binging plans, and enticing enough to actually follow through on those plans. The series premieres on HBO on July 28th.
Related: Will Trailer Answers the Question, "What If William Shakespeare Was into Punk and Nipple Pasties?"
See What's Trending in W Video: