Will Trailer Answers the Question, "What If William Shakespeare Was into Punk and Nipple Pasties?"
TNT's Will reimagines Shakespeare as a libertine punk rocker.
---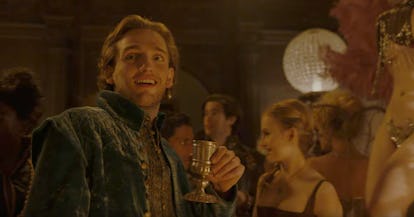 There's a whole lot going on in the background of the trailer for TNT's upcoming show about young William Shakespeare, simply titled Will. There's nipple pasties, metallic body paint, punk rock-style leather jackets, a few men in bejeweled speedos, women kissing, mohawks, some guy in a mysterious Dr. Doom-like mask, and, least surprising of all, Victorian drag queens (perhaps the most historically accurate element actually). At times, the thing doesn't look that different from Vienna's wild Life Ball party.
Yes, the Shakespeare of the show is not the same as the one you likely studied in English Literature. He's young, he's sexy, he likes to party, he's an outlaw, and, of course, he's caught in a love trial.
Starting with a 10 episode first series on July 10th, Will centers on Shakespeare's life in his early twenties, and takes many historical liberties. Historians don't even know what the actual Shakespeare was up to at this time, as there's very little info on his life between his marriage at 18-years-old and the first evidence of his involvement in the London theater scene at 28, so Will casts Shakespeare, played by British newcomer Laurie Davidson, as the hot, young rebel in town, and that theater circuit as the bawdy, DIY punk rock scene of its time. One that certain authorities seem intent on shutting down.
Olivia DeJonge pops up as potential love interest Alice Burbage, a real-life figure who was the daughter of a famed actor and theater builder (though there's no historical evidence she actually had anything going on with Shakespeare himself). Jasmin Savoy Brown takes on the role of Emilia Bassano, who, incidentally, was Britain's first professional female poet and a rumored subject of Shakespeare's "Dark Lady" sonnets. Jamie Campbell Bower pops up as Christopher Marlowe (a potential subject of the "Rival Poet" sonnets). No word on if Shakespeare's third sonnet subject, "The Fair Youth," makes an appearance, but if you're making a show that imagines a Victorian-era full of nipple pasties, then the least you can do is acknowledge that Shakespeare might have been bisexual.
If you're thinking, "Hmmm, why does this remind all a little bit of a Baz Luhrmann movie?" Well, you're not completely off base. The series was created by Craig Pearce, a frequent Luhrmann-collaborator who co-wrote the scripts for Romeo + Juliette, Moulin Rouge and The Great Gatsby. Meanwhile, Shekhar Kapur, the director of the Cate Blanchett-starring Elizabeth, directed a few episodes, including the pilot, and serves as a co-producer. Some powerful British producers with experience with period pieces are also on board. They include Lily Allen's mom Alison Owen (past credits include Jane Eyre and The Other Boleyn Girl) and Debra Haywood of flicks like Les Misérables and Pride & Prejudice (Both of those ladies, incidentally, also worked on Kapur's Elizabeth). So there's quite an established braintrust behind the show, even if that might not be the first thing you'd guess after watching the trailer.
Related: Everyone Has Thoughts on Shakespeare in the Park's Donald Trump Controversy
Liev Schreiber Auditions for "Ray Donovan" as Hamlet: