Everyone Has Thoughts on Shakespeare in the Park's Donald Trump Controversy
Shakespeare in the Park decided to reimagine Julius Caesar as a very Trump-like figure, and it lost corporate sponsors because of it.
---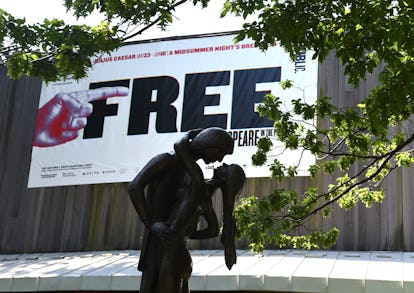 TIMOTHY A. CLARY
Last night while Kevin Spacey was doing his Bill Clinton impression during the Tony awards at Radio City Music hall, another president was also being brutalized in effigy, over in Central Park. Shakespeare in the Park debuted its version of Julius Caesar, which features a very Donald Trump-y Caesar who is, naturally, assassinated in the course of the play. While the production obviously kept Shakespeare's original script, lead actor Gregg Henry played the titular role with a coif of gravity defying blond hair and a wardrobe of an ill-fitting black suit and long red tie. The performance generated swift backlash from sponsors Bank of America and good press-glutton Delta Airlines, both of which withdrew their sponsorship. Those decisions were, of course, met with online criticism as well. Basically the internet is full of takes on the affair.
Unsurprisingly, the backlash was led, in part, by a member of the Trump family with an assist from the Fox News channel. First son Donald Trump Jr. (who is increasingly taken on his father's habit of fury tweeting) broke out the scare quotes to fight back:
Frat house philosophizing aside, said "NYC Play" was, of course, written in 1599, and is not terribly relevant to today. Donald Trump has very little in common with Gaius Julius Caesar—a politically savvy military leader who may have been betrayed by his friends but, you know, actually did have friends at one point. Moreover, it's Shakespeare in the Park, a notoriously hard to score ticket, so many of the people in the audience might have just been celebrities, who already aren't too keen on Trump in the first place.
But finally, and most importantly, as many pointed out on Twitter: the point of Julius Caesar is not that it was a good idea to kill Julius Caesar. If anything it's a strong counter-argument to the idea of killing Caesar.
And of course there were many performances of Julius Caesar while Barack Obama was president, at least one of which featured the main character reimagined as a very Obama-like figure.
And, because of this base timeline we live in, of course Delta sponsored one:
Delta's statement this time around said "the graphic staging of Julius Caesar at this summer's Free Shakespeare in the Park does not reflect Delta Air Lines' values." Bank of America said "The Public Theater chose to present Julius Caesar in a way that was intended to provoke and offend. Had this intention been made known to us, we would have decided not to sponsor it."
This may have touched a nerve for some conservatives because many of them—despite rallying behind a reality show star—still consider themselves to be the inheritors of the erudite William F. Buckley school of conservatism, from the good ole days where you could just kick back with some Tacitus and call Gore Vidal a "goddamn queer" on television.
Steve Bannon, for example, is probably just upset that they passed over his hip-hop version of Shakespeare's Corealanus, which, you'll recall, was set in the 1992 riots of Los Angeles and features Bloods, Crips, and "Ultimate Fight Champions meets Hong Kong Swordplay."
Remember that this president was not a participant in but a leader of a literal fake news-propelled movement that implied the last president wasn't born in the United States, so many found it difficult to gin up the outrage over Shakespeare in the Park, especially when, Megyn Kelly will soon discuss with Alex Jones the possibility that the massacre at Sandy Hook was a fiction created by gun control activists.
Shakespeare in the Park has been a political hot button going back to its inception. Founder Joseph Papp went toe-to-toe with New York's supervillain parks commissioner Robert Moses in 1958 over his insistence that Papp charge the public, leading to "a battle of wills that made front-page headlines for nearly a year," a battle that included Moses' starting a whisper campaign to imply that Papp was a communist. More recently Governor Andrew Cuomo, back when he was New YorK Attorney General, led a campaign to crack down on scalpers and the people who would sell the spot for tickets in line on Craigslist.
But again, perhaps the funniest part of this controversy is that no one is ever able to get tickets to Shakespeare in the Park. It's the original Hamilton. Still, if past censorship of Trump criticism is any indication, the Public Theater may very well be flooded with donations to make up for the loss of corporate sponsors.
Related: Could This $165 Million Roy Lichtenstein Painting Help Reform America's Criminal Justice System?
See What's Trending in W Video: