Rosamund Pike: Crazy Beautiful
David Fincher cast Rosamund Pike for the leading role in Gone Girl because she was an unfamiliar face. Not for long.
---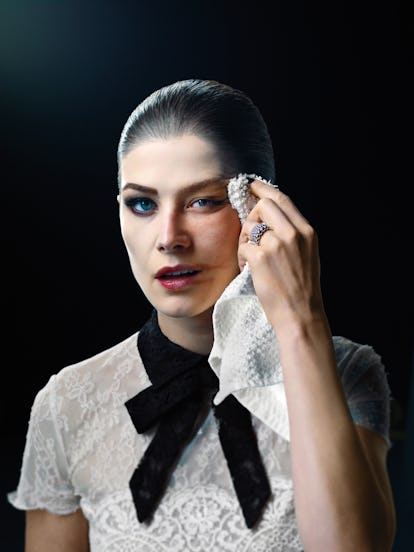 Photographer: David Fincher
"I have a fondness for difficulties," Rosamund Pike told me as her trainer, Holly Lawson, who is the No. 5 welterweight female boxer in the world, taped Pike's hands at the Box 'N Burn gym in Santa Monica. It was a sunny morning in mid—January, and Pike was hell-bent on learning how to box. Seven months earlier, when she was cast by the director David Fincher in the highly coveted role of Amy Dunne in Gone Girl—the movie adaptation of Gillian Flynn's dark, twisty best-seller about a woman who disappears on her fifth wedding anniversary and may (or may not) have been murdered by her husband—Pike, at Fincher's request, began enthusiastically working out almost daily with Lawson. "In the past, during action scenes, I used to worry that I ran like a girl," Pike, 35, explained. Lawson showed her how to make a proper fist. "Now you're ready to go," she said as Pike climbed into a ring in the corner of the gym. "Let's hit!" Pike said, sounding gleeful.
As Lawson coached her through different combinations, Pike maintained a steeliness. Her idea of fun seemed to entail determination, intensity, and excellence: She was obsessed with landing her punches. "This is rather like a dangerous pantomime," said Pike, hardly sweating, after 20 minutes. The actress is tall and lean, and her face is classically beautiful—in the style of old-school movie star blondes like Grace Kelly and Tippi Hedren. Like theirs, her features can seem almost masklike, and it is that opaque quality that makes her ideal for playing Amy, a complex character whose alluring all-American exterior belies a wicked side. The film, which is slated for release in October, veers from the plot of the book in significant ways that the actress is forbidden to reveal. Pike, who is English, Oxford educated, and the only child of two opera singers, portrays Amy over a period of nearly a decade and in moods that range from blissful to diabolical, lovesick to murderous.
"I liked that people didn't immediately know who Rosamund was," Fincher said on the Los Angeles set of Gone Girl at the Red Studios Hollywood. As on any Fincher production—from films as diverse as Fight Club and The Social Network—the sets for Gone Girl were fully realized: There was food in the cupboards of the Dunnes' suburban kitchen, and Amy's office was actually functional. ("If your character suddenly needs a paper clip, it is right there waiting for you," Pike said.) Fincher is known for his star-is-born casting. Three years ago, he transformed Rooney Mara, a virtual unknown, into a sensation as Lisbeth Salander in The Girl With the Dragon Tattoo. And though actresses like Natalie Portman and Charlize Theron were interested in the Gone Girl role, Fincher wanted Amy to be played by someone less familiar. "I'd always liked Rosamund in movies, but I didn't really know her," Fincher said. "That made her very interesting."
Pike's cinematic history is unusual: Her first film audition, in 2000, was for the role of Miranda Frost in the James Bond film Die Another Day. "Before I was cast as a Bond girl, I had never actually seen a James Bond movie," Pike told me post-workout over a turkey burger at Pono Burger, a nearby restaurant. "The Bond audition was strange—I'd just come back from China, doing the kind of hippie-backpacking thing that people do when they leave school. All the girls in this beautiful old town house waiting to see the casting director were sleek and dressed in what seemed to me like leather. I was wearing something very thick and woolly. I was convinced I was all wrong."
When the producers, who were in fact impressed, asked Pike to come back, they told her to bring a dress. So she went home and raided her mother's closet. "My idea of a dress was an operatic concert gown," Pike recalled. She settled on an elaborate costume that had been made by her grandmother—it had a grouping of large silk roses planted down the front, a huge skirt, and a train. "I quite proudly took the dress out at the second audition, and they all tried very hard not to laugh. They politely told me that in James Bond films, the women tended to look sort of slinky."
Her naïveté may have helped her get the part: Pike stood out, and yet she was easily transformed into a stunning Bond vixen. (For the final round of auditions, the producers loaned her an appropriate dress.) "The Bond film was like an ejector seat from normality into a crazy circus world," Pike recalled. "It was trial by fire. I was 21, and I was made to look far more sophisticated than I felt. Instantly, I had to come to terms with myself as a woman and also as an object. I was looking at myself from the outside for the first time. That awareness, for any girl, is both horrible and fascinating."
Three years later, Pike appeared in London in the play Hitchcock Blonde, which is, strangely, a kind of twin project to Gone Girl. In it she played a body double for Janet Leigh in Psycho who plots to kill her husband. Pike is intrigued by characters like the icy blondes who seduce and deceive in Hitchcock's films and Amy in Gone Girl—women who are compelled by their power as objects of desire. "In Hitchcock Blonde, I had to do a 10-minute nude scene," she recalled. "Apart from some high heels, I was completely bare onstage. The play was about the male gaze, male expectations, and, finally, female power and the lack thereof. This girl had dark secrets, but she also wanted to be adored. Until Amy, I don't know that I'd ever seen that combination in a character."
In the past decade, Pike has appeared in a series of supporting roles—among others, the prettiest sister in Pride & Prejudice (2005); the gorgeous girlfriend to a sophisticated thief in An Education (2009); Tom Cruise's love interest in Jack Reacher (2012). When she heard about Gone Girl, last summer, she was filming a comedy in a remote part of the Scottish Highlands. Fincher suggested that they get to know each other via Skype, and Pike had to join a gym near Glasgow just to secure an Internet connection. She had not been given the script but had started reading the book, and she assumed that Fincher was talking to many actresses about the role. After several weeks of conversation, Fincher asked if Pike wanted to fly to St. Louis, where he was scouting locations. "I said, 'I'll swim to St. Louis,' " Pike recalled as she ate a french fry. "We met there for two days." Other than Ben Affleck, who was up for the part of Nick Dunne, the boyish, smarter-than-he-looks husband, no other actor had been cast. Weeks after returning to Scotland, Pike received a text message from Fincher, saying, "You have the part," which she accidentally erased. "The only evidence I have that I got the call to play Amy is a selfie of me jumping in the rain in the Highlands. I look both happy and thoroughly daunted—the whole 'You got the best gig in years' scenario gives me the creeps." She paused. "But then again, I'm a very hard worker, and maybe people who have underestimated me or just thought I looked good will say they were wrong."
Ceán Chaffin, one of the producers of Gone Girl and Fincher's longtime romantic partner, insisted that Pike, her significant other, Robie Uniacke, and their toddler son move immediately to Los Angeles from their home in London. Fincher wanted Pike to start training so that she could convincingly play Dunne at a younger age; he also wanted to reinvent her look. Pike's straight blonde hair is now styled into a customized bob. The front is smooth, and the back is carefully layered à la Dorothy Hamill's famous style. Like the character Pike plays, the haircut is deceptive: conventionally attractive from one angle, subversive from another.
"Ceán only gave us four days to get to L.A.," Pike said as she put on a warm-up jacket covered in a bright floral print. "And it was good that it was that fast because there was no time for me to panic. I do remember saying to David, 'I know you know I have this character in me; you zeroed in on me for good reason.' With David Fincher, it's like being X-rayed—he sees things that you may not want anyone to see. Now I have to prove him right—I have to show the world that I'm as dark as he thinks I am."
Rosamund Pike: Dark and Twisted
Photographer: David Fincher
Prada top and dress. Beauty note: Mess things up a bit with Tigi Bedhead Hard to Get Texturizing Paste.

Photographer: Willy Vanderperre Stylist: Olivier Rizzo
Prada top; Donna Karan New York dress.

Photographer: Willy Vanderperre Stylist: Olivier Rizzo
Dior jacket, shorts, and pumps; Marc Jacobs blouse (throughout); Prada turban (throughout).

Photographer: Willy Vanderperre Stylist: Olivier Rizzo
Prada top and dress. Beauty note: Mess things up a bit with Tigi Bedhead Hard to Get Texturizing Paste.

Photographer: Willy Vanderperre Stylist: Olivier Rizzo
Louis Vuitton dress; Dior pumps.

Hair by Jimmy Paul for Bumble and bumble; makeup by Jeanine Lobell for Chanel Beauté at the Magnet Agency; manicure by Marisa Carmichael for Dior; shot at the Villa Sophia, Los Angeles. Produced by Simon Malivindi for Brachfeld NY. Digital technician: Henri Coutant at Dtouch. Photography assistants: Romain Dubus, Nate Hoffman, Hiroshi Clark. Fashion assistants: Kacie Carter, Mary Ossovskaya.

Photographer: Willy Vanderperre Stylist: Olivier Rizzo
Subscribe now and get W's May Beauty issue guaranteed, plus a special issue guest edited by Sofia Coppola. Click here.