Can a Rose Quartz Massage Help Manage Stress? Celebrity Facialist Tammy Fender Thinks So
One writer tries Tammy Fender's newest treatment–and falls asleep in the process.
---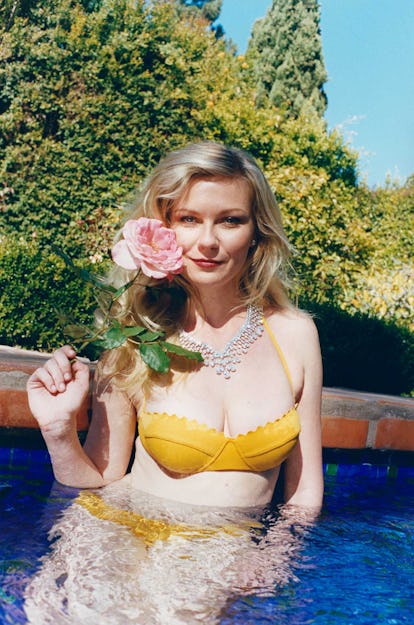 Juergen Teller
Last week, I attended the Global Wellness Summit at The Breakers Hotel in Palm Beach, Fla., and after three days of back-to-back talks and roundtables on the state and future of the wellness and spa industries, (and more than a few toasts in honor of both), my mind, body and spirit were all crying out for an intervention. Or simply a nap.
Luckily, both came simultaneously in the form of an off-the-hook new treatment at the Spa at the Breakers–the Rose Quartz Massage by Tammy Fender. Fender, a Palm Beach-based celebrity facialist whose own spa is on nearby Flagler Avenue, is known for her holistic approach to skin, and chicly packaged, organic product line. (While she is tight-lipped about her celebrity clientele, People confirms Gwyneth Paltrow, Julianne Moore, and Melania Trump are all fans.) With crystals all the rage these days (many believe they have powerful protective and energetic properties, especially rose quartz, which is associated with self love, emotional healing and inner peace), I was intrigued to hear that I would be lying on a bed full of the stuff, specifically a state-of-the-art Gharieni MLX Quartz treatment table topped with a thick layer of heated alpha-quartz sand. (Spa-furniture brand Gharieni is to the wellness world what chichi Italian gym equipment company Technogym is to the workout set–high-tech, modern and super stylish.)
For 80 blissful minutes, I was immersed in a kind of rose-apalooza, as my lovely therapist, Stephanie, kneaded my tight muscles into taffy with Fender's Tres Rose Body Oil, attempted to open my chakras with a Tibetan crown-chakra bowl and rose-quartz singing bowls (some say that sound vibration therapy stimulates healing and promotes deep relaxation), nestled my feet and hands between warm, rose-quartz discs and smoothed away facial tension with a small roller made from, you guessed it, rose quartz. While face down in the "sand," I contentedly inhaled soothing wafts of essential oils placed in a bowl under my head, and later, my facial pressure points were anointed with Fender's Tres Rose Essential Oil Blend. The combination of expert massage moves with calming aromatherapy soon transported me out of my own head, and for the first time in a long time, I stopped thinking about, well, everything–work, life, friends, politics, health insurance, Harvey Weinstein, my evening flight…
For the most part, Stephanie tended to me in soothing silence, but she did warn me before pushing a button that mechanically inverted the treatment table, so my head pointed downwards, towards the floor. This helped loosen up my waist and hips a bit, and (I'm told) may have improved my circulation. I have to stop here, as it was at about this point, after said inversion, that I checked out, or, I should say, drifted off on a rose-scented cloud of complete relaxation. Chalk it up to spa fomo, but I NEVER fall asleep during massages. Admittedly, I have feigned sleep to thwart chatty therapists, but I can safely say I have never snored in front of a stranger. Until now. (Sorry, Stephanie.)
According to Fender, the scent of rose can help ease depression and anxiety, and even enhance sleep quality. It certainly cured me of convention overload. When the treatment was over, I was so incredibly content that I didn't want to leave my crystal cocoon. Loopy and sighing, I eventually made my way to the spa's sleekly-appointed ladies' locker area, where a cup of fragrant rose tea was waiting for me, along with a side of chilled cream (which is how Fender advises drinking it). Though I felt a bit strange for the rest of the day (Stephanie told me to drink plenty of water to flush out toxins and aid in lymphatic drainage), it was a good kind of strange. Clearly, my Rose Quartz reset caused something to shift, because not even being squashed next to a stranger in coach on the flight back to New York got me down. And if that's not looking at the world through rose-colored glasses, I don't know what is.
See Photos: 6 of the World's Most Impressive Spas
Gilles Bensimon/Trunk Archive
A meditation spot at the Farm at San Benito.

Courtesy of the spa
Vivamayr's relaxation room.

Courtesy of the spa
The view of Lake Altaussee, near Vivamayr.

Courtesy of the spa
Aro Ha's spectacular surroundings.

Courtesy of the spa
The grounds at Aja Malibu.

Courtesy of the spa
The grounds at Aja Malibu.

Courtesy of the spa
The Alpha Lounge at Sha Wellness Clinic.

Courtesy of the spa
Sha's hydrotherapy-circuit room.

Courtesy of the spa
Watch: The Beauty Secrets of Supermodels