Pretty Literal: An Argument for Rosy Cheeks This Season
A natural flush never goes out of style.
---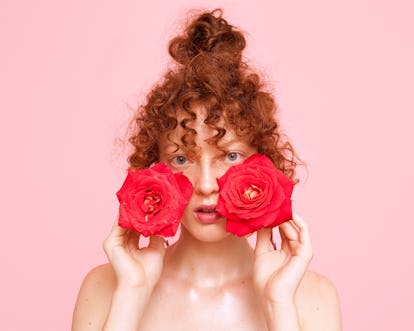 Photo by Olivia Locher. Hair by Lucas Wilson for Bumble and bumble, makeup by Deanna Melluso at The Wall Group. Model: Laura Hanson Sims at the Society Management. Produced by Biel Parklee. Casting by Erin Simon.
Rosy cheeks are the poster child for good health–for good reason. When the tiny blood vessels beneath our skin actively travel through skin cells, they create a natural flush that is associated with health.
Terry de Gunzberg, the makeup pro and founder of By Terry, explains: "Rose is definitely the color of a natural flush," she says. "When you are active, cheeks don't turn the orange, terra cotta-color of contouring! They get rosy. It duplicates the natural look of a baby. The more you age, the more you lose that fresh tone of rose. That's why it's more important to recreate it."
Throughout history, those without pink cheeks have been trying to recreate naturally rosy cheeks using various methods. In ancient Egypt, both women and men wore a thick paste made from red fruits, vegetable juices and crushed ochre. In ancient Greece, women used a paste made out of seeds and berries to contrast with their skin, which was whitened with chalk or lead powder. Early American colonists relied on beetroot and crushed rose petals for their glow, and in the film adaptation of "Gone with the Wind," Scarlett O'Hara pinched the apples of her cheeks until they stung, in an attempt to get Ashley Wilkes's attention.
And while most beauty trends can't withstand thousands of years, rosy cheeks have never been more popular. On the Fall 2016 runways of Gucci, Thom Browne, Miu Miu, and Zero + Maria Cornejo, models looked naturally flushed, thanks to the work of makeup artists like Dick Page.
To recreate the look at home, de Gunzberg recommends reaching for the fruit basket. "I'd take half a cherry and just rub it on," she says, adding, "Strawberries and raspberries don't deliver that really pigmented stain." If it's not cherry season, you can always do it the old-fashioned way, and head to the store.
Watch all the episodes of "The Myth of Orpheus and Eurydice," a four-part film series by Gia Coppola, here. Produced for Gucci by W magazine.