Royalty Hightower Is Cinema's New Princess
At just 11 years old, the Sundance favorite and star of "The Fits" is taking off.
---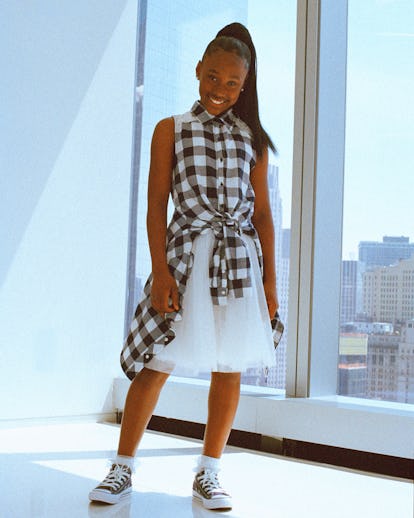 When she was six, Royalty Hightower battled her way onto her older sister's drill team. The group was scheduled to take part in a parade, but they were a couple girls short, so Hightower's older sister Yrmajesti (as in, "Your majesty") asked her to hold the team banner en route to the event. By the time they arrived, Hightower had tired of holding up the banner. She wanted to dance.
"She asked me, did I know all the steps?" Hightower, now 11, recalled. "I said, 'Yeah,' and she put me in the back of the parade." She's been dancing ever since. The team, known as Q-Kidz, combines a variety of disciplines, including hip-hop, majorette, ballet, and "creative dance" (recent themes include Frozen and The Wizard of Oz).
Her ability to pick up steps proved invaluable when it came to filming the breakout Sundance hit The Fits, the first feature from Anna Rose Holmer, in theaters today. Hightower plays Toni, an 11-year-old amateur boxer (Toni's friends soon take to calling her "Guns," a jab at her toned boxer's arms) with little-to-no coordination when it comes to dancing. She finds her way onto the drill team at her local rec center — filmed on location in Cincinnati — which soon falls victim to a mysterious plague of "fits": one by one, starting with the captains on down, the girls start to twitch and writhe spontaneously.
But as her team is decimated by the mysterious illness, the camera focuses on Hightower; the film's young star is in just about every frame. Even at 11, she holds the screen. During casting, it was a concern that Hightower might be too pretty to play Toni. When we met in person during the photo shoot for this story, her hair was pulled back into a sleek ponytail (which her mother periodically rearranged between shots), highlighting her almond eyes and high cheekbones.
In the film, she says little, but her expression — on which much of The Fits's pathos hinges — speaks volumes. "She just has this amazing, generous capacity to listen," Holmer said. "They say some people have 'It,' whatever It is. Royalty has It."
Every movement in the film was scripted by choreographer Celia Rowlson-Hall and the cast of 45 girls recruited from the Q-Kidz. Rowlson-Hall coached Hightower through un-learning how to dance — the mistakes that appear on screen are in fact carefully choreographed, just as the fits each girl succumbs to are a kind of dance. (Despite appearances, it's not a horror movie — the illnesses are attributed alternately to 'something in the water' or something psychological. Or even, as Toni posits, pure fiction.)
Since the film took off following Sundance, Hightower's gutsy attitude has seen her through meetings with Fox and Paramount Pictures, as well as more auditions for future roles. She was scared, she confessed, because of the sheer newness of everything. And she wanted to go home.
But she didn't. "I was trying to be brave," she recalled. "I was like, 'You can't go home. This is your dream, so chalk it up. It's time to shine.'"
The rising sixth grader has also had to keep up with school while making the press rounds; her teachers have been accommodating, she said, either mailing her make-up work or assigning her projects on the cities she has visited. Her sister Yrmajesti, 15, and little brother King, 3, have been at home while she's on tour, but her mother has accompanied her at every stop.
Meanwhile, it's becoming hard to forget the name Royalty Hightower, and that's just the way she'd have it. She's unabashed about her desire to be famous — she's always wanted to be an actress, she explained — but she wants her drill team in the spotlight, too.
But her loftiest ambition? A superhero blockbuster. Marvel, is there room for an Avenger who can dance?
Photos: Royalty Hightower Is Cinema's New Princess
Photo by Michael Betker. Produced by Biel Parklee.
Photo by Michael Betker. Produced by Biel Parklee.
Photo by Michael Betker. Produced by Biel Parklee.
Royalty Hightower as Toni in Anna Rose Holmer's The Fits. Courtesy Oscilloscope Laboratories
The Q-Kidz Dance Team in Anna Rose Holmer's The Fits. Courtesy Oscilloscope Laboratories.
Royalty Hightower as Toni in Anna Rose Holmer's The Fits. Courtesy Oscilloscope Laboratories
Royalty Hightower as Toni in Anna Rose Holmer's The Fits. Courtesy Oscilloscope Laboratories
Lauren Gibson as Maia (left), Royalty Hightower as Toni (center), and Alexis Neblett as Beezy (right) in Anna Rose Holmer's The Fits. Courtesy Oscilloscope Laboratories
Inayah Rodgers as Karisma in Anna Rose Holmer's The Fits. Courtesy Oscilloscope Laboratories