Run Trailer: Merritt Wever and Domhnall Gleeson Aren't Exactly Strangers on a Train
The HBO series by Vicky Jones and Phoebe Waller-Bridge will straddle the line between comedy and thriller.
---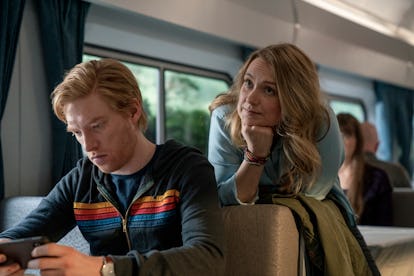 Photo courtesy of HBO.
What would you do if you got the green light to run away from all of your problems right now? HBO will address that question with Run, the new series created by Vicky Jones and produced by her collaborator, Phoebe Waller-Bridge.
Run (which released a short teaser last month on the same day a trailer for a thriller of the same name starring Sarah Paulson came out, causing more than a little confusion) has finally released its first official trailer. In it, we see a woman, played by Merritt Wever, receive a text message from a man named Billy. It's just a a single word: RUN. She waits a few moments and thinks before sending the same text back in reply.
The premise HBO has provided is as follows: "Ruby Richardson walks away from her ordinary life in the suburbs to revisit her past with her college boyfriend, Billy Johnson. The two made a pact 17 years earlier: If either one of them texted the word 'RUN' and the other replied with the same, they would drop everything and meet in Grand Central Station and travel across America together."
Wever plays Ruby and Domhnall Gleeson plays Billy. After Ruby receives the signal from Billy on her phone, we see the two of them traveling together and it becomes clear they are not exactly strangers on a train. What's not so clear is why, exactly, are they running?
Any perception of the series as a straight up thriller is also immediately shattered at this moment, when it becomes clear that the tone straddles the line between mystery and comedy. In other words, it's right up Waller-Bridge's alley.
Waller-Bridge also co-stars in Run, as Laurel, a woman who offers to help Ruby and Billy when they meet her on the side of the road and ask for directions. But there's no mistaking Laurel for a riff on the actor's iconic Fleabag character—she's got long hair and an American accent in this show, according to the trailer.
Run could be a home run for Wever (whose performance in Marriage Story remains one of the most underrated in that film) this awards season and will definitely scratch the itch for anyone jonesing for more content by Waller-Bridge when it premieres on HBO on April 12, just a couple of weeks before Waller-Bridge's other acclaimed TV project, Killing Eve, returns for its third season.
Related: Phoebe Waller-Bridge Isn't the First Woman To Save James Bond