In the Center Ring
The fashion circus in New York was impacted by two major events: Ralph Lauren's 40th-anniversary show and Marc Jacobs's controversial presentation.
---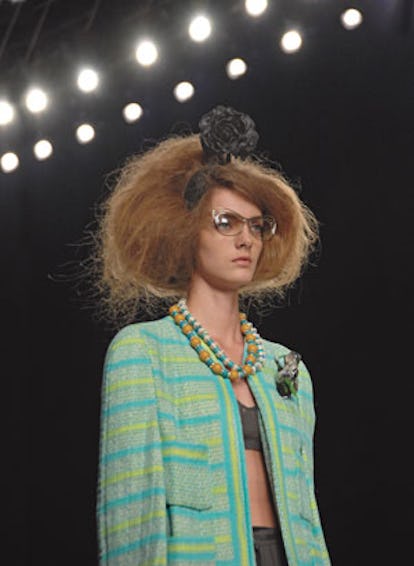 Fashion—it's big business; it's flashy tabloid fodder; it's on television, on celebrities and online. It's everywhere, a high-profile feeding frenzy of dos, don'ts, high, low, conservatism, outrage, teensy start-ups, public offerings, looking ahead and in the rearview mirror, ultimately with billions and billions of dollars at stake in an ever changing global marketplace. Yet for all of that, fashion is also a remarkably intimate industry, perhaps even bizarrely so, one that in many ways operates like an idiosyncratic little club. That characteristic is never more apparent than when it comes to the four-times-a-year ritual of the major-city collections.
As Fashion Weeks continue to pop up around the world—Moscow, São Paulo, Australia and on and on, some even with merit—the European and New York shows remain "the collections," an interdependent block of events staged by competing firms who nonetheless share a handful of producers, DJs, outside publicists, and hair and makeup people, not to mention models and stylists. One designer's demand for a daylong exclusive on models, in fact, impacts everyone else who shows that day; a radical schedule change affects the entire industry.
The recent spring collections in New York were marked by two mega-events that got very personal: the shows of Ralph Lauren and Marc Jacobs. Spectacular in wildly different ways, they demonstrated how fabulous New York fashion can be—and how diverse. Consider the divergent preshow commentary: "It's exuberant; it's pulled together; it's glamorous and elegant," noted Lauren. Conversely, from Jacobs: "It's a vulgar, crass, disgusting world out there. But I love it, and I'm enjoying it." It's not difficult to distinguish between their inspirations: My Fair Lady and a witty warping of common notions of sexy, respectively.
Forty years after launching his label with a drawerful of ties in borrowed showroom space, Lauren hosted a celebratory anniversary fete that, while on a huge scale as far as Gotham fashion shows go, felt in some ways very private. He brought his guests to his de facto front yard, Central Park's small, gated Conservatory Garden, situated just blocks north of his Fifth Avenue apartment. Lauren chose the venue because he loves and uses the park and knew that, given its 105th Street location, it was a jewel unknown even to many New Yorkers, and he wanted to show it off the way a homeowner might his new sapling plantings. He definitely viewed the evening as a working event—"I've a collection to show that will be judged," he said—but also as a thank-you to the people who work for him and to others who have worked with him over the years. Thus, this was no cheesy celebfest. The front row shone with star wattage, not of the typical Hollywood ilk, but with an emphasis on accomplished New Yorkers, starting with Mayor Michael Bloomberg and his girlfriend, Diana Taylor; Police Commissioner Ray Kelly; Diane Sawyer; Barbara Walters; Charlie Rose; Martha Stewart; Dustin Hoffman and his wife, Lisa; Stephen Schwarzman; Robert De Niro; Sarah Jessica Parker and Matthew Broderick; Robert Kennedy Jr. and his wife, Mary; Edgar and Clarissa Bronfman; and Bruce Weber, along with some ultrasupportive competition—Donna Karan, Carolina Herrera, Vera Wang and Diane von Furstenberg.
To say that no expense was spared would be correct if one considered only the impeccably appointed white tents, the 11 sparkling chandeliers hanging from a bower, the enormous urns spilling over with pink hydrangeas, the custom linens, the endless champagne and caviar—but on top of it all, Lauren plans to do an unspecified something special for the park, a personal thank-you for a lifetime of enjoyment.
The plaudits were unanimous, originating from everyone, including the mayor. "If you called central casting and said, 'Find me a great New Yorker,' they would send Ralph Lauren," Bloomberg said.
If there was no such unanimity on Jacobs, the tenor of the conversation proved as personal regarding the clothes, which most critics (including this one) loved, but which Suzy Menkes of the International Herald Tribune called a "freak's costume party." That comment, and a Women's Wear Daily story that chronicled general pique at Jacobs's two-hours-late start, prompted Jacobs to take on Menkes on the record while also slamming the schedule—the shows started the day after Labor Day to avoid running through Rosh Hashanah—and the whiners, and threatening to show in Paris. That in turn prompted von Furstenberg, as president of the Council of Fashion Designers of America, to go public with the declaration that Jacobs "really isn't a prima donna," and to beg him—her word—not to take his signature show on the road.
In what other discipline would volleys of seemingly superficial complaints—"He kept us waiting"—or such heartfelt entreaties—"Oh, please don't go"—be front-page news? But in fact, they are major news, and the entire industry now eagerly awaits Jacobs's resolution. Will he stay or will he go? Either way, casual fashion historians know where the real blame lies. Over the course of the jam-packed week, more than one said, "It's all Helmut Lang's fault." (It was Lang who unilaterally changed the entire fashion schedule back in 1998. Then, the New York shows followed Paris, until, at the peak of his creative influence, Lang decided he didn't like that timing and would show before Milan. All of New York soon followed suit.)
The spring season also delivered more news, starting with the fabulous effort by Narciso Rodriguez. Whether invigorated by the sale of half his firm to Liz Claiborne or merely finding himself in a feistier frame of mind, he dazzled with a lineup of sporty chic with an artsy slant that was powerful sans pretense. Seventh Avenue's principal resident artiste, Vera Wang, retained her aura of wistful mystery, focusing on structure while scaling back her own penchant for decoration. In fact, throughout the week the contrast of pure minimalism versus decoration played out, exemplified by Francisco Costa's gentle yet complete austerity at Calvin Klein and Carolina Herrera's ornamentation inspired by Jeremiah Goodman's book of interior watercolors, Jeremiah: A Romantic Vision.
Oh, but New York has always loved a good sport. Now, the current obsession with resort seems to have extended into spring with lots of beachcombing cottons in big, splashy floral prints from, among others, Oscar de la Renta, who played to all of his constituencies—power women, the luncheon set, pretty starlet types—in the week's most diverse collection; von Furstenberg, who went "Under the Volcano" for savvy, controlled exotica with an orchid motif; and Tory Burch, for whom the sensibly jeweled tunic is a staple. Meanwhile, Donna Karan sojourned to Havana for cinch-waist, full-skirt dresses, and, in a terrific collection, Michael Kors went beachy and tennis-y, even mixing in some citified sport of the racy Studio 54 sort. Other designers worked a green angle, and not only John Patrick of Organic, but also Yigal Azrouel, who showed a knack for chic burlaps; Behnaz Sarafpour, who incorporated items from her environmentally friendly capsule group into a collection with an allover earthy attitude; and Karan, who used cork and raffia trims.
There were also runway comebacks of the celebrity sort—Gwen Stefani spiffed up her cute ska-girl fare for L.A.M.B., and Jennifer Lopez debuted Justsweet, her new, affordable juniors line. And in her second season, Anne Klein's Isabel Toledo applied her artistic leanings to lovely, approachable clothes—or they will be, if the firm is able to translate those boho handpainted silks for the commercial market.
Yet with each passing season, the dramatic evolution of the industry here reveals itself with ever increasing clarity. Yes, the traditional powerhouses remain, but a generation of onetime upstarts—beyond Zac Posen and the Proenza Schouler boys, Lazaro Hernandez and Jack McCollough, who burst onto the scene on vast waves of hype—is now mainstream. This season Rodarte's Kate and Laura Mulleavy tempered their gorgeous romantic designs with a clear attempt to develop a more commercial point of view, while those with less fanciful leanings shone with distinctive efforts. Among the highlights: Richard Chai, Phillip Lim, Thakoon Panichgul, Doo-Ri Chung, Maria Cornejo, Adam Lippes, Marchesa's Georgina Chapman and Keren Craig, and Peter Som. Some of the newest kids on the block—Lyn Devon, Chris Benz and Naum's Julia Jentzsch, now on her own—also showed promise.
Of course, promise shown and realized are two different matters. Perhaps 40 years hence, one among the pack will have emerged as an elder supernova, ready to celebrate the spoils at a fete in a major city landmark. Such aspirants might take a page from Lauren's personal credo, one that has certainly served him well. Ask him how he orchestrated the ascent and has stayed so long, and he'll answer, "Come on, you know, I do what I do." •
Steve Eichner