RuPaul's Drag Race All Stars 3 Episode 5 Power Rankings: Do Drag Queens Eat Soup?
Does anyone else miss the old ball format?
---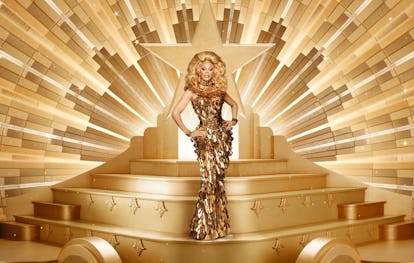 Do drag queens not eat soup? That was the biggest question we had about this episode of RuPaul's Drag Race, which served as something of a relief from all the previous drama until the results, at least temporarily, shook up the status quo. That was until we realized, "Why are drag queens designing and wearing giant soup cans to begin with?" That's the thing with this show at this point. We'll let it pursue whatever crazy urges it has and gladly go along for the ride until we get disappointing results and think, "Wait, what the hell happened here?"
Tonight's theme, as announced by RuPaul in her most literal boy drag look ever, was all about Andy Warhol. The Andy Warhol Ball in fact (even if technically what Warhol threw were "happenings," not "balls"). The return of the mini-challenge saw the queens posing for Polaroids that would be turned into Pop art portraits. Sort of a nothing little task that was fun to watch non-the-less, and resulted in Aja's first mini challenge win ever. Then we moved on to the main challenge that involved the queens having to design wearable soup cans (because, hey, Andy Warhol did those soup can prints that one time) and, finally, creating a look from scratch that was suitable for Studio 54.
It's a relatively simple challenge, far simpler than the old Ball challenge format where queens had to put together three looks—two from their own closets, and one that had to include some untraditional material. The fact that queens quickly started to struggle with understanding the very concept of soup in the first place had us worried (it is not sweet, it doesn't have caffeine, it's not that hard to conceptualize). Oh, what we would have given for the old format. Perhaps with the categories announced by Season 3 winner Raja, who, as every viewer of YouTube spinoff "Fashion Photo RuView" knows, seems to see a little bit of Studio 54 everywhere. "Look one is very like, I don't know, Marie Antoinette, but she's a school girl trying to sneak into Studio 55. Look two is giving me vibes of, like, Wall Street CEO who's a mother of three but she has a secret coke habit and goes to Studio 54. Then look three is Studio 54 goes to Studio 54… but you have to use remnants of crushed disco balls and lamé." If only.
The episode's other big pop culture nod was far more successful. We're talking about the very partial revelation of The Handmaid's Tale-themed twist at the end. Much like that actual show, we're gagged, stressed out by all the drama, and wishing it was actually all on Netflix so we could skip to the next episode right away.
Now, on to our not-so-serious power rankings, which, as always, takes into account the full season so far:
1. Bendelacreme
Ben's outfit tonight was more '70s living room than '70s VIP room, but a minor slip-up that landed her in the safe zone isn't enough to dethrone her from number one in our rankings. Yet, anyway. Ben has always gravitated towards the kind of kooky kitsch that lacks actual glamour. So it's no surprise that while her Romper Room romper lacked the Jerry Hall-esque edge to give her a win, but her soup can design (going with the obvious name of Cream de la Creme) and Warhol Diary's-inspired voiceover were amongst the best of the night. Though, honestly, it may have been good for her to get a night off from having to lip synch and update whatever spreadsheet program she seems to have devised to pick who she'll send home.
2. Trixie Mattel
It may seem bold to rocket Trixie up this far after last week's brush with elimination, but for a certain viewer this entire season hinges on a Trixie redemption and we feel it coming full force. Her pink jumpsuit wasn't revelatory or even particular laudatory as a fashion statement, but it did fit well and she did better than most on the can and monologue. Whatever, it's the '70s this week. We're just gonna do what feels right and deal with repercussions later.
3. Shangela
Shangela finds herself in the bottom time for the first time in years, but make no mistake she's still in the driver's seat when it comes to steering the entire plot of this season. Unfortunately, sometimes she's a little too focused on the longterm game instead of the individual challenges, and she skidded off the road tonight into a pile of gold tinsel and old records. A Studio 54 car crash that look was indead.
4. Bebe Zahara Benet
As far as actual Studio 54 glamour goes, Bebe is the only one who even came close and her mastery of the '70s look certainly played its part in winning the lip-synch. Side note: who, exactly, is the "London ambassador?" Is Michelle Obama the only modern celebrity Bebe knows?
5. Kennedy
Season 7 Kennedy seemed shutdown to the point of not caring at times. All Stars 3 Kennedy seems laid back to the point of accepting this is all a big mess and whatever happens may happen.
6. Aja
In a season of queens who (mostly) flubbed their first season, there's no doubt that Aja represented the most growth in both overall polish and personality. That's especially impressive considering she had the least amount of time since her appearance. Of course, you could also make the argument that Aja had the most room to grow in the first place. Whatever the case, All Stars 3 presented a wonderful opportunity for a talented queen to rahabilitate herself after being boiled down to a Linda Evangelista-tinged rant. In fact, our biggest complain all season is that she brought the rant back up one too many times. Of course, this may not be the last we see her.
Now, if only we had time to rank the Season 10 girls!
Related: RuPaul's Drag Race All Stars 3 Episode 4 Power Rankings: Is Snatch Game Broken?
That Time Andy Warhol Kissed John Lennon, and More of Christopher Makos's Studio 54-Era Snapshots
Andy Warhol, Centre Pompidou, 1986. Photo by Christopher Makos.
Andy Warhol with Bikers on West Side Highway, NYC, 1981. Photo by Christopher Makos.
Andy Warhol, Detroit, 1985. Photo by Christopher Makos.
Andy Warhol, Altered Image, 1981. Photo by Christopher Makos.
Andy Warhol Painting the Flag, 1983. Photo by Christopher Makos.
Andy Warhol Applying Makeup to Debbie Harry, 1980. Photo by Christopher Makos.
Andy Warhol at Philip Johnson's Glass House, 1981. Photo by Christopher Makos.
Andy Warhol Kissing John Lennon, 1978. Photo by Christopher Makos.
The Gang of Four at Studio 54 (Liza Minnelli, Andy Warhol, Bianca Jagger, and Halston), 1978. Photo by Christopher Makos.
Andy Warhol, Tiananmen Square, 1982. Photo by Christopher Makos.
Jean-Michel Basquiat, 1984. Photo by Christopher Makos.
David Hockney, 1977. Photo by Christopher Makos.
Keith Richards, 1977. Photo by Christopher Makos.
Lou Reed, 1978. Photo by Christopher Makos.
Mick Jagger, 1977. Photo by Christopher Makos.
Debbie Harry, 1977. Photo by Christopher Makos.
Andy Warhol Kissing Ultra Violet, 1978. Photo by Christopher Makos.
Keith Haring, 1983. Photo by Christopher Makos.