RuPaul's Drag Race All Stars 3 Episode 4 Power Rankings: Is Snatch Game Broken?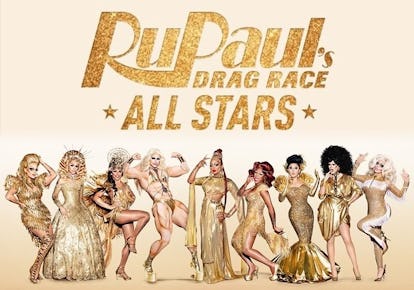 Put two RuPaul's Drag Race fans in a room together and it won't take them long for them to ask, "Ok, but who are you dying to see spoofed on Snatch Game who hasn't been done yet?" After 11 installments of the show's marquee challenge, the roster of gay icons who have been impersonated on that candy colored panel is only rivaled by those who haven't. No Bette! No Babs! Technically, no Madonna! No Christina, no Lana, and no Rihanna! Not even a Divine! Sometimes the anticipation is more fun than the results we actually get, which was likely the case for most fans tonight. It was doubtful many people were crossing any entries off their Snatch Game celeb wish list night (Remember, Ru had already been done by Jessica Wild all the way back in Season 2) and the selection of impersonations might have been the most random and niche in the show's entire history.
What went wrong here? The underlying skills needed for success in Snatch Game are more or less the same tested during last week's "Bitchlorette" challenge: improv and embodying a character. Yet, two queens who excelled last week fell completely flat here.
Are the queens just overthinking it? Look back to That original Season 2 Snatch Game and you'll notice every contestant has the instinct to chose a well known icon either of all time or, at least, of the moment (it's easy forget how relevant Kimora Lee Simmons was in 2009). The original Snatch champ gave us the template that most queens might be best to follow lest they have a trick up their sleeves: pick a well-known icon and boil their general public essence down to its basic form and build it back up into some general quirky attitude (in this case it was Tatianna doing Britney Spears as someone a little naive, a little dumb, but certainly happy to be there). Winners and standout contests since have broken that basic blueprint time and time again, but they took those risks because they knew they'd pay off. That doesn't mean that the original Tatiana should be thrown out altogether, or that risks have to be taken by every single queen, but that it's possible to take a risk. Sometimes what we really want is a passably funny icon from our Snatch Game wish list, and not someone completely flipping the script of what we expect out of the challenge.
Now, just imagine last episode hadn't happened, and Kennedy took her party girls character, tweaked it just a little bit, and told us that was Rihanna in her "give no fu–s," afterparty mode. It might not have been the most accurate impression, but we would have laughed. Likewise, Trixie could have basically done the exact same thing she did in "The Bitchelor," told us it was Paris Hilton, and we all would have bought it. They certainly have the skills to deliver the laughs using that "Icon + Funny Personality Type" formula. It wouldn't have been some ground breaking Snatch Game moment, but it would have kept them both safe and kept the audience at home a bit more entertained.
And, listen, we get that it makes sense for RuPaul to be more hands off during an All Stars season and sit around doing things like watching Vanessa Hudgens lip sync against a pork chop instead, but she is supposed to offer some guidance here and there. She's supposed to push back on the queens' bad instincts and push them in the right decision. The closest we saw of that this week was pointing out Shangela's Miss Clea accent sounded Irish, and that come off as more of an observation than guidance. Just because Ru takes a break from her Heidi Klum role during All Stars, it doesn't mean that her Tim Gunn alter ego isn't needed.
Here's hoping this was just a weird fluke of a Snatch Game and not some sign that the challenge has been broken beyond repair. They show won't have Kristin Chenoweth on hand to bail it out in Season 10. They won't necessarily have tonight's double drama serving of an ending to make up for it either.
Now on to our not-too-serious power rankings (as always, they're based on overall performance throughout the season, and not just this episode):
1. Bendelacreme
If this was a regular season, Bendelacreme would have no doubt already been dreaming about where she'll be placing her crown in her drag closet, but, alas, this is All Stars and she's going through this season knowing she has a target on her back and all it takes is slipping into the bottom one time to give someone a chance to show her the door. Next week's episode, which seems to be a costume ball with an Andy Warhol and Studio 54 theme, could knock her out of her comfort zone. We know Dela can construct a dress, but her persona is always more Broadway matinee and less avant garde after hours party. Though, maybe we're just desperate to see a lip sync that doesn't involve Ben. No offense, but let's spice it up a little bit.
2. Shangela
Shangela is playing this game on some other level. It's like she's hacked in the Drag Race matrix and has become omnipotent. The show's original "Nancy Drew of drag" seems to have here eyes everywhere and her wheels always turning. She's instigating drama from places no one else would even think to look, and basically served as the sole narrator this entire episode. When she looked directly at the camera and blamed fans for gassing Trixie up about her so-so RuPaul's impression I jumped back in my seat and damn near expected to turn around and find Shangela behind me. If she doesn't win the season (and at this point she's the only one within swinging distance of Dela) then at least give her Executive Producer credit on this season, because, baby, she is running this show.
3. Aja
Aja is certainly the queen who has improved the most since her original season, and maybe she's feeling like she's legendary status. So much so that she chose to do absolute drag legend Crystal Labeija for Snatch Game. She's certainly not a household name, but she should be a name all Drag Race fans get familiar with. After all, Lebeija is basically the first person in history to prove that drag drama makes for entertaining viewing. Just watch Frank Simon's 1968 documentary The Queen. Most of the film serves as an interesting historical documentation of an early drag pageant until the last act when Labeija, who had not even been a main character at that point, finds out she's lost the crown and delivers, well, this:
Aja pretty much hit everything she needed to, though it does kind of make you wonder what she did to fill up the time that got left of the editing room floor.
4. Trixie Mattel
Trixie is shook and tonight's elimination twist certainly had us shook too, but, remember, Shangela is the Daenerys Targaryen of drag. She's out for what's hers, but she's not a crazed despot out for blood either. Trixie was kindly (and very rightfully) spared this week, but it's up to her to shake it off and rebound next.
5. Bebe Zahara Benet
Personally, Grace Jones might have been the only choice made tonight that I've ever imagined during one of those "Snatch Game dream team" sessions, and Bebe's impression was … well, the best we can say is that it likely would have kept her safe during a regular season's Snatch Game, but the fact that this was safe during All Stars just speaks the underwhelming nature of the night. Grace Jones, in her own words, is a "high flying bitch." This didn't even get off the runway.
6. Kennedy Davenport
I have no idea who Phaedra Parks is, but I don't get the impressions that would have helped at all. Maybe it would have made this worse.
7. Chi Chi Devayne
Chi Chi gave a moderately successful Eartha Kitt during her initial season, and it's easy to see why she'd think it would be easy to switch gears to Maya Angelou. Unfortunately you need a little bit more than just mastering a husky voice, you actually need the gravitas that comes along with …and a few jokes. Chi Chi is a sweetie and it's hard to see her struggle, and our one solace in seeing her go is that at least she won't become the Roxxxy Andrews of this season.
Related: RuPaul's Drag Race All Stars 3 Episode 3 Power Rankings: The Ballad of Milk & Kennedy
Go Behind the Scenes of Pirelli's Alice in Wonderland Fantasia with P. Diddy, Naomi Campbell, and RuPaul
P. Diddy and Naomi Campbell as the executioners behind the scenes of the 2018 Pirelli Calendar shoot with Tim Walker.

Alessandro Scotti
Djimon Hounsou as the King of Hearts behind the scenes of the 2018 Pirelli Calendar shoot with Tim Walker.

Alessandro Scotti
The cast of of the 2018 Pirelli Calendar during their shoot with Tim Walker.

Alessandro Scotti
Djimon Hounsou and RuPaul as the King and Queen of Hearts and Duckie Thot as Alice behind the scenes of the 2018 Pirelli Calendar shoot with Tim Walker.

Alessandro Scotti
Duckie Thot as Alice, Slick Woods as the Mad Hatter, and Sasha Lane as the Mad March Hare behind the scenes of the 2018 Pirelli Calendar shoot with Tim Walker.

Alessandro Scotti
Sasha Lane and Lupita Nyong'o as the Mad March Hare and the Dormouse behind the scenes of the 2018 Pirelli Calendar shoot with Tim Walker.

Alessandro Scotti
Adwoa Aboah as Tweedledee behind the scenes of the 2018 Pirelli Calendar shoot with Tim Walker.

Alessandro Scotti
RuPaul as the Queen of Hearts behind the scenes of the 2018 Pirelli Calendar shoot with Tim Walker.

Alessandro Scotti
RuPaul and Djimon Hounsou as the Queen and King of Hearts behind the scenes of the 2018 Pirelli Calendar shoot with Tim Walker.

Alessandro Scotti
Thando Hopa as the Princess of Hearts behind the scenes of the 2018 Pirelli Calendar shoot with Tim Walker.

Alessandro Scotti
Zoe Bedeaux as the Caterpillar behind the scenes of the 2018 Pirelli Calendar shoot with Tim Walker.

Alessandro Scotti
Slick Woods as the Mad Hatter behind the scenes of the 2018 Pirelli Calendar shoot with Tim Walker.

Alessandro Scotti
Backstage The Cal Shoot by Tim Walker

Alessandro Scotti