RuPaul's Drag Race Episode 2 Power Rankings: Hello, Hello, Hello (For Real This Time)
RuPaul's Drag Race has its first standard episode of the season, and while it may not have made much sense it at least let us get to know the queens better.
---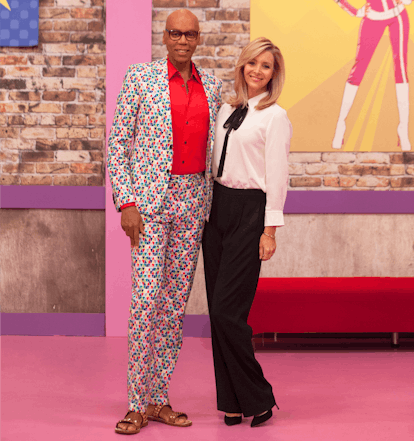 The word "cucu" seemed like it was uttered approximately 62 times before the RuPaul's Drag Race opening credits cackle, but it was only seven. We counted. Specifics aside, that could only mean that Miss Cynthia Lee Fontaine was officially back as our 14th queen. As the reigning Miss Congeniality, Cynthia undeniably left her mark on the previous season (unlike, say, Shangela's original one-and-done moment on season 2), but her story — she returned from taping only to almost immediately find out she had been suffering from liver cancer — makes a strong case for her return. No one should be complaining (except maybe massive Laila McQueen fans).
With our blast from season 8 past included, season 9 finally felt like it really got started after last week's non-elimination warmup lap that felt as much about Lady Gaga as it did the queens.
While the show wasn't hurting for any catchphrases already thanks to the return of Miss Cucu, Ru kicked off the episode by brining in Lisa Kudrow to import some from another show, The Comeback. She dropped by to revel us all in "Hello, hello, hellos!" and "Well, I got it's" for seemingly no other reasons than she ran into RuPaul the day before (no, that's apparently how it actually happened) and for being a simple delight.
With that happy coincidence out of the way, Ru introduced the challenge: a good ol' fashioned cheer fest. (There might not have been a mini-challenge, but at least that left time for us to get to know some of the queens better, which we'll get to below). In theory this should be a great challenge. It gave the contestants opportunity to show off individual personality and a quick hint of acting ability, while also testing their physical skills and aptitude for choreography. It also pretty much put all of the queens out of their comfort zones in one way or another, so we quickly got to see how they reacted to pressure.
The result though? Well, it was mixed. Putting the queens all in similar wigs and matching outfits while they were asked to perform all in unison made it hard to keep track of who was doing what. The tumbling portion was just a whirlwind of kicks and flips and cartwheels and other things people apparently only did back in the '80s. Basically, the whole thing gave us a whole new appreciation for actual cheerleading competition judges.
The runway theme was "White Party," which some queens took to mean as simply wearing all white while others read as dressing for one of the actual annual circuit parties across the country that bear the White Party name. The results were a bit of mixed bag, with no one pulling out an all-time runway classic, but no one pulling out a completely head-scratching clunker either.
So, hmmm, an episode that somehow pulled together Lisa Kudrow, cheerleading, white parties and, oh, right, the B-52's. None of that really makes sense until you remember Ru appeared in The Comeback's second season, the B-52's "Love Shack" video, But I'm A Cheerleader and, we're assuming, a White Party at one point or another. A frenetic episode all-in-all, but, hey, at least we got a proper lip sync and elimination.
On to our power rankings, our best guess as to how the queens are stacking up, not by personal preference, but rather our reading of where they seem to stand in the competition.
1. Valentina
The "underdog who proves everyone wrong" is always a powerful storyline on any season of RPDR, and just two episodes in Valentina has established herself as this season's owner of the editing trope. With the other queens still openly doubting her ability to compete with just 10 months of experience in drag, Valentina was the last queen drafted to either of the two teams and then snatched a much deserved win from all of them, all with a smile on her face. While Valentina's costumes often aren't as over-the-top and detailed as more seasoned queens (hey, she doesn't have a drag mother, and you can't borrow a hand-me-down gown from Our Lady of Guadalupe), her selection of costumes in such a short time and presumably on a budget still belies a good eye for classic drag. In fact, maybe our only issue with Valentina right now is that she's such a young queen and yet not bringing anything truly new or edgy (well, aside from those eyebrows). Is it too early to proclaim she's a locked-in contender for either top 4 or miss congeniality status? Maybe, but she's certainly being set up for quite a ride through the season.
2. Eureka O'Hara
Eureka may not have wound up in the top three again, but she did remain an editor's favorite and pulled off the first split of the season. Her runway look was a nice surprise.It wasn't typical pageant, even if she still brought pageant-worthy sparkle to it's execution. We're also glad that the show seems to have retired the tired "big queen gets criticized for not knowing how to dress for her body type" trope.
3. Shea Coulee
Shea pulled into focus this episode by both delivering on the challenge with a top 3 performance and revealing herself to be a workroom sweetheart. She lent an empathetic ear to Peppermint, and jumped into to act as mediator between Alexis and Jaymes while the pair were choosing parts. She still hasn't wowed beyond belief, but she's slowly building a case that she's a force.
4. Cynthia Lee Fontaine
Hmm, a challenge that involved being loud and peppy? It was certainly up Cynthia's alley, and we're not sure what to make of the fact that she didn't get top three (from what we could tell she did just fine). Her confidence walking into the work room and dealing with any shade indicates she's come to play. We certainly don't think she's been brought back with such fan fair just for the producers to dispose of her quickly either. Maybe flying a bit under the radar in the actual challenge takes the immediate target off of her back, but she's going to have to pull of top 3 placement soon to establisher herself as worthy of the honor.
5. Nina Bo'nina Brown
Not much of an entity this episode, but her first episode win will keep her towards the top half of the list until proven otherwise. Clearly she didn't have time to pull off a big makeup look for the runway, but at least her bombshell-padded booty and breastplate gives her a drag signature aside from the face paint.
6. Sasha Velour
Other queens who bring such and artsy and edgy outlook might have recoiled at this peppy challenge, but from what we can tell Sasha went all in with nary a complaint. The runway look was a little wanting, but, hey, at least she proved she can work with wigs.
7. Trinity Taylor
We're getting into the "could be gone by next episode, or could assert themselves down the stretch" segment of the rankings here, but Trinity's top three placement this challenge allows her to at least head it up. We'll side with Michelle Visage her on the fact that her drag may not be groundbreaking, but it's nice enough if you like it.
8. Alexis Michelle
She certainly has confidence in spades, and isn't afraid to go after what she wants. She has all the tools to assert herself in the competition down the road, but two formal evening gown looks in a row isn't exactly leaving us wowed.
9. Peppermint
Well, she's got a signature look (she loves those robes) and she's certainly as sweet as her name suggests. It's hard not to root for her, especially after she shared her tail of being the victim of intense high school bullying. It's either a sign of producers trying to build up her character despite her not shining in any challenge so far, or, well, them getting her storyline out of the way ahead of an earlier exit.
10. Aja
The Brooklyn favorite faded into the background once again.There is however evidence of confidence, moxie and a presence on the runway in spades here. Supposedly though, she's a killer performer. Maybe this is a case of a queen needing to fall in the bottom two in order to show what she's really about first.
11. Farah Moan
She's just so fishy, and the show hasn't given us much more to go on yet.
12. Charlie Hides
Well, someone needed to fill out the bottom three and someone needed to fill our 12th spot. Hides still has time to come into her own, and it would be a shame if the accomplished celebrity impressionist didn't make it to at least Snatch Game.
13. Kimora Blac
A queen who feels threatened by the presence of another large booty, and proclaims that "stoning is for ugly girls." Yeah, not exactly getting the America's sweetheart edit here.
Blac's choice of a runway look suited for a circuit party even if it broke the all-white mandate seems to be indicative of who she is. She's a turn-the-party queen. The story is all about her body, face and movement during a performance. Her outfits are besides the point for her. She's not going to compete with her own clothing for attention. Surely, watching such a queen at 2 a.m. in a Vegas nightclub is a treat, but it's also a form of drag that doesn't lend itself well to this show. Well, except the lip sync portion, which she certainly deserved to win.
14. Jaymes Mansfield
We truly agree with Ru that every queen who has graced the runway has something special that brought them there in the first place, but sometimes it's a matter of the queens feeling comfortable enough to let it shine. Jaymes seemed to be in her own head the entire time, and never seemed to get out. Hey, we were at least impressed by her running double summersault!
Being handed a song as quirky and fun as "Love Shack" was Miss Mansfield's one final chance to really show that she could get her head in the game. Hey, at least she seems to be having a fun time on Instagram.
Related: ****RuPaul's Drag Race Episode 1 Power Rankings: Gagged for Gaga
Watch W's Most Popular Videos:
Carmen Carrera: Show Girl
Roberto Cavalli dress; New York Vintage tiara; House of Lavande earrings; CZ by Kenneth Jay Lane bracelets; Giuseppe Zanotti Design sandals.
Gaultier Paris dress; Lynn Ban earrings.

Photographer: Steven Meisel Stylist: Edward Enninful
Prada top, bottom, hat, sleeves, and shoes.
Proenza Schouler bustier; Early Halloween, NYC vintage bow tie (in hair); Badgley Mischka earrings; Lynn Ban necklace.

Photographer: Steven Meisel Stylist: Edward Enninful
Agent Provocateur playsuit; Siman Tu headpiece; Fenton earrings; CZ by Kenneth Jay Lane rings and bracelets.
Beauty note: Play up your bronze ambitions with Vita Liberata Phenomenal 2-3 Week Tan Mousse in Medium.
Dsquared2 dress; Thorin & Co. for House of Lavande earrings; Lele Sadoughi bracelets; Giuseppe Zanotti Design sandals.

Photographer: Steven Meisel Stylist: Edward Enninful
Gillian Gardner for Show-Off Las Vegas bra and briefs; Giambattista Valli cape; Siman Tu tiara; Nicole Romano earrings.

Beauty note: Shoot for a full moon with Talika Paris Backup 3D Serum.

Photographer: Steven Meisel Stylist: Edward Enninful
The Blonds corset; I.D. Sarrieri briefs; Iradj Moini earrings; (from top) Dannijo cuff, R.J. Graziano bracelet; Lynn Ban ring.

Photographer: Steven Meisel Stylist: Edward Enninful
Gillian Gardner for Show-Off Las Vegas G-string; Lynn Ban tiara, earrings, and bra (on mirror); Dannijo necklace (in hand); Carrera's own pasties.

Photographer: Steven Meisel Stylist: Edward Enninful
Jason Wu bra and skirt; Ranjana Khan earrings.

Photographer: Steven Meisel Stylist: Edward Enninful
From left: Louis Vuitton playsuit; Thorin & Co. for House of Lavande earrings and necklace; CZ by Kenneth Jay Lane ring; Pologeorgis fur scarf; Lynn Ban bracelets. On Linda Evangelista: Burberry London trenchcoat; New York Vintage headpiece; her own dress and bag.

Beauty note: For lush lashes that keep them guessing, call on Benefit They're Real Mascara.

Photographer: Steven Meisel Stylist: Edward Enninful
Gillian Gardner for Show-Off Las Vegas bra and briefs; Giambattista Valli cape; Siman Tu tiara; Nicole Romano earrings; (right wrist) Lynn Ban bracelet; (left wrist) Bounkit cuff; Christian Louboutin shoes.

Photographer: Steven Meisel Stylist: Edward Enninful
Thakoon jumpsuit and jeweled body piece; Early Halloween, NYC vintage headpiece; Kenneth Jay Lane earrings; (right wrist) Ben-Amun bracelet; (left wrist) CZ by Kenneth Jay Lane bracelets; CZ by Kenneth Jay Lane ring; Jimmy Choo sandals.

Hair by Oribe for Oribe Hair Care (Oribe Salon Miami Beach); makeup by Pat McGrath for Covergirl; manicure by Jin Soon Choi for JINsoon. Models: Carmen Carrera at Elite Model Management; Bart Grzybowski, Andre Ziehe, Josh Upshaw at Ford Models; RJ King, Brittain Ward at Wilhelmina; Nate Gill, Jae Yoo, Dorian Reeves at Soul Artist Management; Ollie Edwards, Corey Baptiste, Danny Schwarz at VNY Model Management; Diego Miguel, Ryan Kennedy at IMG; Tomas Skoloudik, Cameron Gentry at DNA Model Management. Set design by Stefan Beckman at Exposure NY. Production by Steven Dam for PRODn at Art + Commerce.

Photographer: Steven Meisel Stylist: Edward Enninful