RuPaul's Drag Race Episode 11: A Look by Look Breakdown
RuPaul's Drag Race throws its annual ball, the "gayest" ever, but only some of the queens are truly gag-worthy.
---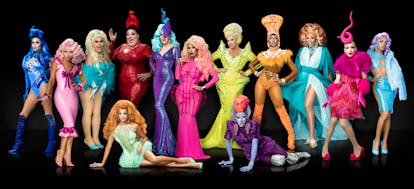 It is not original to note that at this point the queens of recent RuPaul's Drag Race seasons are a bit more well behaved than earlier go-arounds. We talked about it just last week. The contestants have seen the backlash levied against some mean-spirited queens in the past, and don't want to risk audience appeal. Beloved queens have a tendency to make more money (often quite a lot more) after the show, and very few of these contestants walk in the door financially secure (compare that to other reality TV shows like Real Housewives where, supposedly, most cast members are already wealthy and are just in it for the fame—even if they have to act like shrill vipers to get it).
Yet, this being a reality television competition, some fans still want someone to root against. These kind of shows have conditioned us to find some sort of villain, and some people will whatever the case. In the latter half of this season, most of that venom has been reserved for Alexis Michelle (after taking over the role from Eureka O'Hara).
Yet, Michelle has not been outright malicious or insulting to other queens. Its just that her personality can at times grate in a very drama club kid way (she's always owned up to being the theater queen after all). Yet, every Saturday morning for the past few weeks, I can't log into Facebook without seeing some sort of shade being thrown her way.
The result is that people are coming for her merely because her insecurities and minor personality flaws have worn thin—something you can't always say about Alexis—due to the stressful nature of Drag Race. It certainly doesn't make me feel good to see so many people online going in on her for it (and mind you, she's not the only queen in recent show history to get this treatment). Honestly though, if you don't think you've had some Alexis Michelle-type moments of your own at some point in life you probably lack a bit of self-awareness, or maybe just aren't that interesting.
It's clear that next season the show needs to find a queen or two who can play the bitchy role while owning it. Bianca, Raja, Detox and, most masterfully, Willam have all taken their turn, and I suspect there's more queens out there up to the challenge.
Anyway, the main challenge, a three-look ball, certainly calls for a look-by-look breakdown, and we won't disappoint.
Shea
Rainbow—The dress itself wouldn't have done much (and it didn't quite fit in the bodice), but she styled it to perfection—body paint included. Still not entirely sure if the whole thing warranted blowing off the actual rainbow flag assignment to begin with, though.
Sexy Unicorn—The thing about all black is you can just put a bunch of things together and it somehow works. It's safe. It's like you get invited to a fashion industry cocktail party last minute and realized you haven't done laundry in two weeks but still have to serve a look. It looks good. It's fine. It's definitely sexy and it's definitely unicorn.
Village People—She sees Naomi Smalls' mixed plaid Scarecrow from last season and ups the game. It's very cute, and the world deserves a photo shoot involving an actual jackhammer soon.
Sasha Velour
Rainbow—The color blocking was somewhere between 'chic' and European children's television character. Either way: "cute."
Sexy Unicorn—As soon as she said "medieval tapestries" it was like, "Yes, get it, 100 percent on board." One could argue that the look isn't actually "sexy," but you just know Sasha is someone who once considered herself sapiosexual at some point.
Village People—Again, I could see this as a character from a French children's show. Still not necessarily an insult.
Alexis
Rainbow—There was something almost vaguely Balenciaga Spring 2017 with the lycra, bright pattern, and pants-and-shoe combo of it all, and maybe a queen with better styling impulses could have taken that outfit and really brought that out (granted the collection premiered well after the show finished taping). Instead this just feels like "very proud PFLAG mom."
Sexy Unicorn—Sure. There really wasn't much to say about this. It got the assignment done without being very exciting.
Village Unicorn—Not as though it's for me to decide but at least this doesn't go full tilt with the cultural appropriation, but it makes you wonder why they even put the Native American thing in play knowing it could court controversy when there's a sixth Village Person in the military motif.
Anyway, again, Alexis doesn't rise up to the occasion to make a show-stopping visual statement and she's rewarded with her second 'Ricky's costume' comment in as many weeks. This time courtesy of Joan Smalls.
Trinity
Rainbow—I like this! It's cute! But it feels very "queen who is booked solid for a week straight for Pride events and this is the outfit she chose for Tuesday." This is not Tuesday of Pride Week. It's the Drag Race ball.
Sexy Unicorn—This is very "A Lisa Frank backpack went to an EDM festival in Miami."
Village People—Not exactly onboard with the vision, but at least she had one and took it all the way. There's definitely a statement being made.
Peppermint
Rainbow —This one is maybe Wednesday of Pride Week. It's fine for an actual Pride event, but not for the main stage. By this point, I was just reminiscing fondly about Kennedy Davenport's weird pride dress from Season 7.
Sexy Unicorn—This would have popped a bit more if she replicated the Hellraiser needle element on the head anywhere else on the body. Instead the rest was just very flow-y, and it didn't help that there were fit problems.
Village People—I've seen drag queens do biker looks before and this is more or less what it always is, but it really does deliver on the assignment and is a well made, well thought out getup. But were you at any point gagging?
When Shea was announced the winner it seemed natural, but now that I've broken down the challenge on an outfit-by-outfit basis I'm not so sure. What I am still certain about is that Pepper and Alexis belonged in the bottom, and the upside to this is that they give us the best lip sync battle of the season (in a seson that could have used a few more lip sync stand-outs). Both had their tricks, and were committed. Peppermint even pulled off the wig-under-a-wig thing. In lesser hands it would have had people shouting "You ain't no Roxxxy Andrews girl," but she did it with such confidence and sangfroid it worked. It certainly wasn't the highlight of her performance. That belonged to those crazy dance moves, and it secured her place in the final four.
Now, our power rankings:
Shea Coulee
Ah, what is there to say? She's been the frontrunner for weeks now, and tonight's win makes last week's stumble obsolete.
Sasha Velour
They very easily could have justified a Sasha win and set up her, Shea and Trinity as a top three with three challenge wins each, and the fact they did not probably foreshadows the end result (they don't usually pick a winner for the final challenge). Though, unlike the other two, she has never had to lip sync.
Trinity Taylor
Trinity may not be the most groundbreaking contestant to walk the runway, but she's proof positive that you don't need to be something extra to make it that far. You just need to be confident, self-aware enough to push yourself once in a while beyond your comfort zone, and devoted to your craft to make it this far.
Peppermint
Peppermint's only shot at the top three at this point is a total breakdown next episode. It's happened before.
Alexis
We should also point out that Alexis has handled any backlash with grace, and has not taken to pitching a fit on social media. A true theater queen keeps the drama backstage, even if backstage is being filmed by reality TV cameras.
Related: ****RuPaul's Drag Race Episode 10: Where's Bianca Del Rio When You Need Her?
See What's Trending in W Video: