RuPaul's Drag Race Episode 3 Power Rankings: Something Seems Different This Season
RuPaul's Drag Race gives us a fairy tale fantasy challenge, and perhaps starts to serve up something different than we've seen before.
---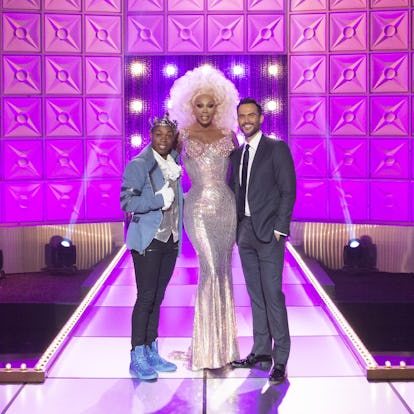 Something about this season's cast of RuPaul's Drag Race just seems different, doesn't it? And it might be the return of Cynthia Lee Fontaine that helps us put our finger on it.
There isn't a single other personality in that bright pink workroom that even comes to close to being big enough to compete with Queen Cucu herself (at least yet anyway). Sure, she was certainly a presence on Season 8 but she still had to share space with Bob's Drama Club President-like confidence, Acid Betty's acid bitterness, and Thorgy's "I'm happy! I'm happy! I'm happy!…Suddenly I'm so insecure" vibe. In season 9, Cynthia sometimes seems like the only Queen in the room. Her biggest competitors in the "quite a character" department are the queen that got the boot and, well, that creepy wax statue of Ru.
Unlike in past seasons, no one has decided they're going to drag themselves to at least the halfway point with a little delusion and a whole lot personality (or maybe it's the reverse). There isn't a new queen left who seems to have been cast solely for the personality and ability to create catchphrases and drama. Future House of Edwards recruits these queens are not. No, they all still seem a little timid in one way or another, and are determined to get to the top the right way by showing their skills (which isn't to say they all came totally prepared. Insert the obligatory complaint about it being season 9 and queens still showing up not knowing how to sew here).
The flip side of that is, frankly, this still seems like a race tighter than Willam's tuck. A queen can assert herself as a personality standout early on, but if they don't have the skills to back it up viewers quickly see through it and know they'll ultimately falter down the line. Sure, we have some standouts already, but it could be anyone's race.
Drag Race has functioned, at least since season 3, as something of a drag queen variety show shoehorned into the reality competition format. All too often we can pick the winners early on, and just enjoy the ride until their inevitable crowning. Might this be the season that truly embraces the competition aspect and derives its drama from shock elimination, true dark horse contenders and neck-and-neck competition? Is this the Drag Race that's actually a race?
Or maybe Valentina really is just angelically perfect and will win it all and everyone else had just decided to give up? Who knows.
In any event, we got a clever challenge this week that combined a traditional sewing challenge with the added bonus of character creation and imagining a storyline. Yes, it was /#DragPrincess time (the actual Drag Princess, a Season 4 contestant, will surely see Ru in court over this).
Oh, and one more thing before the rankings. If you're wondering about the significance of using Bonnie Tyler's "I Need a Hero" as a lip sync song, then apparently you haven't seen the greatest drag queen lip sync performance ever caught on film.
Now here's the power rankings, an unscientific measure of where the queens seem to stand in the competition based on all previous episodes.
1. Valentina
Well, the judges certainly love her as much as the internet does. This is the second top 3 placement in a row. Sure, the storyline she presented was one note, but who cares when she looked so good. The thing is though, is she really just this perfect? All of our previous young winners had some sort of flaw. Violet and Tyra could come off cold and bitchy. Sharon had immense guilt about leaving her then-partner Alaska behind—the weirdo kid backstory, and a perfect foil in Phi Phi. Jinkx was bullied, couldn't do her makeup, lacked great fashion sense, had an awkward crush on a fellow contestant…oh and she had narcolepsy (Jinkx had a lot going on, didn't she?). Valentina is just sweet, and cute and polished and perfect. Maybe we've been watching too much Big Little Lies, but there has to be something underneath that? As a side note, that's maybe not related, the internet has uncovered that her "only doing drag for 10 months story" is a bit misleading. She'd only done it professionally for 10 months, but had been dabbling as an amateur for a few years before that.
2. Trinity Taylor
Well, all apologies, boo. We may not have been checking for you much before, but we certainly are now. Like a male film critic suddenly wowed by a young actress he had previously written off as mere eye candy, we only have one thing to say: "A revelation!"
Of course, only a queen from Central Florida, the place where the subtropics merge into the cultural south, could come up with the idea of a redneck starfish.
(Side note: she has the exact same voice as Season 3's Phoenix, right?)
3. Eureka O'Hara
Eureka's outfit didn't do that much for us (although cockroaches as a fashion accessory seem to be having a moment both in drag (see recent reunion looks from Alaska and Violet Chachki)…and at Gucci, but there was some very drag humor here and a strong performance as her sidekick to help buoy her. Still, our insistence of maintaining her so high comes from a reading of the editing. Though it seems like she can come off a bit bitchy at time, she's developed a sort of big sister/little sister relationship with Farrah reminiscent of Bianca and Adore's Season 6 bond. The scene of Eureka helping Farrah out undoubtedly was meant as a pointed piece of character development.
4. Nina Bo'bina Brown
Judy Jetson Hooker drag is officially dead. If you're not ready to come out in full on space alien drag while serving it all with a duckwalk down the runway, don't even try a sci-fi look.
5. Peppermint
We had been quietly hoping for a Peppermint ascendence, and we finally got it. Did we not all worry that she was fading into the background? And maybe relying a bit too much on a wardrobe full of robes? Here she had a fully realized look and a clever, well-performed sidekick.
6. Shea Coulee
Our favorite look of hers so far, but while she tried to give some oomph to her sidekick we kind of got lost as to what the backstory was about.
7. Sasha Velour
The dress was bad? No? It was like Max's bleeding heart gown added to Raja's Carrie bloodbath look and divided by three, with a perplexingly tiny train of colored pompoms added on for reasons that weren't clear. Don't be mistaken, she had a story better than most queens, it's just that the dress didn't really help to tell it. At this point, Sasha's path forward could still very be similar to Raja (a prime contender) or it could be a bit more like Max's, a kind, quirky queen with a strong fan base from the start that unexpectedly peters out.
8. Cynthia Lee Fountain
Yes, she may be the biggest personality in the room, but the question for Cynthia than becomes can she show us something more? Sure, her outfits are certainly more polished than last season, but they're still not especially standout compared to the others. Give us more, Cucu! Or rather, give us more than Cucu. In any event, we surely would have been able to live without the detailed backstory of the word "cucu."
9. Alexis Michelle
The whole subway fish thing was executed as a look well, but ultimately did anything actually make sense?
10. Charlie Hides
She looked beautiful in that copper dress, and we keep trying to find reasons to rank her higher, but we just can't yet yet.
11. Farrah Moan
Well, listen, either she's marked here as the requisite queen who shows surprising growth and ultimately triumphs to a top 5 finish, or she's going out in an episode or two. To be honest, we loved her storyline of a party princess and her fairy godmother publicist, but of course we would.
12. Aja
Pageant queen stigma on Drag Race is out. Social media queen stigma is in, and the way they treated Aja with the editing of that bit about using Facetune on Instagram was just damn shady of the producers. Yet, there's no denying she looked sort of like an old troll doll a small child had drawn on with a crayon. And, yet, Aja disproved another social media queen stereotype: that they can't perform. She certainly saved herself with splits and splats and drops of the fatal variety in the lip sync. When it comes to seeing drag queens in the club, we'll take an exciting performer over a makeup maestro any day. And, yet, Drag Race is not the club.
13. Kimora Blac
Kimora exhibited a certain kind of classic drag race character. She was air headed, vain and woefully delusional. It was almost to the point where one almost wonder if she looked around the room, thought to herself "Hey, none of these other queens seem to be taking that role that season, so I might as well grab it" and just went overboard. More than a few queens from seasons past seemed to stay on the show longer than they deserved simply because they made good television. But maybe that's giving her too much credit, because she wasn't bringing such savviness to any other part of her performance. In any event, she actually tried relying on her body into some sort of vulnerability.
Ru and Michelle Visage had never been quite so brutal at dismissing a queen's manipulative plea to stay as they were with Kimora's crocodile tears (which, come to think of it, actually might have made a better sidekick than Funky Monkey). They've tolerated a lot of b.s. on that stage, but nine regular seasons and two All-Stars later, they are just not going to tolerate it.
The message seemed clear to viewers: this is not a season where being a good reality TV character will give you a free pass. This is a season where they're looking for good drag queen. No excuses.
Related: RuPaul's Drag Race Episode 2 Power Rankings: Hello, Hello, Hello (For Real This Time)
RuPaul's Drag Race Episode 1 Power Rankings: Gagged for Gaga
Carmen Carrera: Showgirl: