The Russian Style Evolution
Moscow's new style setters are subverting cliches to establish a bold new fashion order.
---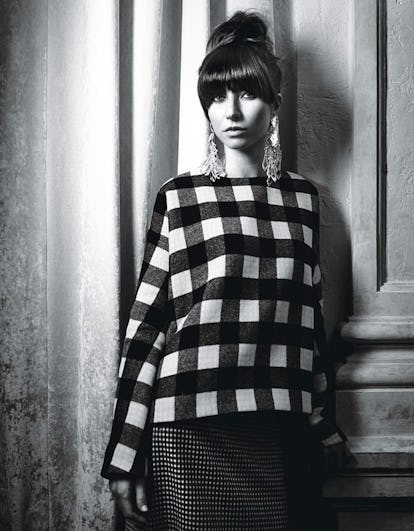 Photographer: Emma Summerton Stylist: Giovanna Battaglia
I have no idea how, but even in Soviet times, Russians knew everything about international fashion—we just couldn't get our hands on it. Our country was completely closed off. Even if you had money, you couldn't buy designer labels because the stores didn't carry them. So, following the latest trends from afar, we had our clothes made to measure by local craftsmen, or we sewed them ourselves. When Russia finally opened up in the late '80s and early '90s, people tried their best to be stylish but were understandably clumsy in their efforts. Imagine a child who has been long forbidden sweets and is suddenly granted full access to the dessert table! To be fair, it also wasn't the most elegant moment in fashion history. Businesswomen wore broad Dynasty-like shoulders, students were into grunge, and rich socialites had gone totally baroque. I remember seeing the wife of a pharmaceutical king at the opening of the Thierry Mugler boutique in Moscow wearing a glittering silver minidress, her hair done up with gerbera flowers and a diamond tiara. I also recall the long queues that formed when Versace opened its shop here. They were like the lines that people had stood on in earlier times for butter or sausage. Dior, Chanel, Fendi, and Dolce & Gabbana followed soon after. Hermès arrived in 2000, providing the ultimate vote of confidence for the fledgling Russian economy—this is a brand that enters new markets with the utmost caution. When I started working in fashion—first as a journalist and as the founder of a PR agency, then for 13 years as the editor in chief of L'Officiel Russia—there was not much local talent. The few existing Russian designers were part of the older generation. We wanted fresh names. I spent a lot of time developing up-and-comers, like Vika Gazinskaya, Alena Akhmadullina, and Julia Kalmanovich—all of whom went on to gain international recognition. And, in 2000, I cofounded Russian Fashion Week (now Mercedes-Benz Fashion Week Russia), and I still choose the young designers who show there. Right now, I'm particularly excited about Maria Golubeva, Olya Shikhova, and Yanina Vekhteva. In an effort to develop the next wave of editors, I also teach a fashion journalism course at Moscow State University. Today we're seeing the first generation of moneyed Russian women who can—and do—wear whatever they please but express themselves in an elegant manner. They are students or burgeoning professionals, like the ones here, who gracefully mix the best designer labels with clothes from vintage stores and pieces they've created. They're the next big thing in Russian style.
The Russian Style Evolution
Julia Kalmanovich

Kalmanovich, 30, literally grew up with Russian fashion, surrounded by the fanciful costumes her mother created for a small Moscow musical theater. She went on to study at the Zaitsev Fashion Lab, founded by Slava Zaitsev, one of the only couturiers during the Soviet era. Kalmanovich's 2006 graduation show of ultrafeminine frocks became the basis for her namesake ready-to-wear line. "For some designers, it's something of a hobby to make beautiful things and play dress-up," says the designer, whose clothes are sold at boutiques in Europe, the United States, and the Middle East. "For me, it was very important from the start to build a business."

Kalmanovich sweater and skirt; Balmain earrings.

Photographer: Emma Summerton Stylist: Giovanna Battaglia
Ekaterina Mukhina

Though only 33, Mukhina considers herself something of an elder statesperson of the Russian fashion scene, having served as fashion director of Vogue Russia and, now, as a contributing editor at Vogue Ukraine. Her advice for those coming up through the ranks: "The most important thing is that the women of the next generation, like my daughter, try to find themselves," she says. "Everybody wants to repeat the success of Dasha Zhukova. Girls go to St. Barths for Christmas, they open an art gallery, and they think it will make them into Dasha. You need to just follow your talents and instincts and work hard."

Chanel dress; A La Russe Anastasia Romantsova headband; Ambergris ring; Manolo Blahnik pumps; her own bracelet.

Photographer: Emma Summerton Stylist: Giovanna Battaglia
Maria Bogdanovich

When Bogdanovich, a Bolshoi ballerina since 2002, was sidelined by an injury a year ago, she turned her focus to fashion, creating LookMania.ru, an online outlet selling clothes and accessories by designers like Missoni and Alexander McQueen at steep markdowns. As she continues to recover, the site continues to grow—and the Bolshoi continues to struggle because of recent scandals. Not surprisingly, the 29-year-old is on the fence about her future. "When I'm ready to return to dancing, I will seriously consider it," she says. "But it will not be easy for me to combine two such different directions." Her approach to the conundrum echoes the credo of the new Russia. Says Bogdanovich, "Everything is possible!"

Lanvin dress; Benoît Missolin headband; Casadei shoes; her own watch and ring.

Stylist: Giovanna Battaglia Photographer: Emma Summerton
Olya Thompson

A textile designer and former dancer, Thompson was born in Moscow and lived in California, England, and France before settling down in Brooklyn Heights in 2006 with her American photographer husband, Charles, and their growing brood. There, she and her friend Nathalie Farman-Farma founded Tissus Tartares, a line of fabrics that takes inspiration from Persian and Central Asian motifs, Ballets Russes costumes, and Tartar robes. But by 2011, the pull of home grew too strong to resist, so she moved with Charles and their five children back to Moscow. "I always felt like I was leading a double life," says the 32-year-old of her expat years. "Wherever I was, part of me was still in Russia."

Marc Jacobs cardigan; No. 21 skirt; Masterpeace by Evgenia Linovich headband; Dolce & Gabbana earrings; A La Russe Anastasia Romantsova necklace; her own cuffs and rings.

Stylist: Giovanna Battaglia Photographer: Emma Summerton
Ilona Stolie

Stolie, 32, moved to Moscow from her hometown of Riga, Latvia, in 2000 and quickly became a top photographer, regularly shooting for the Russian editions of GQ and Vogue. But six months ago she abandoned editorial work to focus on her first book, a collection of portraits of men. She's shot much of it while traveling with her husband to Mexico, Cuba, Uruguay, and Japan, but Moscow remains a major source of inspiration. "Some of our attempts to become civilized and modern in such a short period of time are awkward and ridiculous," Stolie says. "But that kind of energy and freshness is addictive."

Valentino gown; Mordekai by Ken Borochov crown.

Photographer: Emma Summerton Stylist: Giovanna Battaglia
Natalia Alaverdian

Alaverdian has a global attitude that allows her to run easily with the fashion herd. Of Belgian and Armenian descent, she was born in Moscow but grew up in Waterloo, Belgium, and studied fashion in Milan. After years as an editor at Marie Claire and Harper's Bazaar in Moscow, the 32-year-old is now concentrating on her year-old London-based ready-to-wear brand, A.W.A.K.E. Despite her decade working for Russian fashion magazines, she considers herself more a citizen of the world than a dyed-in-the-wool Muscovite. "People classify me as Russian, and it is partially true—I do speak the language; I was born there," Alaverdian says. "But probably 70 percent of it is not true."

A.W.A.K.E. jacket.

Photographer: Emma Summerton Stylist: Giovanna Battaglia
Oksana On

Though On's start in magazines was not auspicious—she was fired from a fashion-assistant position at Grazia in Moscow when she was 19 for acting like, well, a teenager—she rebounded with aplomb. Two days later, On was hired at Cosmopolitan Russia and by the age of 25 had worked her way up to fashion director at Glamour Russia. The 27-year-old recently left that gig to pursue freelance styling and to design a costume-jewelry capsule collection, Oksana On X Masterpeace. She hopes her diamond- and ruby-loving countrywomen will adopt her high-low approach. "I can wear something very, very cheap with something very, very expensive," On says. "Depending on only labels, big names, and trends is a failed way to build your style."

Miu Miu dress and scarf.

Stylist: Giovanna Battaglia Photographer: Emma Summerton
Natasha Goldenberg

Goldenberg, 28, bought her first fashion magazine at the tender age of 10—the premiere issue of Cosmopolitan Russia, with Cindy Crawford on the cover. "I had to take my mom to a kiosk to get it," recalls the journalist, stylist, and designer, who has become a darling of street-style photographers with her wildly colorful looks and signature Prada turbans. "Since then, I've been buying all the magazines every month and keeping almost all of them." The obsession has served her well: She boasts a CV that includes writing for Grazia, serving as fashion editor of Hello! Russia, freelance styling, and founding a ready-to-wear line, Tzipporah, which sold out two weeks after its debut at Browns London in 2011.

Tom Ford coat; her own rings.

Photographer: Emma Summerton Stylist: Giovanna Battaglia
Polina Kitsenko

Until recently, Kitsenko says, it was easy to spot a Russian woman on the streets of Paris. "She was blonde with sharp stilettos, and her clothes were all tight and supershort," explains the 36-year-old creative director of Podium, Russia's most forward-thinking boutique chain. "Now Russian women are looking at what's happening worldwide to determine how they shop and dress." Credit goes to Kitsenko and her husband, Eduard, who founded Podium in 1994 and were among the first to bring brands like Balenciaga to Moscow. Today, Podium's relationship with the European fashion establishment is a two-way street: In 2009, the chain opened a jewelry outpost on Rue Saint-Honoré in Paris.

Givenchy by Riccardo Tisci blouse, skirt, and belt; her own rings.

Photographer: Emma Summerton Stylist: Giovanna Battaglia
Hair by Neil Moodie for Windle & Moodie at D+V Management; makeup by Mathias van Hooff at Julian Watson Agency. Production by Belinda Foord at Shiny Projects. Local production: Andy Fiord Studio.