Ruth Bader Ginsburg's Vast Scrunchie Collection Will Make Her Your Newest Style Icon
Justice Ginsburg is rolling in large quantities of the iconic '90s hair ties she collects from around the world.
---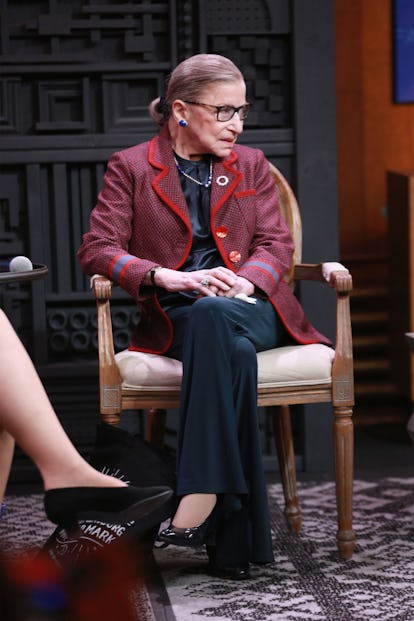 Robin Marchant/Getty Images
Supreme Court Justice Ruth Bader Ginsburg is known for many things: fighting for gender equality, advocating for reproductive rights, and contributing to feminist legal arguments. Justice Ginsburg, a champion of women's rights in the United States, has taught at Columbia Law, cofounded the ACLU's Women's Rights Project, and became the second female justice to serve on the Supreme Court in 230 years when she was appointed by Bill Clinton in 1993. But recently, she's also gained notoriety for something else—her impressively large collection of scrunchies.
Justice Ginsburg has worn her hair pulled-back in a ponytail complete with a scrunchie for the entire 24 years she has served on the Supreme Court, according to a new interview with The Wall Street Journal. Her signature look of judicial robes and gloves would be nowhere near complete without the popular '90s hair ties, which she has worn in almost every color from a bright blue to a demure eggshell. And these aren't just any old scrunchies found at the dollar store around the corner. Justice Ginsburg revealed that she picks up her hair accessory staple from stores all over the world, and she even ranked the locales that have the best scrunchies to offer, telling WSJ, "My best scrunchies come from Zurich. Next best, London, and third best, Rome."
Being a style icon isn't necessarily easy, but RBG makes it look like a piece of cake when she switches it up from one chic scrunchie to the next between her public appearances. And just how many of these scrunchies does Justice Ginsburg have? "My scrunchie collection is not as large as my collar and glove collections, but scrunchies are catching up," she told WSJ.
This vital information about Justice Ginsburg's global scrunchie collection will hopefully be included, for authenticity's sake, in the upcoming biopic On the Basis of Sex, which will star Felicity Jones as the trailblazing Justice of the Supreme Court.
Related: Ruth Bader Ginsburg Shared Her Own #MeToo Story at the Sundance Film Festival