Jacquelyn Jablonski Has Some Interior Design Questions, and Ryan Korban Has the Answers
The star interior designer Ryan Korban answers the model's most pressing decorating questions.
---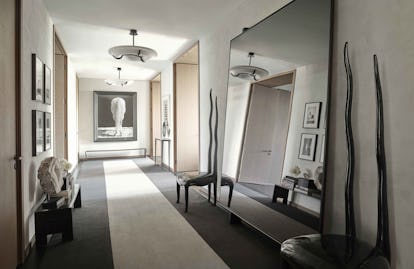 Photo by Anthony Cotsifas
Had Ryan Korban not become a successful interior designer, whose recent body of work—including Balenciaga's monolithic New York flagship and Alexander Wang's swanky bachelor pad—is featured in his new book, Ryan Korban Interiors (out now via Rizzoli, he would have been an actor. A comedic one at that. He's a funny guy, who has shook up the rather staid world of interior design with his push-it-to-the-limit aesthetic. Whether cooly elegant or ultra-romantic, his rooms are always peppered with wild and crazy ideas—marble couches! suede walls!—that reimagine what is possible while putting a smile on your face in the process. No wonder his expertise is in constant demand: Amid decorating a handful of homes, outfitting the windows at Rizzoli's Broadway boutique, and putting the final touches on his furniture collection with EJ Victor, launching this spring, he sat to talk design shop with his friend the model Jacquelyn Jablonski, who is in the midst of decorating her own downtown Manhattan loft.
Jacquelyn Jablonski: I bought my place three years ago and started renovations two years ago. I'm mostly finished with the reno part. But I still have some touch-ups because someone flooded my apartment.
Ryan Korban: Welcome to New York.
Jablonski: But I've started decorating. It's a loft space. And when I moved in, I was like, How do you make an open floor plan work, furniture-wise? That's what I find challenging. How do you make it all make sense?
Korban: The most important thing is to create defined areas. Once you do that, you can go into the furnishings. I would put together all the textiles you like and make a story with them. Then when you find a piece of furniture you like, you have a library of fabrics to pull from. When you weave colors and textiles throughout the space, you make it cohesive. So maybe your sofa is modern and your chairs are vintage, but you bring them together with similar textiles or color palette.
Jablonski: I'm still trying to figure out my style—that's the problem! I went to Paris and was like, I want a French apartment! But it doesn't make sense with my architecture. That works when you have beautiful windows and moldings, but I don't have those kinds of moldings. It's an artist's loft. I bought chairs from a flea market in Paris, but then I put a modern fabric on them.
Korban: You're thinking like a designer! If you want to have a successful project, you need to respect the architecture of a space. It's easy to fall into that trap, especially when you go on a trip—I want to live in a French chateau! But there are things to take from that: Maybe there's a beautiful textile or a pair of lamps. People get hung up chasing a look that they're never going to achieve. They need to learn how to take from what inspires them, and weave it into their own space.
Jablonski: Speaking of lighting: What makes a room?
Korban: Lighting is so important! A mistake that a lot of people make is using decorative lighting as the only source of light. You need something that really lights the home—whether that's overhead lighting, or in some cases where there's a concrete ceiling, sconces. Then you add in other sources that allow you to bring down the brightness, because there will be intimate moments.
Jablonski: I wanted two sconces by my bed and the architect didn't set it up. So I have to go back in and rewire. It's a process.
Korban: Every rental I've ever had I've installed sconces. Whenever there's a wall, I've been like, Sconces.
Jablonski: Are there any colors or materials you refuse to work with? What's a big no-no?
Korban: I'm kind of a firm believer in never say never. So often you see something and it's so ugly, but then it grows on you. I mean, I'm not really into purple so much, but then I feel like I might do lavender one day. I used to be a real more-is-more kind of person. I loved antiques. I thought new furniture was gross. Now I don't even want to see a rickety old antique. I also used to like a weathered space that felt more European. Now I like things more polished.
Jablonski: Do you choose style or function?
Korban: You need to know how you use your space. If you're the kind of person who's always on the sofa watching TV, you need a certain sofa. But maybe you do it in a nicer fabric. I have clients who are like, "I'll never sit and eat; I'll just sit on a barstool in the kitchen." Some people only watch TV in bed, so the living room doesn't have to be as comfortable.
Jablonski: I bought a couch from Montauk Sofa that was deep and pretty. It was from when I wanted to live in a Parisian apartment. But I'm already over it. It just looks really boring and wimpy in this big space. My boyfriend and I like to have people over. We like to have movie night and cook, so we want it to look beautiful, but also be comfortable.
Korban: Sofas are tough. They're the biggest part of the living room, and they're expensive. That's why I just started having them made. It was just so much pressure on the sofa.
Jablonski: Do you like leather? I'm considering a leather couch.
Korban: Yes. But if you have the wrong leather or wrong color, it can go bad quickly. I like mixing upholstery when I do leather, like the body is leather and the cushions are a different fabric. But they're tonal. I just did a sofa for a client in Ohio. It's a sectional and the body is suede and the cushions are a boucle, but they're gray on gray. It's very modern and chic. I also like mohair mixed with leather; velvet with leather. I also do that with beds.
Jablonski: Beds are hard too! There are so many bad ones.
Korban: The thing I realized about beds…You just need a clean style, and then great bedding and end tables.
Jablonski: Where do you get good bedding? Right now we have these fluted glass doors and a big Noguchi lamp, but I feel like good bedding will really make our bedroom feel elevated.
Korban: Definitely! I've alway loved Pratesi—that's sort of my go-to—but it's very expensive. Kassatex has a good product for its price point. And I also like Sferra. The quality is as good as Pratesi, but much less expensive. And it has a whole catalog of swatches, 20 colors that you can get pillows in: dove gray, ice gray…Because I think I might be the only person who doesn't like white bedding.
Jablonski: Do you ever do patterns?
Korban: Oh, yes.
Jablonski: I know this guy who's super straight and super handsome. And he has baby floral bedding! It's the sickest thing ever. I'm obsessed. I never thought I'd like a pattern until I saw his.
Korban: It's probably D. Porthault. The only problem with them is the backgrounds of all their prints are white. Maybe it's because I have four dogs, but I don't like white.
Jablonski: My kitchen is Henrybuilt—the makeup artist Mark Carrasquillo recommended them to me. It's walnut with a marble backsplash. I don't have an island yet. But I have a big marble coffee table. Can I have the marble kitchen, marble coffee table, and a marble island?
Korban: Sometimes it's too much. I had the same thing with the residential building 40 Bleecker that I designed: marble island, a marble oven hood, marble backsplash. So I did the dining table in a French limestone instead of marble. If it's all marble, its too much of a good thing.
Jablonski: 40 Bleecker is the space on the cover of your book, right?
Korban: Yes. There's a penthouse available for $10 million, if you're interested.
Jablonski: Do you prefer doing residential or commercial projects?
Korban: Well, with residential you're always dealing with someone's personal space, so it can be challenging. A client will be really happy on Friday, then have issues come Monday morning. I'm always like, "Who did you have over this weekend? And what does their house look like?"
Jablonski: Brett [Robinson, her boyfriend] is always telling me to stop asking people for advice.
Korban: It's personal. Someone might love your shoes and another person might not. And wait till you have kids and the kids have opinions! Some of my pickiest clients have been children. This little girl—I showed her 10 different fabrics and she didn't like any of them. She was like, "No, next!"