Hollywood, You've Cast Ryan Reynolds as a Talking Pikachu: Is Everything Alright?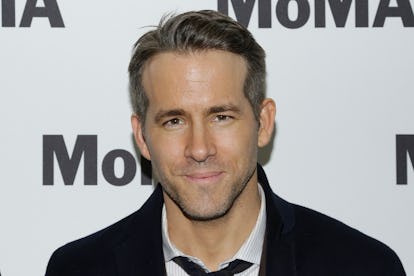 Lars Niki
Hollywood, we've not only accepted the fact that the easiest way to ensure blockbuster status at this point is to pair an established nostalgia-inducing piece of intellectual property with a bona fide box office superstar, but we'll admit that sometimes this actually leads to thoroughly entertaining films. Yet, it has recently come to our attention that you've gone ahead and cast Ryan Reynolds as a talking Pikachu in a live action Pokémon film.
This absolutely fits the pattern of your recent success shortcuts. Pokémon, after all, is a video game franchise beloved across the world. It's not only multiple game titles, but a successful animated series that's run for 20 years and is closing in on 1,000 episodes. Previous animated movies have been relative hits, and the franchise is a merchandising monster as well. Frankly, its surprising that you hadn't decided to tap it for its potential live action film material before this.
Reynolds, meanwhile, is one of the hottest actors in Hollywood. Deadpool proved to be a much needed jolt to the superhero journey, and his charisma and star power turned The Hitman's Bodyguard into an impressive August hit just this summer.
Proven Franchise + Proven Actor = Safe Blockbuster Bet. Right?
Yet, we just want to make sure that you are aware you have actually gone ahead and cast Ryan Reynolds as a talking Pikachu. Like, he'll literally perform the role via motion capture and voice a little yellow electrical rat. Not only that, but the Pikachu in question is a detective, because, sure. This is not some sort of error in a computer program that puts together potential movie packages, is it? This is really happening?
The movie, titled Detective Pikachu, is based on the 2016 game Great Detective Pikachu, which follows a storyline distinct from the main series and main cartoon. In it, two young Pokémon trainers (to be played by The Get Down's Justice Smith and Big Little Lies resident virginity auctioneer Kathryn Newton) team up with a Pikachu who can inexplicable talk, and while he may not be as physically powerful as the rest of his species, he does consider himself a keen detective.
We're still reeling from the fact that a Quentin Tarantino-directed Star Trek movie is in the works, and now you give us this. Not only that, but before casting Reynolds you also considered Dwayne "The Rock" Johnson, Mark Wahlberg, and Hugh Jackman for the role as the talking detective pocket monster.
Sure, we guess Bradley Cooper playing the small, mouthy raccoon in Guardian of the Galaxy worked out, but maybe we only bring that up to talk ourselves into a place where we can accept that this is a thing that is actually happening. We'd like to get here. We'd like to accept this and start thinking that the idea of Blake Lively voicing a Jigglypuff in the sequel is totally cute. Maybe we can someday get to the point where we except this may be the start of a whole new Pokémon cinematic universe where Andrew Rannells voices Meowth and Bella Thorne and Jayden Smith play Jessie and James. We'd like to get this, but first we really just need to make sure that this is a thing that is happening. You didn't just get your video game adaptations wrong and somehow fudged up your announcement that Ryan Reynolds is playing Johnny Cage in a Mortal Kombat reboot, right? Ryan Reynolds is playing a Pikachu…who talks…right?
Related: Ryan Reynolds Invited Salma Hayek Over … to Cook Dinner and Babysit