Ryan Reynolds Says Being Mr. Lively Is the "Best Gig"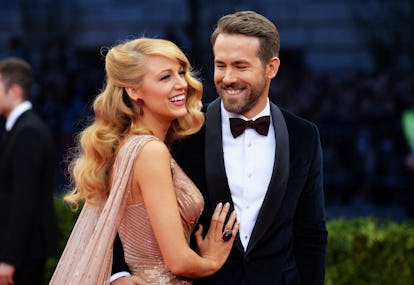 Mike Coppola/Getty Images
Ryan Reynolds may make a living as an actor, writer, and producer, but his favorite job, it seems, is being Blake Lively's husband.
On Monday night, Hollywood's platonic idea of the prefect couple stepped out onto the red carpet for the Deadpool 2 premiere. There, Entertainment Tonight asked him about one funny promo clip in which Diane Keaton, star of rival film Book Club, refers to him as "Mr. Lively."
As it turns out, he couldn't get enough of it. "Oh, I'm Mr. Lively 24/7, and I'm happy about it," he told ET. "It's great. It's the best gig."
Apparently, being "Mr. Lively" entails working as Ms. Lively's personal Instagram photographer, a position he took on last April, and constantly thinking of new ways to troll her for their headline-garnering ongoing prank battle. It also involves shutting down nasty tabloid rumors about their five-year (and counting) marriage. Indeed, in April, one sensational headline claimed that the couple was "struggling to spend 'quality time.'" Reynolds replied by saying, "I wish. I could use a little 'me time.'"
As for Lively's opinion on Reynolds' status as "Mr. Lively," apparently she thinks of it as a full-time job, as well. Last October, she shared the couple's secret to a happy marriage, saying that it's all about carving out time together. "My husband and I don't work at the same time, so we all go together as a family," she told People. "If we're away as a family, it's never more than for a day. We stay together."
During the ET interview, Reynolds also gushed about Lively's Deadpool-colored outfit, a sparkly black gown with a giant red sash. "She rocked it, she rocked it," he said. "If she were Gwenpool, I'd be wearing the Deadpool colors as well."
This is far from the first time Reynolds has said something adorable about his wife's red carpet presence. "My wife knows how to work a red carpet, I'll say that," he once told AOL. "Yeah, she might be the Beyoncé of red carpets. She's turned that into an athletic event."
Related: Hollywood, You've Cast Ryan Reynolds as a Talking Pikachu: Is Everything Alright?
Blonde Bombshell Blake Lively Has Epic Hair, and She Knows It
At the 2005 Nickelodeon's 18th Annual Kids Choice Awards, a young Blake Lively wore her golden blonde curls with a turquoise blue eyeliner.

Getty.
Wearing her long natural waves with a tinted coral lip, Lively looked like a California babe at the CW Network Upfront.

Getty.
Wearing her long mermaid waves with a hint of blush on her cheeks, Lively attended the VIVA LA CURE Benefiting for EIF's Women's Cancer Research Fund in 2007.

Getty.
Wild, tousled curls with a soft shimmery, smoky eye was the look at the US Weekly's Hot Hollywood Issue Celebration.

Getty.
Attending the premiere of Sherlock Holmes, Lively wore her hair in voluminous curls with a satin nude lip.

Getty.
Wearing a simple, elegant up do with glossy, natural lip, Lively attended the The Private Lives Of Pippa Lee premiere.

Getty.
Sporting a sleek, braid high pony with luminous skin, Lively tried out a new look at the 61st Primetime Emmy Awards.

Getty.
Wearing a sleek low bun with a taupe smoky eye, Lively attended the Spike TV's "Scream 2010" event.

Getty.
With red mermaid waves and a natural lip, Lively went glam at the TIME 100 Gala in 2011.

Getty.
Channeling old Hollywood glamour with voluminous waves, a sleek cat eye and a red lip, Lively hit the red carpet at the Los Angeles premiere of Savages.

Getty.
At the 2013 Costume Institute Gala, Lively wore her hair in a sleek, high pony with a subtle smoky eye and a light pink lip.

Getty.
Wearing her golden blonde curls softly tousled with a silk headband, Lively looked retro at the 2014 CFDA Fashion Awards.

Getty.
At the 2014 Costume Institute Gala, Lively paired her polished curls with a berry pink lip.

Getty.
At the 2016 Costume Institute Gala, Lively wore her hair in a voluminous up do with a bold, satin red lip.

Getty.
Radiating at the 74th Annual Golden Globe Awards, Lively opts for a sleek, knotted up do with a copper smokey eye and pale pink lip.

Getty.
Wearing her signature bombshell waves in a tousled half up do with loose curls framing her face, Lively attends the Michael Kors Collection Fall 2017 runway show.

Getty.
Wearing a sleek, high pony and sun-kissed skin with a nude lip, Lively hit the red carpet at the 2017 Costume Institute Gala.

Getty.
Debuting her latest do yet, Lively steps out at the All I See Is You L.A. screening in a pinned up faux bob that she effortlessly paired with a matte red lip.

Invision/AP/Shutterstock
Blake Lively attends the 'Final Portrait' New York screening at Guggenheim Museum on March 22, 2018 in New York City. Photo courtesy of Getty Images.

ANGELA WEISS
Blake Lively attends the premiere for "A Quiet Place" at AMC Lincoln Square Theater on April 2, 2018 in New York City. Photo courtesy of Getty Images.

Jamie McCarthy
Actress Blake Lively poses for a picture during the "Deadpool 2" New York Screening at AMC Loews Lincoln Square on May 14, 2018 in New York City. Photo courtesy of Getty Images.

Bennett Raglin
Blake Lively poses outside the Crosby Hotel on August 18, 2018 in New York City. Photo courtesy of Getty Images.

James Devaney