Your New Favorite French It Girl Sabina Socol Looks Like a Modern-Day Brigitte Bardot and Loves Vintage Shopping
Meet Sabina Socol, the smiling French It girl filling your Instagram feed.
---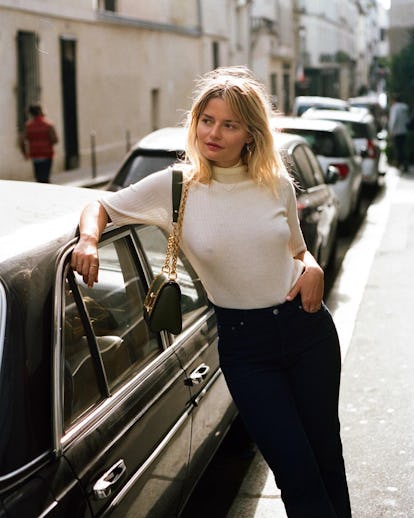 You may not know Sabina Socol by name, but chances are you're seen her grinning ear to ear in plenty of Fashion Week street style shots. "I laugh in all of my street style pics because these situations are awkward!" she explains. "Awkward in a funny way, of course. I'm not sure it transpires from my Instagram, but I'm a pretty funny and sarcastic person. I joke all the time and try not to take things seriously." Perhaps that is one of the reasons Socol has amassed a following of more than 163,000 on the app, with her fans tuning in for always chic outfits. Her laid-back ease and bright smiles are contagious, and her "je ne sais quoi" French style is enviable—even more so considering that she is not from Paris originally.
"I moved to Paris ten years ago, to study communication and journalism," explains the Romanian native. After a year-long stint at a fashion magazine, she decided she preferred freelancing as a journalist. Socol now has regular columns on WhoWhatWear.com and in Le Prescripteur magazine, and her day-to-day also includes producing a lot of the imagery and shoots to accompany her written articles. You can also find her traveling to far-reaching places like Morocco, Courchevel, and of course New York City for Fashion Week.
When she's not trotting around the world, she's enjoying life in Paris, where she calls the 11th arrondissement home. "I absolutely adore my neighborhood because it really feels like a small town in Paris. It's calm and central; most of my interests are close by," Socol says. One of those interests includes hunting for the best vintage that Paris has to offer. "I wear a ton of vintage! I like La Mode Vintage for high-end curated stuff, or Pretty Box for rare finds such as kimonos or Edwardian blouses," she says. "I also shop a lot of vintage on the Internet. Etsy, eBay, and Vestiaire Collective are my favorite scrolls, and whenever I travel I manage to do some vintage shopping, as well. I just love the rush of finding something unexpected, or something you've been looking for for a while."
With Fashion Month behind her, new adventures await, including an Italian holiday. Socol will be staying at a house in Florence to celebrate her birthday with her nearest and dearest. One thing is for certain—her Instagram will be filled with pink sunsets over the Arno river, snaps of floaty spring dresses, and big smiles.
Three words that describe your style: Simple, sexy, eclectic.
Daily uniform: A high-waisted pair of jeans, a vintage knit, high heels, and a cute bag.
Who or what you look to for style inspiration: It really depends on my mood, or what I'm looking for. Lately, I've been re-bingeing Sex and the City. So I'd say Carrie is my number-one source of style inspiration these days. But it varies a lot!
Best styling tip: Dress to suit your frame and feel good about yourself, and don't follow all the trends blindly.
Favorite piece in your closet right now: My Burberry trench and my vintage Fendi baguette—so Carrie!
Best recent discovery: Khaite, the new New York label founded by Catherine Holstein.
Best Fashion Week style advice: Fashion Week is a great moment to go out of your comfort zone, style-wise, and to mix it up a bit. So my advice would be to do that, while still being yourself and comfortable.
Favorite place to shop in Paris: La Mode Vintage in the 11th arrondissement for vintage finds.
Best cold-weather beauty tip: Moisturize everything!
Most underrated product in your medicine cabinet: My concealer, although I can't live without it.
Favorite song to get dressed to: "Small Talk" by Majid Jordan.
On your spring reading list: So You've Been Publicly Shamed by Jon Ronson.
Something you would never wear: Turtlenecks. I can't stand having anything around my neck.
What every girl should own: A super-flattering pair of jeans.
Related: Get To Know Khaite, the On the Verge Brand Behind Many of Lily Aldridge's Best Style Moments
Watch Daniela Vega, the First Trans Oscars Presenter, Try On Dresses For the Big Night