Athena Calderone's Guide to Marrakech Involves Shopping for Rugs and Subterranean Spas
From a five-star hotel to a spice lamb burger, everything you need for your next trip to Morocco.
---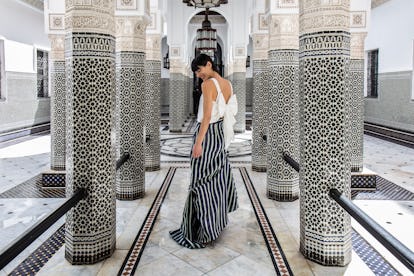 Saad Alami
If you are nearly one of the 100,000 people who follow Athena Calderone on Instagram, than you know she has two things in spades: style and frequent flyer miles. Calderone, who goes by the moniker @eyeswoon, is constantly posting images of her food, her outfits, and her travels, all through a very enviable Instagram haze. And it's hard to keep up: one second she's at home in the Hamptons, the next in the vineyards of Italy, and then back home just in time for the Veuve Cliquot Polo Classic, all while running her popular blog of the same name. That's not all: come October, she'll release her first cookbook.
Recently, Calderone was in Marrakech for the nuptials of Hannah Bronfman and Brendan Fallis, where she discovered the merits of rug-shopping overseas and subterranean spas. Here, her guide to the city.
How would you describe Marrakech to someone thinking about traveling there?
Marrakech immediately engages each and every one of your senses, from the low, melodic hum of the early morning call to prayer to the saturated sandstone palette of the red city to the intricate mosaic tile work to the all-encompassing scent of orange blossom and jasmine at every turn. It is impossible for Marrakech to not capture your heart through your senses.
What were the highlights of your trip?
Without a doubt, staying at La Mamounia, the luxurious, Moorish-inspired five-star palatial hotel. It overlooks the Atlas Mountains, and is right in the heart of the medina. It is opulent yet tasteful, immense yet intimate. The gardens surrounding the property are breathtaking—and enormous! They span 20 acres and in the 18th century were a wedding gift to Prince Al Mamoun from his father. The royal gardens are beautiful and imposing, with hundreds-of-years-old olive trees, tons of varieties of cacti, and aisles of flowers. The hotel is a true oasis, and it's steeped in history.
Besides the hotel, I'm fortunate to have a friend in Marrakech, Nicole Francesca Manfron of The Secret Souk, who showed me around, and I also met incredible local photographer Saad Alami, who captured my experiences during my stay. Getting a taste of local life and meeting talented people in the area is always a goal when traveling.
What was the most memorable experience you had on this trip?
Wandering the grounds of La Mamounia and decompressing in the cavernous, subterranean spa. It's covered in the most intricately laid, beautiful blue tile. Between the various hammams, Jacuzzi, and the heated indoor pool, there is so much to discover in the spa. I felt supremely pampered as I got steamed and meticulously scrubbed. I promise you this is not an experience to be missed. I was also very much inspired by the marble floors of Marrakech. I am in the midst of a townhouse renovation here in Brooklyn and the beautiful patterns and colorful marble floors from pink to black to green in haphazard shapes to herringbone, even at the airport, certainly made an inspired impact on me.
What was the best thing you ate in Marrakech?
There were so many standout food moments. Don't miss out on a tagine experience. The homemade orange blossom almond milk and dates when you arrive at La Mamounia are heavenly. And finally, there is an amazing restaurant in the medina called Nomad that is a must. The cuisine is "modern Moroccan". They take dishes from around the world and put their own Moroccan spin on it, serving up drinks like a "Moroccan affogato" and mains like the "Nomad burger", a spiced lamb burger that's topped with ingredients like aubergine and harissa mayo. The restaurant is constantly evolving. It hosts a rotating cache of talented guest chefs, which provides an influx of new ideas.
Where are your must-visits for someone traveling to Marrakech?
Well, you must explore the medina and engage with a carpet dealer – it is unlike anything we experience here stateside. There is a ritual surrounding the tea ceremony and negotiation as you look through hundreds of carpets. I stumbled upon an incredible carpet dealer through a friend who lives in Marrakech. The shop Soufiane Zariib is beautifully curated and highly designed. I saw two very well-known and highly-regarded interior designers shopping there. The experience is top-notch—Soufiane's eye is impeccable and you can spend hours exploring in the multi-level emporium.
What did you purchase during your trip?
Um, maybe like six carpets from Soufiane! I also bought the cutest jumpsuits from Marrakech-based designer Norya Ayron. Her funky prints and color combinations are a little wild, and so cool. Her brand is young, but several famous names have already been spotted wearing her pieces.
How did your destination factor in when packing for the trip?
I felt my looks while at the hotel needed to rival the opulence of the hotel, so I did pack some fashion gems from Valentino, Rosie Assoulin, Johanna Ortiz, and Tome. But for days exploring the souks and medina, I lived in super comfy shoes and lightweight dresses and jumpers from Ulla Johnson.
What were some of your favorite outfits you wore on the trip?
The pink and red Valentino was the quintessential look for Marrakesh. I usually do not wear that much color but it was perfectly suited for the location. But bopping around the city in the 100 plus degree weather demanded a light weight and white Ulla jumper.
Where would you recommend people stay in Marrakech?
La Mamounia for opulence and a five-star stay, but I also think people must experience a riad. I loved exploring El Fenn—it is incredible how behind the ornate doors of Marrakech in the middle of the medina, a little oasis and courtyard of beauty exists. The walls and furnishings are awash with vibrant jewel tones, the covered courtyards illuminate by lantern light at night and contemporary works are in abundance. It's a blissful mix of hip, artistic design and utter tranquility.
What are your packing tips when preparing for a trip?
Bring flat sandals, a sun hat, sunglasses, and lightweight cotton dresses. Breezy and breathable.
What are your must-haves for a long flight?
A scarf, some snacks, and an amazing book. Best to keep it simple and stick the essentials. You have to lug it all with you.
Do you have any pre- or post- flight beauty rituals?
I drink a ton of water and always travel sans makeup and with hydrated skin, usually a serum.
What is your go-to travel uniform?
I tend to wear a loose-fitting jumpsuit when I travel—a cropped leg is best. And I always travel with a scarf. That way it's easy to layer up on an over air-conditioned flight or stash the scarf and stay cool while I'm rushing through the airport.
Watch all of W's top videos, here: