Sade's Original Song for A Wrinkle in Time, "Flower of the Universe", Just Dropped
It's the singer's first new music since 2011.
---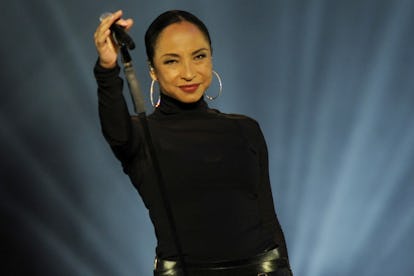 Tim Mosenfelder/Getty Images
Fans were already waiting with bated breath for the release of A Wrinkle in Time, which stars Mindy Kaling, Oprah, and Reese Witherspoon, before director Ava DuVernay announced that Sade had penned an original song for the movie. Last month, DuVernay tweeted that she had secured the first new music from the engimatic singer since her last album, Soldier of Love, came out in 2010. "I never thought she'd say yes, but asked anyway," DuVernay wrote on Twitter, announcing the forthcoming song. "She was kind and giving. A Goddess." And now, three days before the movie's theater debut, the song is available to stream.
The song, titled "Flower of the Universe," spans slightly longer than four minutes and was produced by No I.D., who was recently nominated for a Grammy for his work on Jay-Z's 4:44. DuVernay shared the new track with her Twitter followers at midnight on Tuesday. "A late-night treat for all you Flowers of the Universe. My thanks to No I.D. And thank you to Sade. You are a queen and a visionary and we love you," she said. Anyone familiar with Sade's soulful sound will instantly recognize her vocals on the acoustic track. The rest of the soundtrack, due out on March 9, features other superstars including Sia, Kehlani, DJ Khaled, and Demi Lovato. The entire score was crafted in part by Game of Thrones composer Ramin Djawadi.
The hotly anticipated movie, a Disney adaptation of Madeleine L'Engle's 1962 novel of the same name, hits theaters on March 9 and—aside from the inimitable trio of Winfrey, Witherspoon, and Kaling—stars Chris Pine, Rowan Blanchard, and Storm Reid. Even before it arrives on the big screen, it seems DuVerney's latest project is a hit, if only for delivering a brand new Sade hit.
Listen to the song, below.
Related: Unlike His Mom, Izaak Theo, Sade's Son, is a Master Instagrammer