Unlike His Mom, Izaak Theo, Sade's Son, is a Master Instagrammer
While his mom Sade keeps a low profile, Theo's Instagram is both sincere and playful.
---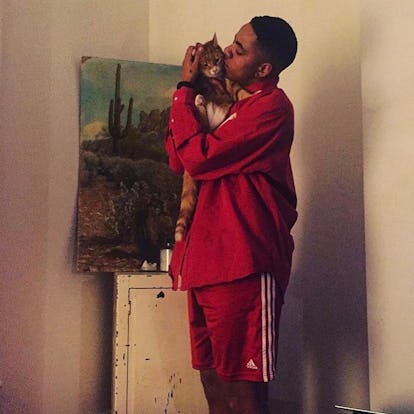 @caracalonbenzos
Though Sade, the band, released their first record in 1984, more than 30 years later, Sade, the singer, is no less an icon. Among Drake's collage of tattoos, which includes portraits of Lil Wayne, Denzel Washington, and his own father, are not one but two in the likeness of Sade Adu. In a memorable scene in Big Little Lies earlier this year, Reese Witherspoon's character hears a Sade song on the radio and asks if it's Adele; her young daughter, who has perplexingly good and precocious taste in music, quickly corrects her.
Sade's artistic inclinations (before she became a musician, she studied at Central Saint Martins and did a brief stint as a designer) were apparently inherited by Izaak Theo, her son with Jamaican producer Bob Morgan. The 21-year-old is an emerging artist who posts sketches and drawings to his Tumblr, his subjects ranging from Ryan Gosling to potential tattoo designs to a Kafka-esque diorama of a cockroach going about his day in a tiny house. Many of them are also captioned "Uni project," so he seems to also be studying illustration.
For all she's still very much part of the zeitgeist, the enigmatic Sade keeps a low profile on social media—the band's official Instagram is populated by just a few images of their album covers, many of them featuring artful portraits of the frontwoman—but Izaak Theo, on the other hand, posts frequently, offering intimate looks at his life. Izaak Theo's account, @caracalonbenzos, was private this time last year, when he came out as transgender (he was born Mickailia Adu), but has since been made public for his roughly 11,000 followers. He puts up selfies, photos of himself with his girlfriend, and the occasional image of what appear to be his many pets—including a Jack Russell terrier, a bearded collie, a miniature dachshund, a cat or two (in a recent story on Sade, the New York Times referred to him as "her cat-loving child"), and an impressive array of house plants. From time to time, he'll also, naturally, include a photo of his mother—a recent one was captioned "My absolute queen."
Once in a while, he'll even weigh in on the tabloid drama of the day—if it's related to his family, that is. For example, when a rumor began to circulate earlier this year that Drake (he of the two Sade tattoos) was dating Sade, Izaak Theo posted a screenshot of a headline that read "Drake Dating Sade? Drizzy Gets Cozy With Legendary Singer in Europe—Pic." Izaak Theo had a sense of humor about the whole thing, at least: "One photo and now @champagnepapi is my step dad??" he wrote, tagging Drake. (It's not clear if the rapper ever responded.)
But his posts are sometimes more earnest, as in the case of one notes-app memo he posted over the summer offering words of encouragement to other young transgender individuals. In a two-frame screenshot of the note superimposed over a red background illustrated with yin and yang symbols, clouds, and rearing horses, he wrote, "Being transgender is hard. Every day is a struggle. You are constantly fighting for the world to accept you and sometimes you even fight yourself."
"I can't say I know how it feels not to have support as a trans person," he continued—noting that he is "lucky because I have family and friends that accept and love me just as I am." Nevertheless, "Don't let yourself be disrespect [sic] and most of all don't ever give up," he encouraged. "I am always here to talk if anyone needs advise [sic] or just a random chat! My DM is always open (lol dunno how else to phrase that) but seriously I'm here!" he concluded. His hashtags for the post included "#hereforchatz," in case anyone doubted his DMs truly are open.
'Stranger Things 2' star Sadie Sink explains the biggest '80s trends: