Saint Laurent Goes Downtown
Hedi Slimane takes Saint Laurent Paris to Downtown New York
---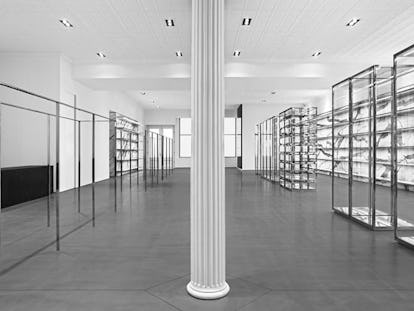 Between choosing Los Angeles over Paris, channeling grunge, and casting Cara Delevingne in an ad campaign, Saint Laurent Paris creative director Hedi Slimane is clear about the French fashion house's new direction. With the compass now pointing toward lower Manhattan, a newly opened black-and-white store in SoHo's cast iron historic district is yet another concrete (and marble and glass) block cementing the brand's downtown identity.
The 4,000-square-foot space respects the building's architecture—highlighting the original columns and high ceilings—but added complementary vintage pieces by Andre Sornay, Jules Leleu, and Jacques Adnet for décor. Oh, and there's clothing, too.
Saint Laurent Paris is now open at 80 Greene Street, between Spring and Broome, in New York City.