Salma Hayek Let Her Daughter Valentina Paloma Pinault Give Her a Haircut Makeover
In celebration of her daughter's birthday.
---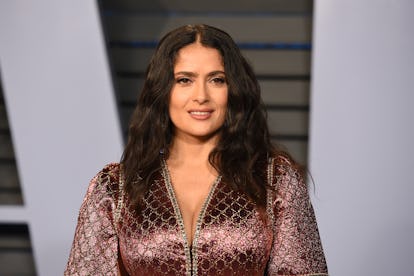 Presley Ann/Patrick McMullan via Getty Images
Salma Hayek's daughter Valentina Paloma Pinault may have just turned 12, but the actress is the one who received a gift. In celebration of Valentina's birthday, her mom let her give her a makeover haircut. Hayek opted for the haircut of the year, the bob, which Valentina carefully cut in a video posted to the actress' Instagram.
"Happy birthday ??? Valentina," she wrote in the caption of the video, which was soundtracked by the Foundations' "Build Me Up Buttercup." "You are so awesome and handy too! Thank you for cutting my hair! I love you more than love itself."
Valentina was born in 2007 and was Hayek's first child. She had her with her husband François-Henri Pinault, who she married two years later. Hayek opened up about the experience, telling People, "I had my child so late in life. I thought I wasn't going to be able to and it was such an important thing to me."
While Valentina has been branded Hayek's mini-me, Hayek thinks she takes more after her dad. "I think she is more like him and he thinks she is more like me," she said. "I think she looks like him and he thinks she looks like me."
She later echoed that when talking about whether or not Valentina would ever go into acting as a career. "Valentina and I are not very similar personality-wise," she told Hola Magazine. "But she doesn't have stage fright on camera. In my family everyone is very confident, graceful and light. Valentina and I are the ones who panic on stage. But she gets in front of the camera with no problem!"
Hayek's own experience as a parent has been much different from what she saw growing up, as she also revealed. "I don't say the sort of things to Valentina that my mom said to me because her life is different," she said. "What my mom taught me was very important to me, but I don't pass that on to my daughter because she needs the opposite."
Being a parent has also massively changed her — which she is a fan of. "Every woman has a maternal instinct inside and I think that it's important that all humans try to have that experience and apply that maternal instinct to some living creature," she said. "You don't have to have children, but be responsible and take care of animals or a plant. Feeling responsible helps you develop as a human being…You learn a lot about yourself when you do something for someone else."