16 Celebrities Who Prove That 2018 Is Officially the Year of the Bob
16 celebrities provide the perfect blueprint for chopping your hair into a bob (or a lob).
---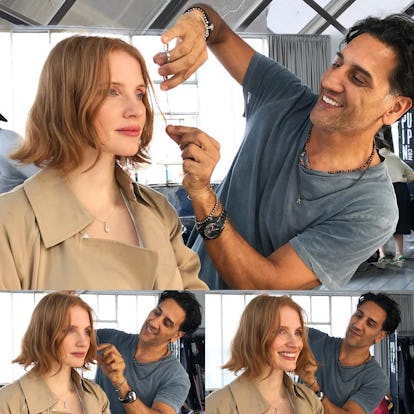 Photo courtesy of @renatocampora.
The days are getting shorter and, it seems, so is everyone's hair. Thanks to celebrities like Rihanna and Jessica Chastain, a chic bob is officially the haircut of the summer.
But they aren't the only ones in on the trend. Other musicians, actresses, models, and teen activists are all giving the short hairdo a chance this summer, ranging from the near-shoulder-length lob, as in the case of Margot Robbie, to almost-pixie, as seen on Alicia Keys. And who can blame them for shearing some extra length? They say three's a trend but 14 makes it a movement, and these 14 celebrities provide the perfect blueprint for anyone thinking of chopping their hair into a bob or lob before autumn rolls around. Why bother sweating through the dog days of summer, when you can just cut your hair off and give your neck a break?
Rihanna
When Rihanna debuts a short haircut, you know short haircuts are an official trend.
Emma Roberts
Emma Roberts went for a cut that lands just below the ears.
Khloe Kardashian
Khloe Kardashian took to Instagram over the weekend to reveal her allegiance to the bob.
Kim Kardashian
Kim Kardashian showed off her new bob while attending a charity event this past weekend in Inglewood, California. Photo courtesy of Getty Images.
Lucy Hale
Lucy Hale settled on a chin-length chop in late July.
Jessica Chastain
Jessica Chastain opted for a shaggy bob at the beginning of the summer.
Emilia Clarke
Game of Thrones' Emilia Clarke's sleek bob was one of the first to start the summer 2018 trend.
Rowan Blanchard
Leave it to the teens to be at the vanguard of this summer's biggest hair trend. Rowan Blanchard chopped her off hair way back in March.
Vanessa Hudgens
Vanessa Hudgens went for a Mia Wallace–inspired look this past spring.
Jourdan Dunn
Supermodel Jourdan Dunn's wavy bob made its debut five months ago.
Saoirse Ronan
Saoirse Ronan went for the blunt bob just in time for the 2018 Oscars.
Margot Robbie
Margot Robbie's lob looked stunning during awards season.
Sarah Paulson
Left in the hands of Ashley Streicher, Sarah Paulson's hair achieved chin length in February.
Dua Lipa
Pop star Dua Lipa snipped her locks in April.
Irina Shayk
Irina Shayk jumped on the summer trend in June.
Alicia Keys
Alicia Keys took everyone by surprise when she debuted an almost-pixie-length cut in July.