Salma Hayek on the Art of Performing as Herself, and the Surprise of Her Vows Renewal
A revealing interview with the actress at the Venice Film Festival.
---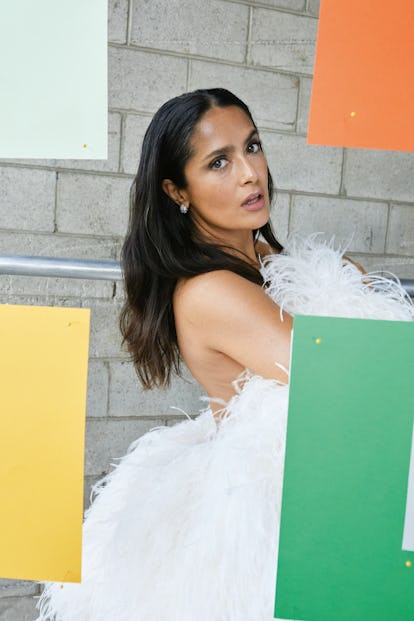 Juergen Teller
Salma Hayek is busy. Ironic, considering the Mexican actress was once told she wouldn't work after 35. Now, having just celebrated her 52nd birthday, Hayek is gearing up for the release of The Hummingbird Project at the Toronto International Film Festival on Saturday—in which she plays a bleached blonde Wall Street shark—and just received the Franca Sozzani Award in Venice, alongside her husband François-Henri Pinault, who recently surprised her with a vows renewal in Bora Bora.
"I was completely shocked," said Hayek, kicking off her diamond-encrusted stilettos to take a seat at the Palazzo Grassi theater in Venice. "First thing I thought was, I would have worn something different."
Hayek was in Venice this past week for the premiere of Yugen, an art film she stars in. Directed by Martha Fiennes, this non-narrative short lifts its title from the Japanese word, which denotes the appreciation of beauty and art. Part coding and part CGI, it's an experimental dive into a mystical underworld that allowed the Frida star to unleash her inner performance artist.
"It's a conceptual art piece showing the architecture behind a woman," said Hayek. "Working with the abstract was very freeing."
Though Hayek has had minor performance-art roles in the past, it's the first time she has worked with a woman artist. "It was the most intense one, for sure," she said.
"I think, inside, every woman is a mystic," she continued. "We create life inside of our bodies, and I think the relationship with creation has a lot to do with magic and mysticism."
Known for her ball-busting New York Times op-ed about Harvey Weinstein, and for her role in the gender parity protest at the Cannes Film Festival earlier this year, Hayek puts her own selves in this artwork: The Salma she presents to the public, and the Salma she is behind the scenes.
"I always complained people couldn't see who I really am," she said. "They see such a small fraction. Some are intrigued; what's behind?"
Entering the screen in a seductive saunter that takes us back to Desperado, the actress offers many roles in Yugen that are rather surreal, from a virgin bride to a devilish mistress to a black-clad shaman who summons spirits.
With costumes designed by Fiennes, she wears feathers, gold bling, and a Tim Burton–esque headpiece, not to mention a red silk dress and matching corset. "The whole process was crazy," said Hayek. "We would start one archetype, then mess it up, adding stuff to go against it. Sometimes, I had such heavy clothing I couldn't walk."
Each archetype on the screen is chosen by an AI-programmed algorithm, which randomly selects them like tarot cards. More painting than video art, Hayek looked inward for this role.
"Martha took me onto this journey of all the archetypes of women and how women have been underestimated," she said. "What are the untold stories of our own magic?"
The supernatural might confuse some, but risk-taking is essential to art, according to Hayek. "In the industry of the imagination, very few people take chances," she explained. "In art, people take a lot less chances with women. That's the truth. Especially if they are coming from another profession."
The experience has inspired Hayek, who runs her own production company, to make her own surrealist film. "I have one dream project I've been working on for 13 years," she said. "A movie I wrote and want to direct, to do with technology and the subconscious. It's very visual. This project is giving me courage to pursue it."