Salma Hayek and Her Husband Renewed Their Vows in Bora Bora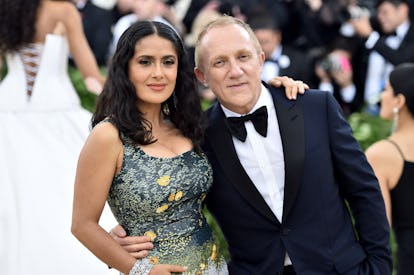 Theo Wargo/Getty Images
Salma Hayek Pinault and French fashion titan Francois-Henri Pinault really do prefer to mix high and low when it comes to their wedding vows. The couple were originally married in a quiet civil ceremony in Paris, but then latter held a more lavish ceremony at Venice's historic Teatro La Fenice opera house with a star studded guest list. For their recent vow renewals, they decided to keep it low-key once again.
Capping off their tropical vacation on the island of Bora Bora, Pinault, the chairman and CEO of the parent company of fashion houses like Gucci, Saint Laurent and Balenciaga, decided to surprise his wife with the ceremony. As chronicled on Hayek's Instagram, Pinault tricked her into thinking they were going to be spending a couple's day at the spa, only for him to lead her to a secluded beach for the renewals. Hayek looked gorgeous with a flowing red dress, a bouquet of white flowers, and a white floral lei, while Pinault embodied the athleisure spirit with a white T-shirt and joggers. The duo's 10-year-old daughter, Valentina, and a few other friends were also there to celebrate, and one of them was lucky enough to catch Hayek's bouquet.
"The summer is coming to an end and my best moment was when my husband surprised me with a vow renewal," Hayek wrote on Instagram. "It was not what I would have chosen to wear to my wedding but I was told I was going to the spa!"
In another photo from the ceremony, all Hayek had to do was caption it with a heart.
While the actress chooses not to publicly discuss her marriage much, it's clear the two laid a strong foundation for success. "I married the right guy," she explained last year, per People. "That is probably the most important thing. We support each other in everything we do. We want the other one to strive. [It] makes you happy when the other one strives. And you know what, we don't have a very strong social life, because we really like to spend time together. So we do spend a lot of quality time together."
Related: Salma Hayek on her Beauty Routine