Salma Hayek Does Not Approve of Fake Eyelashes
The actress answers W's five-minute questionnaire.
---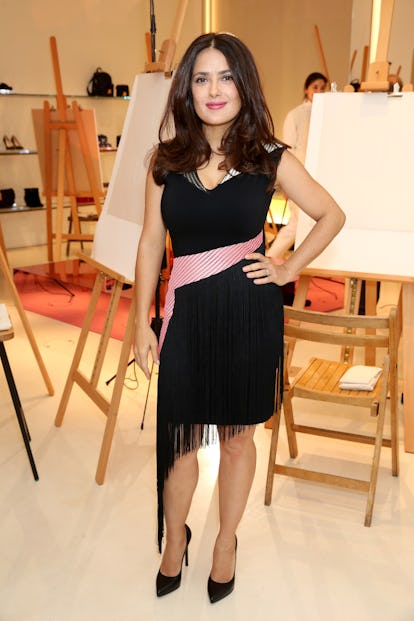 There's one beauty treatment Salma Hayek Pinault describes as "a spa day for my lips." Here, the Academy Award-nominated actress (Frida), star of Matteo Garrone's upcoming Tale of Tales, and a powerhouse in her own right as a producer and force behind the Nuance beauty brand, dishes on balancing a hectic travel schedule and a beauty routine on check.
What's your first beauty memory? My grandmother and mother always told me: 'You must wash your face before you go to sleep! Every night, no matter how tired you are, even if you're crawling on the ground!' But I've never washed my face in the morning. Your skin regenerates all the things that you lost during the day when you're sleeping— the right pH balance, oils and collagen. Everything comes back to the skin at night. Then you go and wash it off in the morning. Why?
Which discontinued beauty product/shade do you mourn? Nuance Texturizing Sea Salt Spray. I can go to the best hairdressers in the world, yet I always preferred using this over any hairstyle they gave me. I would actually put a lot in my hair, then let it air dry.
What's your beauty pet peeve? Over-the-top fake eyelashes.
What's your current obsession? I crave the fresh coconut water from Juice Generation. I drink their new Coco-to-Go straight from the shell. I'm so busy and travel all the time, so this really picks me up between interviews or after a long day. I've also been obsessed with Nuance's new True Color Moisture Rich Lipstick in Blooming Red. My lips are always dry, so using this is like spa day for my lips.
Which beauty products do you use off-label? I use my Anti-Aging Wrinkle Filler Eye Serum around my lip line. It has licorice root in it, which is my secret weapon for filling in any wrinkles around the lip.
What's your five minute beauty routine? My routine changes. It depends on how my skin wakes up because skin isn't a machine! I look at it, I pay attention. I talk to it. I have a lot of potions! I start with my AM/PM Super Cream. If I'm extra dry, I will mix a few drops of the Glow Facial Oil with the AM/PM Cream. When you moisturize, it makes you feel good and wake you up. Then I apply AM/PM Anti-Aging Super Serum Concentrate to my neck. Two weeks without this serum and your neck will start to hang like a turkey!
If you had ten more minutes, what would you add to your beauty routine? I would do a face mask with La Mer The Hydrating Facial. Traveling can dry out my skin. This mask is amazing for moisturizing and conditioning, especially after a night flight.
Who is a beauty professional that you can't live without? My Japanese facialist, Makie Imato. She gives a great facial massage, which is the best thing for your face to keep it toned. The circulation immediately helps rejuvenate the skin. She lives in Japan and only comes to London every once in a while.
What was you biggest beauty blunder? Not getting into a habit of exercising when I was young. Some people have the discipline to exercise in the morning and I didn't develop that. Now, I don't have time to exercise. I'm working! I've had some 20-hour days.