Sandra Bullock Will Contend with Monsters and the End Of the World in Her New Netflix Project
Oscar-winner Sandra Bullock has been tapped as the star of the new Netflix film Bird Box.
---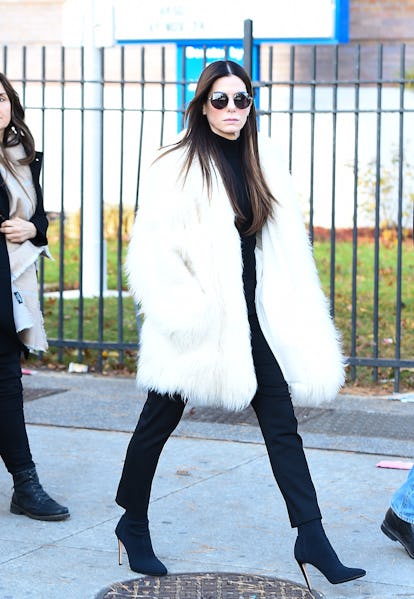 Raymond Hall
It seems like every week, Netflix is churning out yet another binge-worthy television series filled with A-list casts and showrunners. This summer alone has seen the release of Gypsy with Naomi Watts, GLOW with Alison Brie, and Santa Clarita Diet with Drew Barrymore in addition to the return of series like Baz Lurhmann's The Get Down, Jenji Kohan's Orange Is the New Black, and Aziz Ansari's Master of None. This weekend, Ozark debuts with Jason Bateman, Laura Linney, and Julia Garner in the lead roles, continuing a strong summer for the streaming service.
But, as evidenced on the festival circuit this year, Netflix is also making a strong entry into feature films: Okja, the new film by Snowpiercer director Bong Joon Ho, debuted (to some controversy) at Cannes, while Netflix scooped up To the Bone with Lily Collins shortly after its Sundance debut. In May, Netflix also released War Machine, a satire about the war in Afghanistan starring Brad Pitt. And on Wednesday, it was announced that Sandra Bullock has signed onto Netflix's latest project, a post-apocalyptic thriller entitled Bird Box, directed by Susanne Bier of The Night Manager and based on Josh Malerman's 2014 novel of the same title.
In the film, Bullock contends with both supernatural creatures and maybe even the end of the world: She will play a woman named Malorie who becomes pregnant just as rumors begin to spread of monsters who drive all who see them to insanity—and suicide. The "creatures," as they become known, drive the remaining humans to seek refuge; after Bullock's character gives birth, she blindfolds her children—so they won't see the monsters, and, by extension, be driven mad—and guides them, The Road-style, on a pilgrimage towards safety.
Bird Box's screenplay was written by Eric Heisserer; his script earned the top spot on the 2014 Blood List—essentially horror's analogue to the Black List, the famed ranking of Hollywood's best unproduced scripts. Now that the film has a distributor and a star, production is expected to begin this fall. It's one of just a handful of projects with which Bullock has become involved lately—which also includes the can't-miss Ocean's Eleven spinoff Ocean's Eight, co-starring the likes of Rihanna, Cate Blanchett, Dakota Fanning, Katie Holmes, Sarah Paulson, and more. But as the hero of a world drawing ever closer to anarchy, Bullock is coming back in a big way with Bird Box. And thus, Netflix continues its plans for world—screen—domination.
Actor and musician Johnny Flynn reveals the circumstances of his first kiss:
Sandra Bullock's Style Evolution, From America's Sweetheart to Oscar Winner
Sandra Bullock arrives at the 'Infamous' premiere on the second day of the 63rd Venice Film Festival on August 31, 2006 in Venice, Italy.

Getty
Sandra Bullock arrives to the 78th Annual Academy Awards at the Kodak Theatre on March 5, 2006 in Hollywood, California.

Getty
Sandra Bullock attends the 76th Annual Academy Awards at the Kodak Theater on February 29, 2004 in Hollywood, California.

Getty
Sandra Bullock arrives at the People's Choice Awards 2010 held at Nokia Theatre L.A. Live on January 6, 2010 in Los Angeles, California.

Getty
Sandra Bullock attends the 15th Annual Critics' Choice Movie Awards at The Paladium on January 15, 2010 in Hollywood, California.

Getty
Sandra Bullock attends the 67th Annual Golden Globes Awards at The Beverly Hilton Hotel on January 17, 2010 in Beverly Hills, California.

Getty
Sandra Bullock arrives at the 82nd Annual Academy Awards held at Kodak Theatre on March 7, 2010 in Hollywood, California.

Getty
Sandra Bullock during 12th Annual BAFTA/LA Britannia Awards at Century Plaza Hotel in Century City, California, United States.

Getty
Sandra Bullock during 9th Annual Costume Designers Guild Awards Gala at Beverly Wilshire Hotel in Beverly Hills, California, United States.

Getty
Sandra Bullock arrives at the Vanity Fair Oscar party hosted by Graydon Carter held at Sunset Tower on February 27, 2011 in West Hollywood, California.

Getty
Sandra Bullock arrives on the red carpet for the 68th annual Golden Globe awards at the Beverly Hilton Hotel in Beverly Hills, California January 16, 2011.

Getty
Sandra Bullock attends the 16th Annual Screen Actors Guild Awards at The Shrine Auditorium on January 23, 2010 in Los Angeles, California.

Getty
Sandra Bullock arrives at The 66th Annual Golden Globe Awards at The Beverly Hilton Hotel on January 11, 2009 in Hollywood, California.

Getty
Sandra Bullock during 12th Annual Screen Actors Guild Awards at Shrine Auditorium in Los Angeles, CA, United States.

Getty
Sandra Bullock arrives at the 85th Annual Academy Awards at Hollywood & Highland Center on February 24, 2013 in Hollywood, California.

Getty
Sandra Bullock attends the Gravity premiere at AMC Lincoln Square Theater on October 1, 2013 in New York City.

Getty
Sandra Bullock arrives at the 71st Annual Golden Globe Awards at The Beverly Hilton Hotel on January 12, 2014 in Beverly Hills, California.

Getty
Sandra Bullock arrives at the 19th Annual Critics' Choice Movie Awards at Barker Hangar on January 16, 2014 in Santa Monica, California.

Getty
Sandra Bullock arrives at the 20th Annual Screen Actors Guild Awards at the Shrine Auditorium on January 18, 2014 in Los Angeles, California.

Getty
Sandra Bullock poses at her Hand and Footprint Ceremony at TCL Chinese Theatre on September 25, 2013 in Hollywood, California.

Getty
Sandra Bullock attends the Oscars held at Hollywood & Highland Center on March 2, 2014 in Hollywood, California.

Getty
Sandra Bullock attends the 66th Annual Directors Guild Of America Awards held at the Hyatt Regency Century Plaza on January 25, 2014 in Century City, California.

Getty
Sandra Bullock arrives at the Women In Film 2015 Crystal + Lucy Awards at the Hyatt Regency Century Plaza on June 16, 2015 in Los Angeles, California.

Getty
Sandra Bullock arrives at the premiere of Warner Bros. Pictures' 'Our Brand Is Crisis' at TCL Chinese Theatre on October 26, 2015 in Hollywood, California.

Getty