The Weight of Gravity
The Museum of Modern Art honors the director Alfonso Cuarón.
---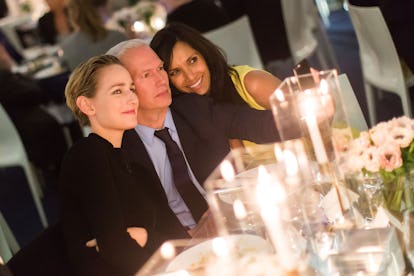 Guests including Vito and Julian Schnabel, Katie Holmes, Leelee Sobieski, Poppy Delevingne, and Tom Colicchio were wearing 3D glasses and video projections lined the hallways, but the Museum of Modern Art's 2014 Film Benefit on Monday was about more than just film—it was about community. The honoree, Academy Award-winning director Alfonso Cuarón, was surrounded by friends and family, who, throughout the evening's tribute and dinner, painted a portrait of not only an accomplished filmmaker, but also an appreciated friend and activist. At the start of the evening, Cuarón and fellow filmmaker Guillermo del Toro read a joint statement about the missing students investigation in Mexico. MoMA's Chief Curator of Film Raj Roy credited Cuarón 's 2001 road film Y tu mama tambien for inspiring him to continue his career, the director's son and Gravity co-writer Jonas Cuarón spoke of his cinematic and familial achievements, and fellow filmmakers Emmanuel Lubezki and Alejandro Iñárritu provided comic relief from the set of their upcoming film via a pre-recorded video. "Cabron, you should be here—look at this, there is no focus, no exposure, nothing!" Iñárritu joked of the rainy forest surrounding them. "We are suffering—can you come and take my job please and I can be drinking wine with the MoMA people?"
Though Cuarón was the official star of the evening, del Toro became a very close second when he took the stage again. "About 100 pounds ago—that's how we measure time in my family," he said to a crowd roaring with laughter, "Alfonso and I met in a reception area of a Mexican horror TV show. He was, even back then, lauded as the smartest young director around and something of a ladies' man; I was the weird guy that dressed badly." Del Toro continued, expressing his wishes that the tribute were a roast instead. "Even if this is not a roast, I offer to all of you that if you catch me later, I will personally tell you a story about a time in London that will illuminate Alfonso in a very different light," he said. "Just to warn you that Guillermo is an amazing storyteller," added Cuaron in a disclaimer tacked to the end of his speech. "So whatever he wants to tell you later on either didn't happen, or I don't recall…"
Photos: The Weight of Gravity
Raj Roy, Alfonso Cuarón, Sheherazade Goldsmith, and Marie-Josée Kravis. Photo by Scott Rudd.
Jonathan Tisch, Katie Holmes, and Lizzie Tisch. Photo by Scott Rudd.
Poppy Delevingne. Photo by Scott Rudd.
Stefano Tonchi, Klaus Biesenbach, Diane von Furstenberg, and Barry Diller. Photo by Scott Rudd.
Joan Smalls. Photo by Sherly Rabbani.
Diana Taylor, Michael R. Bloomberg, Vito Schnabel, and Julian Schnabel. Photo by Scott Rudd.
Leelee Sobieski, Klaus Biesenbach, and Padma Lakshmi. Photo by Scott Rudd.
Jonás Cuarón, Guillermo del Toro, and Alfonso Cuarón. Photo by Scott Rudd.
Caroline Sieber. Photo by Sherly Rabbani.
Inside the dinner. Photo by Scott Rudd.
Emile Hirsch. Photo by Sherly Rabbani.
Dev Hynes and Jessie Ware performing. Photo by Scott Rudd.
Leelee Sobieski. Photo by Scott Rudd.
Nate Lowman and Cary Fukunaga. Photo by Scott Rudd.