Bird Box Trailer: See Sandra Bullock Spend Most of a Movie Blindfolded
And looking at the trailer you can see why.
---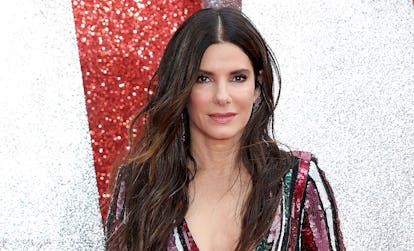 Tim P. Whitby/Tim P. Whitby/Getty Images
Ed Harris learned to paint like Jackson Pollock, Michelle Williams walked around with her knees bound by a belt to become Marilyn Monroe, and Sandra Bullock went blindfolded for nearly an entire movie — as the trailer for her upcoming Netflix thriller Bird Box shows. Bullock's latest role is a far leap from Ocean's Eight. There is no comedy to be found in it, but there is nearly as much suspense.
The post-apocalyptic film, based on the Josh Malerman novel of the same name, comes in the wake of John Krasinski's hit A Quiet Place. Only, instead of the monster finding its way to you through sound, it does so via vision. Hence, the blindfold. As the film's description states, "When a mysterious force decimates the world's population, only one thing is certain: if you see it, you take your life. Facing the unknown, Malorie finds love, hope and a new beginning only for it to unravel. Now she must flee with her two children down a treacherous river to the one place left that may offer sanctuary. But to survive, they'll have to undertake the perilous two-day journey blindfolded."
The mysterious force enters into the world as Sandra Bullock goes in for a checkup while pregnant. After she notices people behaving strangely, she asks her co-star Trevante Rhodes,"What's going on?," who replies, "People are describing seeing an entity that takes on the form of your worst fear." Her sister, played by Sarah Paulson, seemingly falls victim to the monster before Bullock realizes how seriously in danger she is. (Jacki Weaver, Rosa Salazar, Danielle Macdonald, Lil Rel Howery, Tom Hollander, Colson Baker, BD Wong, and John Malkovich round out the cast.)
Helmed by Oscar winner Susanne Bier, Bird Box finds Bullock seeking refuge with her children, all while blindfolded. "Your kids, they deserve hope," Rhodes tells her, to which she replies, "Every single decision I have made has been for them." We see that unfold in the trailer as she leads them through forrest and river without having one of her senses — and with the others heightened. The film hits theaters and the streaming service on December 21.
_Related: Sandra Bullock's Comeback Is a Netflix Movie Starring a Bunch of Buzzy Actors