Sandra Bullock's Comeback Is a Netflix Movie Starring a Bunch of Buzzy Actors
Sarah Paulson is amongst those who have signed up.
---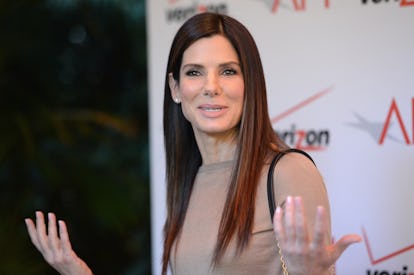 Jason Merritt
Sandra Bullock hasn't been in a film since 2015's Our Brand Is Crisis, but she's already planning her comeback in a big way.
After starring in the upcoming movie Ocean's Eight alongside an all-star cast, Bullock is taking an unexpected detour to Netflix. Yes, the Oscar winner is heading to the streaming service for a very intriguing post-apocalyptic thriller.
Even more intriguing, a bunch of buzzy and beloved faces including Ocean's Eight co-star Sarah Paulson and Moonlight actor and occasional Calvin Klein underwear model Trevante Rhodes were just added to the cast.
The film is called Bird Box, and while that sounds like some sort of subscription service on Portlandia, it's actually something completely different. According to the log line, it's about "a woman and a pair of children are blindfolded and make their way through a post-apocalyptic setting along a river." Susanne Bier, who just directed all six episodes of AMC's The Night Manager, is on board to helm the flick. Arrival writer Eric Heisserer adapted the screenplay from Josh Malerman's novel critically acclaimed novel of the same name.
The project seems to be interesting enough for Paulson to find room in her schedule to make (after all she's busy starring in however many different Ryan Murphy series, including the upcoming Nurse Ratched series for Netflix), and to be Rhodes' first high-profile role after Moonlight.
Joining them will be Danielle Macdonald, who just had her big breakthrough role with Sundance hit Patticake$ (hey, we told you she was going to be a star). Veteran actress Jacki Weaver, who is having a late career triumph with two Oscar nominations in the past six years, is on board as well. Rounding out the announced cast is Lil Rel Howery who appeared in Get Out and the beloved but since-cancelled The Carmichael Show. John Malkovich was also previously attached to the film.
So far, there's no word on which actor will be playing which character.
Of course, Netflix original films attracting great casts shouldn't be a surprise at this point. Okja included Tilda Swinton, Paul Dano, Giancarlo Esposito, Jake Gyllenhaal and Lilly Collins amongst others. This weekend the service premieres The Meyerowitz Stories (New and Selected) with a cast that features Ben Stiller, Dustin Hoffman, Emma Thompson, Grace Van Patten, and Adam Sandler. Chris Pine, Will Smith, Robert de Niro, Jared Leto and others also have Netflix movies in the pipelines.
Related: Sandra Bullock Donates $1 Million to Hurricane Harvey Relief Efforts
See What's Trending in W Video:
Sandra Bullock's Style Evolution, From America's Sweetheart to Oscar Winner
Sandra Bullock arrives at the 'Infamous' premiere on the second day of the 63rd Venice Film Festival on August 31, 2006 in Venice, Italy.

Getty
Sandra Bullock arrives to the 78th Annual Academy Awards at the Kodak Theatre on March 5, 2006 in Hollywood, California.

Getty
Sandra Bullock attends the 76th Annual Academy Awards at the Kodak Theater on February 29, 2004 in Hollywood, California.

Getty
Sandra Bullock arrives at the People's Choice Awards 2010 held at Nokia Theatre L.A. Live on January 6, 2010 in Los Angeles, California.

Getty
Sandra Bullock attends the 15th Annual Critics' Choice Movie Awards at The Paladium on January 15, 2010 in Hollywood, California.

Getty
Sandra Bullock attends the 67th Annual Golden Globes Awards at The Beverly Hilton Hotel on January 17, 2010 in Beverly Hills, California.

Getty
Sandra Bullock arrives at the 82nd Annual Academy Awards held at Kodak Theatre on March 7, 2010 in Hollywood, California.

Getty
Sandra Bullock during 12th Annual BAFTA/LA Britannia Awards at Century Plaza Hotel in Century City, California, United States.

Getty
Sandra Bullock during 9th Annual Costume Designers Guild Awards Gala at Beverly Wilshire Hotel in Beverly Hills, California, United States.

Getty
Sandra Bullock arrives at the Vanity Fair Oscar party hosted by Graydon Carter held at Sunset Tower on February 27, 2011 in West Hollywood, California.

Getty
Sandra Bullock arrives on the red carpet for the 68th annual Golden Globe awards at the Beverly Hilton Hotel in Beverly Hills, California January 16, 2011.

Getty
Sandra Bullock attends the 16th Annual Screen Actors Guild Awards at The Shrine Auditorium on January 23, 2010 in Los Angeles, California.

Getty
Sandra Bullock arrives at The 66th Annual Golden Globe Awards at The Beverly Hilton Hotel on January 11, 2009 in Hollywood, California.

Getty
Sandra Bullock during 12th Annual Screen Actors Guild Awards at Shrine Auditorium in Los Angeles, CA, United States.

Getty
Sandra Bullock arrives at the 85th Annual Academy Awards at Hollywood & Highland Center on February 24, 2013 in Hollywood, California.

Getty
Sandra Bullock attends the Gravity premiere at AMC Lincoln Square Theater on October 1, 2013 in New York City.

Getty
Sandra Bullock arrives at the 71st Annual Golden Globe Awards at The Beverly Hilton Hotel on January 12, 2014 in Beverly Hills, California.

Getty
Sandra Bullock arrives at the 19th Annual Critics' Choice Movie Awards at Barker Hangar on January 16, 2014 in Santa Monica, California.

Getty
Sandra Bullock arrives at the 20th Annual Screen Actors Guild Awards at the Shrine Auditorium on January 18, 2014 in Los Angeles, California.

Getty
Sandra Bullock poses at her Hand and Footprint Ceremony at TCL Chinese Theatre on September 25, 2013 in Hollywood, California.

Getty
Sandra Bullock attends the Oscars held at Hollywood & Highland Center on March 2, 2014 in Hollywood, California.

Getty
Sandra Bullock attends the 66th Annual Directors Guild Of America Awards held at the Hyatt Regency Century Plaza on January 25, 2014 in Century City, California.

Getty
Sandra Bullock arrives at the Women In Film 2015 Crystal + Lucy Awards at the Hyatt Regency Century Plaza on June 16, 2015 in Los Angeles, California.

Getty
Sandra Bullock arrives at the premiere of Warner Bros. Pictures' 'Our Brand Is Crisis' at TCL Chinese Theatre on October 26, 2015 in Hollywood, California.

Getty