Drew Barrymore Becomes a Zombie in Santa Clarita Diet Trailer
In her first major TV role, Drew Barrymore puts a romcom spin on the zombie genre.
---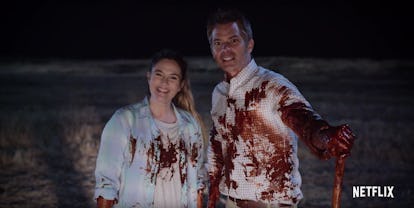 Netflix
Drew Barrymore is amongst the many movie stars jumping to the small screen, thanks to Santa Clarita Diet, a new Netflix comedy about a suburban couple (Barrymore and Timothy Olyphant) who break out of their domestic ennui when Barrymore's character undergoes a drastic lifestyle change.
The big twist in Santa Clarita Diet was announced weeks ago, so let's quit it with the euphemisms already — Barrymore becomes a gruesome, people-devouring zombie. So, yeah, the Santa Clarita diet is innards, though we're sure you probably can't even taste the difference.
Now that we've got our hands on the show's first trailer, it's easy to see why Barrymore was the right woman for the part considering joining the undead turns out to be the most alive Barrymore's character has felt in quite some time. Drew Barrymore's trademark boundless energy is in high demand when she's comping on human flesh. But it's not so easy on the rest of her nuclear family unit, what, with negative stigma attached to the "zombie" label and the murderous chore of acquiring human parts for feasting.
The full season of Santa Clarita Diet hits Netflix February 3.
Watch W's most popular videos: