Editor's Letter: Introducing the 2020 New Originals Issue
Editor in Chief Sara Moonves introduces the second annual New Originals issue, featuring cover stars Yahya Abdul Mateen II and Michaela Coel.
---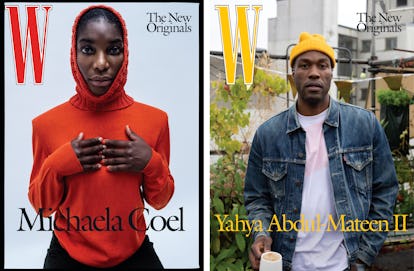 As this issue goes to print, we are a few days away from the most important election of our time. My vote for former Vice President Joe Biden and Senator Kamala Harris is already in, and I hope all other Americans are voting, voting early, volunteering at the polls, and using their voices to secure a better future for our country.
W's Executive Editor, Armand Limnander, had the brilliant idea to ask an impressive roster of artists to reimagine the political poster during a time of urgent social change. In "What Do You Stand For?," Mark Bradford, Kara Walker, Glenn Ligon, and many others addressed the current political and cultural climate in the United States by creating messages of optimism and unity—and, yes, defiance—in the face of the turmoil and divisiveness in our country. No doubt their posters will motivate you as much as they did us.
This is our second annual New Originals issue, a celebration of uniqueness and individuality. This summer, no television show struck a chord with me more than Michaela Coel's I May Destroy You. Michaela not only starred in the series—she created it, codirected it, and was one of its executive producers. Embodying originality and bravery in every way, she was an obvious choice for one of our two covers. Michaela was photographed in London, along with the incredible cast of her show, by Tim Walker, and interviewed by another true Original, the acclaimed playwright Jeremy O. Harris ("Michaela Coel").
Lynn Hirschberg, W's Editor at Large, had the insightful suggestion that our men's cover be Yahya Abdul-Mateen II. I had seen him in Watchmen, and had been in awe of his beautiful speech (and Louis Vuitton outfit) during the virtual Emmy Awards. But it wasn't until I saw him in Aaron Sorkin's The Trial of the Chicago 7, in which he plays Black Panthers leader Bobby Seale, that I realized what a force he is. He easily steals every scene he's in, and, judging from his upcoming list of starring roles, you are definitely going to be hearing a lot more about him. When his team told us Yahya would love to do our cover, there was just one caveat—he was in Berlin, shooting Lana -Wachowski's new film, The Matrix 4, and he couldn't travel. This turned out to be a blessing in disguise, as one of the W team's favorite artists, Wolfgang Tillmans, lives in Berlin. Design Director Cian Browne, Visuals and Content Director Alex Ben-Gurion, and I had met Tillmans at a talk he gave at the New School last winter. We called him, and he instantly agreed to photograph Yahya—a dream come true for us ("Yahya Abdul-Mateen II").
In "Like No Other," we feature an eclectic group of creative characters from all walks of life who we feel are true Originals. Included are Patrisse Cullors, cofounder of the Black Lives Matter movement; Zerina Akers, the stylist and founder of Black Owned Everything, who blew us all away this summer with her work on Beyoncé's Black Is King; Gaetano Pesce, the brilliant design pioneer who has inspired generations in his field; and the beautiful model Adut Akech, whom we shot on a rainy day in London.
This issue of W has moved me more than any other that I have had the pleasure of editing. It is being published at a time in which we hope the world is changing. We feel that eccentricity should be applauded, and our differences celebrated. That is why we consciously made a point of featuring many new photographers, stylists, writers, and faces you have probably never seen, alongside longtime valued members of the W family.
Enjoy! Be inspired! We definitely are.
Love,
Sara Moonves
Related: The Originals: 19 Creatives Who Transcend Categorization